Crockpot™ 6-Quart Smart-Pot® Slow Cooker, Programmable, Stainless Steel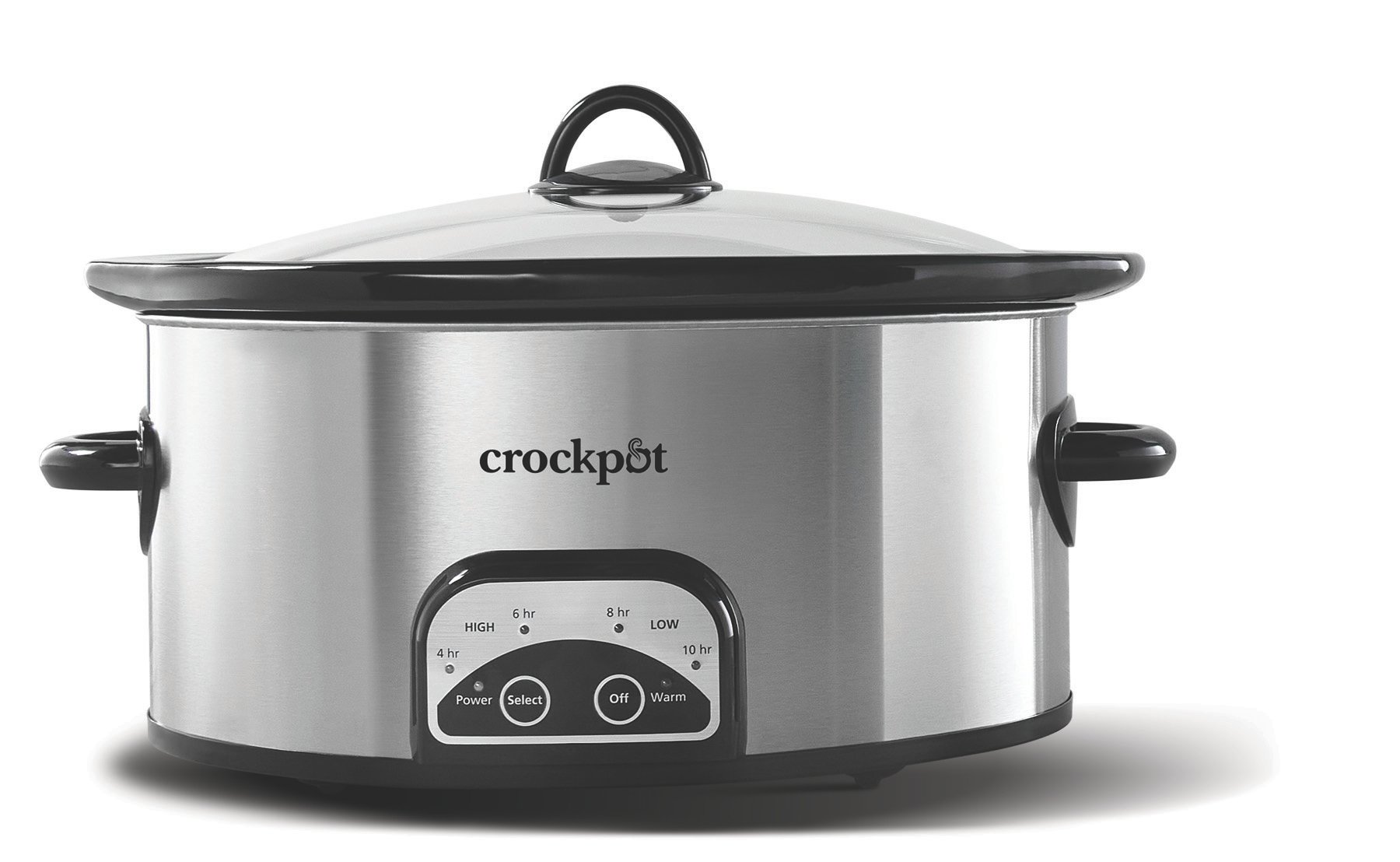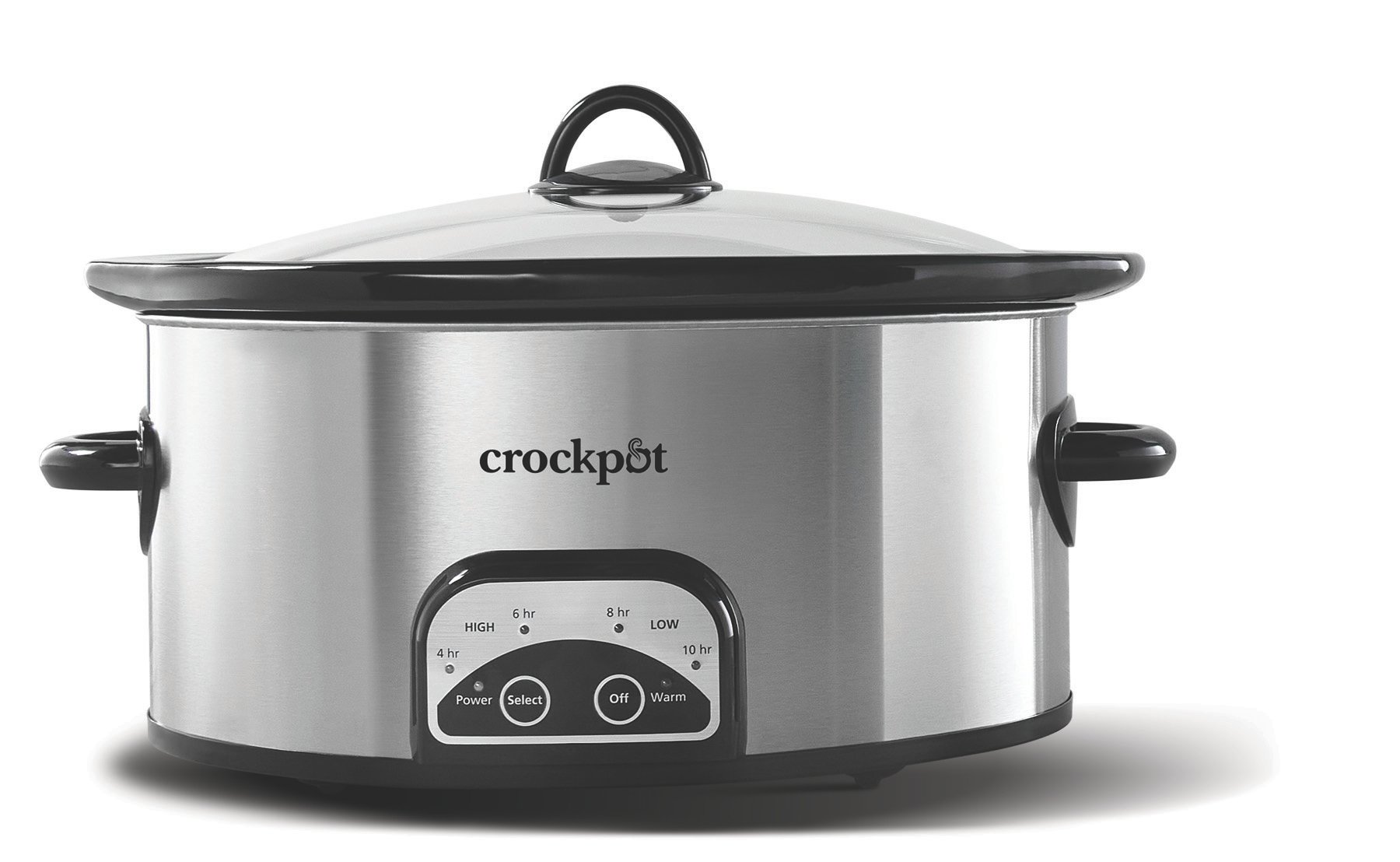 Crockpot™ 6-Quart Smart-Pot® Slow Cooker, Programmable, Stainless Steel
Final Sale: may not be returned or exchanged
Final Sale: may not be returned or exchanged
Product Details
Description
Slow cooking in your Crockpot Slow Cooker provides you the flexibility to prepare a meal early and then have it cook all day. You can carry out your full day's activities and still enjoy a nutritious, home-cooked meal in the evening. It's a healthier, more cost-efficient and convenient way to serve tasty, satisfying meals. This modern, stylish slow cooker with flat digital panel uses programmable cook-settings on HIGH with 4 or 6 hour selections and LOW with 8 or 10 hour selections to conveniently cook around your schedule. After cooking time is complete, the Slow Cooker will automatically shift to the WARM setting to keep your food at an ideal serving temperature
One-touch digital controls
2 HIGH and 2 LOW cook settings and an automatic shift to WARM setting
Removable oval stoneware
Dishwasher-safe stoneware and glass lid
Polished stainless steel exterior with black accents and plastic handles
Recipes included
Care & Maintenance
ALWAYS turn your unit off, unplug it from the electrical outlet, and allow it to cool before cleaning. Dishwasher safe parts can be washed in the dishwasher or with hot, soapy water. Do not use abrasive cleaning compounds or scouring pads. A cloth, sponge, or rubber spatula will usually remove residue. To remove water spots and other stains, use a non-abrasive cleaner or vinegar. As with any fine ceramic, the stoneware and lid will not withstand sudden temperature changes. Do not wash the stoneware or lid with cold water when they are hot.
Where to Buy
The following link will take you to a site outside of Crock-Pot.
Rated

1

out of

5
by
eb13
from
Boils on Warm Mode
I bought this Crock-Pot in October 2016 (about a month ago). I previously owned a similar model in the past and loved it. The programmable option is fantastic since a lot of recipes say to "cook on low of 8 hours" or "cook on high for 4 hours". The recipes were always tasty and perfectly cooked. With this particular model, recipes I used to make in the past are now overcooked. Actually, the crock pot even boils on the warm mode. Hence, with this crock pot, the programmable options are completely useless, because you have to stop the crock pot earlier than the recipe says. Very disappointed with this purchase. Do not buy.
Date published: 2016-11-06
Rated

1

out of

5
by
Hudson
from
Use Caution!
Have five crockpots and this is the largest I have. Have used the crockpot on numerous occasions and found that I cannot cook anything higher than low because the liquid gets so hot it boils. I had to quit using it for meatballs because they were always burnt though that never happened with any other crockpot. Used it last weekend for a roast (lots of liquid) and when my husband went to remove the lid by the handle after three hours, the handle popped out and the lid stayed on the crockpot but had shattered into thousands of pieces. Obviously the meat could not be eaten and there were tiny slivers of glass everywhere. Not a good Sunday meal obviously.
Date published: 2018-02-23
Rated

1

out of

5
by
BK617
from
Major Disappointment
I have purchased 2 of this model in the past 2 years. The stoneware insert on the first one broke while cooking a batch of spaghetti sauce on low temperature about 1 yr after purchase. Decided to order a new insert, but with the shipping cost, it was almost as expensive as purchasing an entire new unit, so that's the route I took. My 2nd unit is now just short of 1 year old, and yesterday the bottom of this insert fractured as well while cooking on low heat. Interestingly, my original Rival crockpot from 1980 still works perfectly and has the original insert without any problem. I absolutely will never purchase another Crockpot from you again. Total junk!
Date published: 2017-02-24
Rated

1

out of

5
by
GreenMom
from
Disappointed
I bought the crock pot to replace a very old one that had a thermostat malfunction. This crock pot, new, also cooks on the high side. I've had items overlook. It works best when it is almost completely full of a very liquid recipe, like chili. It doesn't do well even at 2/3 full with a roast that starts with little liquid. My lid seal was holding a great deal of residue. I tried carefully to clean under the seal. I didn't want it to get moldy. Now the seal isn't holding well. Disappointing experience. My mom has a very old crock pot that still works great. I suppose the product isn't made the same way anymore.
Date published: 2018-02-11
Rated

1

out of

5
by
mj_osborne
from
Ceramic crock cracked for the second time!!!!
I've had this crock pot for a little while. Had the crock crack and it was still under warranty so it was replaced. Same thing has happened again, but believe it's out of the warranty period. I believe that this shouldn't happen, and I'm not going to purchase one to have it happen again. This product is defective. The unit cooks entirely TOO HOT, and is most likely the reason for cracking. No more crock pot for me... extremely disappointed because I've had my other crock pot for 18 years and have never had a problem. Why fix something that doesn't need fixed. You guys say it cooks hotter......well, maybe that is why things shatter and crack!!!
Date published: 2019-01-02
Rated

1

out of

5
by
aalaughter
from
Should Not be Advertised as Programmable
This is not programmable, rather it has 4 per-programmed settings: High for 4 hours, High for 6 hours, Low for 8 hours, and Low for 10 hours. Even worse, there is no timer display to let you monitor cooking time. If your recipe says to add an ingredient during the last hour of cooking, you will need a separate timer. A true programmable slow cooker will allow you to set times and cooking temperatures independently of each other. Moreover, a good programmable slow-cooker will also let you program time/temperature cycles over the course of the cooking time. This item would be great as warmer/serving container, but do not plan on doing any serious cooking with it.
Date published: 2019-09-08
Rated

1

out of

5
by
Proud Mom
from
Worst crock pot I've owned
I really wish that this crock pot was better quality. After about 6 months of use there was a funky smell coming from the base of the cooker. It smelled like plastic burning and the crock had been cleaned so I know it wasn't from food and also the base was clean. At this point I got scared to ever use it again so needless to say this is now in a landfill. The quality is not there that use to be. I had a crock pot that lasted longer then my children and it finally died from being used too much. I expected the same level of quality in this one but sadly this was not the case.
Date published: 2016-10-17
Rated

2

out of

5
by
concerned customer
from
Was Great until it BLEW!
I bought this a few years ago. Would have given it a 4.5 on the scale up until a couple weeks ago. Cooks great - very evenly - even meat and vegetables - does get a little too hot at times, and handles cracked and broke off too easily, but still functioned well. On Easter I plugged it in and it blew at the source of the wire going into the pot. Sparks spit out straight at my face. We were glad this was on our granite top, or it would have left burns. I would not have written the review if the company had responded with something. But I have now sent 2 emails with no reply regarding the warranty or my concerns.
Date published: 2019-05-04
bvseo_sdk, dw_cartridge, 18.2.0, p_sdk_3.2.0
CLOUD, getReviews, 0ms
reviews, product
---
<!--begin-bvseo-questions--> <!--begin-questions--> <div id="bvseo-questionsSection"> <div class="bvseo-question-answer" data-questionid="4002174"> <h2 class="bvseo-question"> Handle on the lid broke off would like to know how to obtain another one? It is a 6 quart smart pot slow cooker </h2> <div class="bvseo-question-detail"> </div> <div class="bvseo-author">Asked by: Toni8285</div> <div class="bvseo-answer" data-answerid="2969656"> Hi Toni8285.&#13;&#10;&#13;&#10;Thanks for reaching out to us. The lid handle is not available as a replacement part. However, we will be glad to help you check the availability of a replacement lid for your CrockPot. &#13;&#10;&#13;&#10;In order for us to properly assist you with this matter, please reach out to us via https://www.crock-pot.com/support/contact-us or through LiveChat. We&amp;rsquo;re available Mon.-Fri. 9 am -5 pm Eastern Time.&#13;&#10;&#13;&#10;Thank you!&#13;&#10;&#13;&#10;Crockpot&amp;reg; Consumer Care <div class="bvseo-author">Answered by: CrockPot Consumer Care</div> <div class="bvseo-pubdate">Date published: 2022-04-18</div> </div> </div> <div class="bvseo-question-answer" data-questionid="2358720"> <h2 class="bvseo-question"> Does this crockpot have delay start feature? </h2> <div class="bvseo-question-detail"> </div> <div class="bvseo-author">Asked by: gskannen</div> <div class="bvseo-answer" data-answerid="2065776"> Hey there! Thank you for reaching out to us. We will be more than happy to answer your question. This unit does not have the delayed start feature. Thank you so much and have a nice day. <div class="bvseo-author">Answered by: CrockPot Consumer Care</div> <div class="bvseo-pubdate">Date published: 2020-12-09</div> </div> </div> <div class="bvseo-question-answer" data-questionid="2310677"> <h2 class="bvseo-question"> I am having difficulty finding a replacement lid for this crockpot. I have this exact model, with the black interior, so I would like the same lid, not white. </h2> <div class="bvseo-question-detail"> </div> <div class="bvseo-author">Asked by: Stephanie71</div> <div class="bvseo-answer" data-answerid="2007854"> Hey there! Thanks for reaching out to us. We will be more than happy to help you find a replacement lid for your slow cooker. Please reach out to us at 1-800-323-9519 or email us at crockpotconsumercare@newellco.com. We are open from Monday to Friday 9 am to 5 pm EST. Thank you so much and have a nice day. <div class="bvseo-author">Answered by: CrockPot Consumer Care</div> <div class="bvseo-pubdate">Date published: 2020-10-13</div> </div> </div> <div class="bvseo-question-answer" data-questionid="2305538"> <h2 class="bvseo-question"> Where can I purchase this </h2> <div class="bvseo-question-detail"> </div> <div class="bvseo-author">Asked by: Ana21</div> <div class="bvseo-answer" data-answerid="2000947"> Hey there. Thanks for reaching out to us. For further assistance in locating this product, please reach out to us at 1-800-323-9519 or email us at crockpotconsumercare@newellco.com. We are open from Monday to Friday 9 am to 5 pm EST. thank you so much and have a nice day. <div class="bvseo-author">Answered by: CrockPot Consumer Care</div> <div class="bvseo-pubdate">Date published: 2020-10-07</div> </div> </div> <div class="bvseo-question-answer" data-questionid="2275786"> <h2 class="bvseo-question"> Hello. I have the Crock-Pot Smart-Pot Model # SCCPVP 600-S. I have had it a few years and have used it weekly and love it. However, recently, the panel has been &amp;quot;temperamental&amp;quot; and the light constantly blinks and won&#39;t let me select a setting. Help! </h2> <div class="bvseo-question-detail"> </div> <div class="bvseo-author">Asked by: Lonijo</div> <div class="bvseo-answer" data-answerid="1985788"> Thank you for your inquiry. We&amp;rsquo;re sorry to hear about your experience with your Crock-Pot Slow Cooker. For further assistance, Please refer to the user manual of the unit for warranty information. <div class="bvseo-author">Answered by: CrockPot Consumer Care</div> <div class="bvseo-pubdate">Date published: 2020-09-24</div> </div> </div> <div class="bvseo-question-answer" data-questionid="2206899"> <h2 class="bvseo-question"> Would it be cheaper to buy a new crock or just replace the whole thing? The model number is sccpvp450h-b. </h2> <div class="bvseo-question-detail"> </div> <div class="bvseo-author">Asked by: Debbie46</div> <div class="bvseo-answer" data-answerid="1944749"> Thank you for your question. It will be much cheaper if we replace just the stoneware. <div class="bvseo-author">Answered by: CrockPot Consumer Care</div> <div class="bvseo-pubdate">Date published: 2020-08-18</div> </div> </div> <div class="bvseo-question-answer" data-questionid="2217799"> <h2 class="bvseo-question"> What is the temperature for each setting? </h2> <div class="bvseo-question-detail"> </div> <div class="bvseo-author">Asked by: alpinecag</div> <div class="bvseo-answer" data-answerid="1942769"> I thought I was asking the company this question. If they don&#39;t know the answer, who does????? <div class="bvseo-author">Answered by: alpinecag</div> <div class="bvseo-pubdate">Date published: 2022-03-23</div> </div> </div> <div class="bvseo-question-answer" data-questionid="2192564"> <h2 class="bvseo-question"> Voltage of this? 110 or 220? </h2> <div class="bvseo-question-detail"> </div> <div class="bvseo-author">Asked by: Ian1189</div> <div class="bvseo-answer" data-answerid="1934352"> This unit runs on 110 volts. Thank you so much for asking. <div class="bvseo-author">Answered by: CrockPot Consumer Care</div> <div class="bvseo-pubdate">Date published: 2020-08-10</div> </div> </div> </div> <script type="text/javascript"> if (document.getElementById('bvseo-questionsSection')) { document.getElementById('bvseo-questionsSection').style.display = 'none'; } </script> <!--end-questions--> <!--begin-pagination--> <ul id="bvseo-paginationSection"> <li class="bvseo-paginationItem"><a class="bvseo-paginationLink" href="https://www.crock-pot.com/slow-cookers/6-quart/crockpot-6-quart-smart-pot-slow-cooker-programmable-stainless-steel/SAP_2131386.html?bvrrp=Main_Site-en_US/questions/product/2/SP_528872.htm">Crockpot&trade; 6-Quart Smart-Pot&reg; Slow Cooker, Programmable, Stainless Steel Questions - page 2</a></li> </ul> <!--end-pagination--> <ul id="BVSEO_meta" style="display:none!important"> <li data-bvseo="bvDateModified">y_2022, m_5, d_18, h_22CST</li> <li data-bvseo="ps">bvseo_bulk, prod_bvqa, vn_bulk_3.0.27</li> <li data-bvseo="cp">cp_1, bvpage1</li> <li data-bvseo="co">co_hasquestionsanswers, tq_138</li> <li data-bvseo="cf">loc_en_US, sid_SP_528872, prod, sort_[SortEntry(order=LAST_APPROVED_ANSWER_SUBMISSION_TIME, direction=DESCENDING)]</li> <li data-bvseo="diagnostics">clientName_crockpot</li> </ul> <!--end-bvseo-questions--> <ul id="BVSEOSDK_meta" style="display: none !important;"> <li data-bvseo="sdk">bvseo_sdk, dw_cartridge, 18.2.0, p_sdk_3.2.0</li> <li data-bvseo="sp_mt">CLOUD, getContent, 0ms</li> <li data-bvseo="ct_st">questions, product</li> </ul>
product-detail-view
oos-pdp