3 Gluten-Free Slow-Cooked Scone Recipes
If you're craving a healthier yet still just-as-delicious breakfast option, look no further than these amazing grain-free morning treats. Cutting gluten out of your diet doesn't mean you have to miss out on one of breakfast's best creations. These three recipes for gluten-free scones are sweet, plump and filled with lots of new flavors. Each recipe yields about eight scones when made in your Crock-Pot® Smart-Pot® 4-Quart Digital Slow Cooker.
Grain-Free Blueberry Coconut Scones
Breakfast just isn't complete without a warm, freshly-made scone to pair with your morning coffee. You'll feel great enjoying this gluten-free scone not only because it's healthy, but because it only requires 10 minutes of prep work!
Ingredients:
1 egg
1/4 cup coconut oil
1/4 cup honey
1 teaspoon lemon zest
1 1/2 cup almond flour
2 tablespoons arrowroot powder
1 teaspoon vanilla
1/4 cup unsweetened shredded coconut
1 teaspoon baking powder
6 ounces fresh blueberries
Directions
Use a Crock-Pot® Slow Cooker Liner for the bottom of your 4-quart slow cooker.
In a bowl, combine the egg and coconut oil, mixing well.
Once combined, mix in honey, lemon zest, almond flour, arrowroot powder, vanilla, shredded coconut and baking powder.
Gently fold in blueberries.
Use your hands to press the batter into the bottom of your slow cooker, spreading evenly.
Cover and cook on high for 2 to 2 1/2 hours or on low for 5 hours.
You will know scones are finished when firm and baked through.
Let cool and then slice into triangular slices.
Grain-Free Cranberry Walnut Scones
Healthy, filling and delicious, these grain-free cranberry walnut scones are the perfect breakfast to grab-and-go when the morning rush is busy.
Ingredients:
2 cups blanched almond flour (not almond meal)
1/2 teaspoon baking soda
1 large egg
2 tablespoons coconut sugar
1 tablespoon orange zest
1/2 cup dried cranberries
1/2 cup walnuts, chopped
Directions
Use a liner for the bottom of your 4-quart slow cooker.
With a food processor, blend together almond flour and baking soda.
Slowly pulse in the egg, coconut sugar and orange zest.
By hand, fold in the cranberries and walnuts.
Press the batter into the bottom of the slow cooker and spread evenly.
Cover and cook on low for 2 to 2 1/2 hours or on high for 5 hours.
Allow scones to cool before slicing and serving.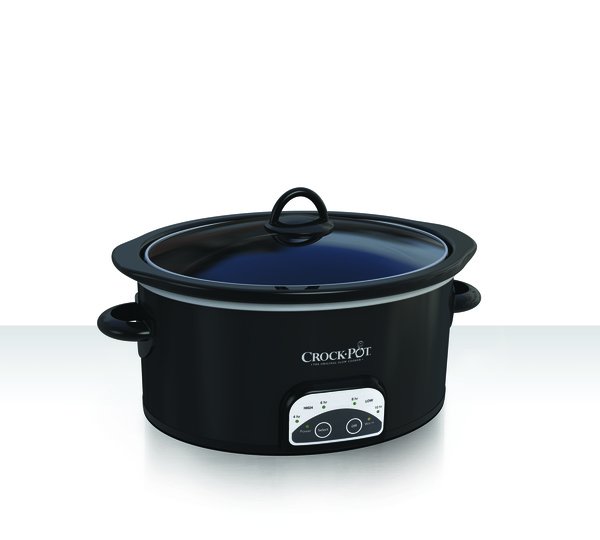 Grain-Free Dark Chocolate Cherry Scones
The richness of dark chocolate and fruity sweetness of cherries blend together perfectly in this recipe to create the quintessential crumbly batch of tasty, gluten-free scones.
Ingredients:
3 cups blanched almond flour
1 1/2 teaspoons baking soda
1/2 teaspoon fine sea salt
4 tablespoons butter, cold or frozen
2 large pastured eggs
2 tablespoons apple cider vinegar
2 tablespoons honey
1 teaspoon vanilla extract
3 ounces of cacao dark chocolate, cut into bite-size chunks
1/3 cup dried cherries
Directions
Use a liner for the bottom of your 4-quart slow cooker.
In a large bowl, combine almond flour, baking soda and sea salt.
Using your hands, work the cold butter into the dry mixture until it is blended and crumbly.
In another bowl, combine the eggs, apple cider vinegar, honey and vanilla.
Make a well in the middle of the dry mixture and pour in the wet mixture.
Mix carefully until combined and chunky.
Gently fold in chunks of dark chocolate and cherries.
With your hands, evenly spread the batter in the bottom of your slow cooker.
Cover and cook on low for 2 to 2 1/2 hours or on high for 5 hours.
Allow scones to cool before slicing and serving.
Due to the slow ramp up, and even heating of a slow cooker, recipes featured on this site can be cooked in a range of slow cooker sizes. Recipes can be increased or decreased by one quart size per the cooking instructions. For smaller sauces and dips that call for 3 quarts or less, it is not recommended to alter the unit size. Crock-Pot® is a registered trademark and should not be used generically when referring to a 'slow cooker' within the recipes.
Sunbeam Products, Inc. d/b/a Jarden Consumer Solutions has not tested these recipes and is not responsible for the outcome of any recipe. You may not achieve the results desired due to variations in ingredients, cooking temperatures, cooking times, typos, errors, omissions, or individual cooking abilities. Please always use your best judgment when cooking with raw ingredients such as eggs, chicken or fish.