3 Picnic Recipes for Your Slow Cooker
The flowers are blooming, the sun is shining and your Crock-Pot® Single Hand Cook & Carry® 6-Quart Oval Slow Cooker is ready to go - all you need is a blanket and a basket and you've got all of the essentials for a perfect picnic. The Crock-Pot® Single Hand Cook & Carry® makes it easier than ever to transport your tasty casseroles and desserts to the picnic location. With just a single hand you can lock, grab and go and still have a free hand to open doors, answer the phone, close the trunk or carry another item!
Bringing your slow-cooked dishes to cookouts, barbecue and picnics has never been easier. Try out one of these three tasty recipes for your next outing or gathering.
Summer Chowder
In most parts of the country, a cup of chowder is a staple of warm-weather days. This unique chowder recipe adds fresh ingredients like corn, zucchini and tomatoes for a new spin. This serves as the perfect picnic appetizer.
Ingredients:
4 cups vegetable stock
2 cups corn, fresh or frozen
2 cups potatoes, peeled and chopped
2 large carrots, peeled and diced
2 stalks celery, diced
1 red onion, diced
1 teaspoon salt
1 teaspoon dried thyme
1 cup sour cream
3 to 4 small zucchinis, halved and sliced
8 slices bacon, cooked (optional)
3 tomatoes, diced
1/2 cup fresh basil, chopped.
Directions
Add vegetable stock, corn, potatoes, carrots, celery, onion, salt, thyme and zucchinis to your slow cooker.
Cover and cook on low for 7 to 8 hours.
Once cooked, stir in sour cream and combine well with an immersion blender right in your slow cooker.
Stir in bacon if desired.
Top with diced tomatoes and basil before serving.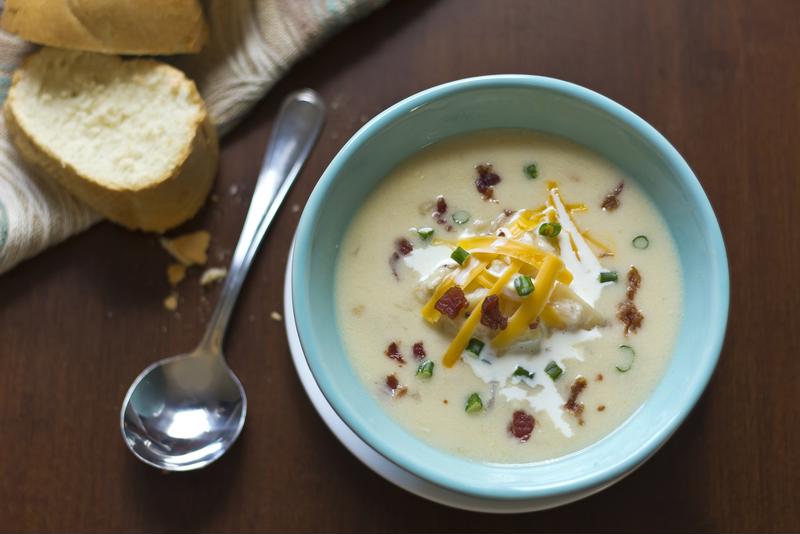 Stuffed Bell Peppers
Colorful peppers filled with healthy ingredients such as ground turkey, brown rice and black beans are the perfect dish for any occasion, especially an outdoor picnic. With a flavorful and zesty southern flair, these stuffed bell peppers are sure to be a crowd-pleaser.
Ingredients:
6 bell peppers, any color, seeded and top removed
1 pound lean ground turkey meat, uncooked
1 cup cooked long grain rice
2 cups salsa
1 cup corn, frozen or fresh
1 1/2 tablespoons taco seasoning
1/2 cup onions, chopped
1 can black beans, drained and rinsed
1/3 cup water.
Directions
Cut off pepper tops and seed each, keeping them intact.
For the filling, mix together the turkey meat, rice, salsa, corn, taco season, onion and black beans, combining well.
Stuff each pepper with seasoned mixture.
Stand each pepper up in your slow cooker and place tops back on each pepper.
Pour the 1/3 cup of water in the bottom of the slow cooker.
Cover and cook on low for 6 to 8 hours or on high for 3 to 4 hours.
Top with shredded cheese or extra salsa if desired.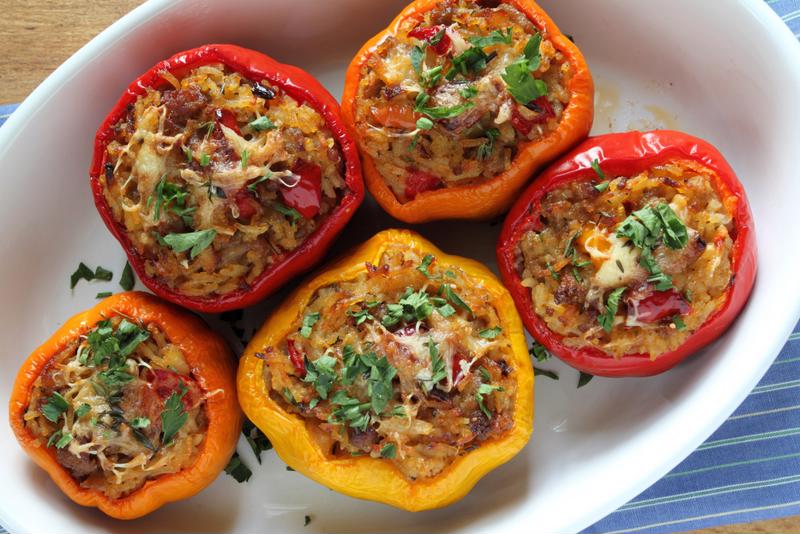 Warm Bean Salad
For a colorful bean salad filled with protein, give this three-bean recipe a try!
Ingredients:
1 can kidney beans, rinsed and drained
1 can cannellini beans, rinsed and drained
1 can cut green beans, rinsed and drained
1 can corn, rinsed and drained
1 can diced tomatoes, drained
1/4 cup white vinegar
1 cup water
1 teaspoon pickling spice
1/2 teaspoon mustard seed
Hot sauce, to taste.
Directions
Add all ingredients to the bottom of your slow cooker.
Stir well to combine.
Cover and cook on low for 4 to 6 hours.
Enjoy warm!
Due to the slow ramp up, and even heating of a slow cooker, recipes featured on this site can be cooked in a range of slow cooker sizes. Recipes can be increased or decreased by one quart size per the cooking instructions. For smaller sauces and dips that calls for 3 quarts or less, it is not recommended to alter the unit size. Crock-Pot® is a registered trademark and should not be used generically when referring to a 'slow cooker' within the recipes.
Sunbeam Products, Inc. d/b/a Jarden Consumer Solutions has not tested these recipes and is not responsible for the outcome of any recipe. You may not achieve the results desired due to variations in ingredients, cooking temperatures, cooking times, typos, errors, omissions, or individual cooking abilities. Please always use your best judgment when cooking with raw ingredients such as eggs, chicken or fish.