4 Recipes to Make in Your Crock-Pot® 5-in-1 Multi-Cooker
The Crock-Pot® 5-in-1 Multi-Cooker provides more ways to create delicious meals with ease and convenience. Versatility gains new meaning with this Multi-Cooker that can brown and sauté, slow cook, roast, bake and steam all in one. Even better, you can seamlessly switch between functions with just one button for meals that require multi-step recipes.
The creative possibilities in the kitchen are endless with the Multi-Cooker: You can bake one night and indulge in a delicious stew that requires browning, sautéing and slow cooking the next! Here are four savory, mouth-watering recipes to get you started:
1. Bacon and Chive Cornbread
Hearty and flavorful, yet perfectly light and fluffy, this recipe for bacon and chive cornbread is downright delicious. And - it only takes 15 minutes of prep!
Ingredients:
1 1/4 cups all-purpose flour
3/4 cup cornmeal
1/3 cup granulated sugar
2 teaspoons baking powder
1/2 teaspoon salt
2 eggs, at room temperature
1 cup milk, at room temperature
1/3 cup melted butter
4 slices cooked chopped bacon
2 tablespoons chopped fresh chives
2/3 cup shredded cheddar cheese
Directions
Select Bake and set temperature to 400 degrees.
Allow Multi-Cooker to preheat.
In a bowl, whisk together flour, cornmeal, sugar, baking powder and salt. Set aside.
In a separate bowl, whisk eggs lightly. Slowly whisk in milk and melted butter until blended.
Add egg mixture to flour and stir until just combined.
Do not overmix.
Fold in bacon, chives and half of cheese.
Scrape into greased 9-by-5-inch loaf pan.
Sprinkle with remaining cheese.
Bake for 45 minutes or until toothpick comes out clean.
Let cool completely or serve warm.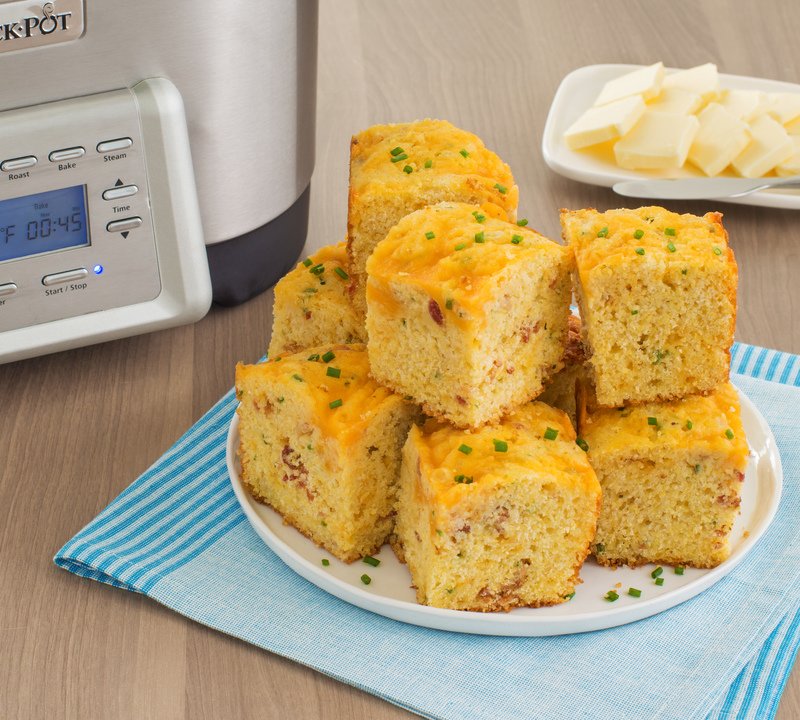 2. White Chili with Double-Smoked Bacon and Leeks
It's only naturally once you've made a delicious batch of cornbread to want an equally tasty, warm chili to go along with it. With your Multi-Cooker you can brown/sauté and then slow cook this chili as the recipe calls for, all in one convenient place.
Ingredients:
4 slices double-smoked bacon, chopped
2 leeks, chopped
1 onion, chopped
1 jalapeño pepper, seeded and finely chopped
2 cloves garlic, minced
1 tablespoon chopped fresh thyme
1 teaspoon ground cumin
1 teaspoon Cajun seasoning blend
1 can (19 oz) white beans, drained and rinsed
1 can (19 oz) chickpeas, drained and rinsed
1 can (19 oz) kidney beans, drained and rinsed
1 cup drained black beans
2 tablespoon all-purpose flour
3 cups chicken broth
1/2 cup 35 percent whipping cream
2 cups shredded aged white
Cheddar cheese
2 green onions, finely chopped
Directions
Select Brown/Sauté and set to medium.
Allow Multi-Cooker to preheat.
Add bacon to cooking bowl.
Cook for 5 minutes, stirring occasionally, until bacon starts to crisp.
Drain half of the fat.
Add leeks, onion, jalapeño, garlic, thyme, cumin and seasoning blend.
Cook for 4 or 5 minutes or until vegetables start to soften.
Add white beans, chickpeas, kidney beans and black beans.
Sprinkle flour over top and cook for 2 minutes.
Slowly stir in broth.
Press Start/Stop to change function to Slow Cooker.
Cover and cook on low for 3 hours, or until flavorful.
Stir in cream and heat through, then stir in cheddar cheese.
Remove from heat and garnish with green onions.
Serve with bacon and chive cornbread from above recipe.
3. Warm Potato Salad with Sun-Dried Tomato and Basil Vinaigrette
Potato salad is a favorite at any backyard party or picnic event, but have you ever tried this unique spin with sun-dried tomato and basil? Once you have you'll never make classic potato salad again.
Ingredients:
3 pounds baby potatoes, halved
1/3 cup olive oil
3 tablespoon white wine vinegar
1 tablespoon grainy mustard
1 clove garlic, minced
1/2 teaspoon salt
1/4 teaspoon pepper
1/3 cup sliced fresh basil
1/3 cup sliced sun-dried tomatoes
1/4 cup minced red onion
Directions
Select Steam and add 4 cups water to cooking bowl.
Add potatoes.
Cook for 20 to 25 minutes or until fork-tender. Drain in colander; let cool slightly.
Meanwhile, whisk together oil, vinegar, mustard, garlic, salt and pepper. Stir in basil. Toss in sun-dried tomatoes and onion.
Drizzle dressing over warm potatoes.
Toss gently.
4. Shrimp Fried Rice with Bok Choy
​The spice and flavor of this dish, as well as its heartiness make it a great family go-to for any night of the week.
Ingredients:
12 tablespoons canola oil
1/2 pound small peeled deveined shrimp
1/4 cup chopped green onions
2 cloves garlic, minced
3 cups cold cooked rice
1/3 cup peas
1/3 cup grated carrots
1/3 cup corn kernels
2 eggs, beaten
2 tablespoons soy sauce
1 tablespoons fish sauce
1 tablespoons rice wine vinegar
1/4 teaspoon granulated sugar
6 baby bok choy, chopped
Directions
Select Brown/Sauté and set to high.
Allow Multi-Cooker to preheat.
Add half of the oil to cooking bowl.
Toss in shrimp, 3 tablespoons of green onions and garlic.
Cook for 3 to 5 minutes, stirring occasionally, until shrimp starts to turn pink.
Transfer to bowl.
Add remaining oil.
Stir in rice, peas, carrots and corn.
Cook, while stirring, for 5 minutes or until rice starts to heat through.
Move to one side and stir in beaten eggs and let cook for 2 minutes.
In a bowl, combine soy sauce, fish sauce, rice wine vinegar and sugar.
Add to rice mixture and stir while cooking, until combined.
Add bok choy and reserved shrimp.
Cook, stirring, for 2 to 4 minutes or until rice is steaming hot, shrimp are cooked through and vegetables are tender.
Garnish with remaining green onions. Enjoy!
Due to the slow ramp up, and even heating of a slow cooker, recipes featured on this site can be cooked in a range of slow cooker sizes. Recipes can be increased or decreased by one quart size per the cooking instructions. For smaller sauces and dips that call for 3 quarts or less, it is not recommended to alter the unit size. Crock-Pot® is a registered trademark and should not be used generically when referring to a 'slow cooker' within the recipes.
Sunbeam Products, Inc. d/b/a Jarden Consumer Solutions has not tested these recipes and is not responsible for the outcome of any recipe. You may not achieve the results desired due to variations in ingredients, cooking temperatures, cooking times, typos, errors, omissions, or individual cooking abilities. Please always use your best judgment when cooking with raw ingredients such as eggs, chicken or fish.