Can You Cook Steak in Your Slow Cooker?
Yes! Slow cooking steak is a wonderful way to make savory and tender fillets each time. Slow cooking steak for hours on end allows for the flavors to fully saturate the meat, resulting in a truly mouth-watering, delectable dish. Whether you're looking for a simple recipe or a slightly more elaborate steak dish, both can be seamlessly made in a slow cooker.
As these recipes call for searing the steak first, it's a great opportunity to take advantage of the Crock-Pot® 6-Quart Slow Cooker with Stovetop-Safe Cooking Pot. This innovative slow cooker condenses two steps into one, allowing for the versatility of searing, browning or sauteing ingredients directly in the slow cooker's double-duty DuraCeramic® cooking pot. With one flawless move, you can bring your browned steak from the stovetop, right back into your slow cooker without missing a beat. This also makes cleanup easier as there's no need to dirty extra pots and pans.
Pepper Steak
Juicy, tender and succulent, the recipe for this peppered steak is slow cooked to perfection, just the way steak-lovers like it. Serve this steak with baked or mashed potatoes and a side of warm vegetables for a complete dinner.
Ingredients:
2 pounds beef sirloin, cut into 2-inch strips
Garlic powder, to taste
3 tablespoons vegetable oil
1 cube beef bouillon
1/4 cup hot water
1 tablespoon cornstarch
1/2 cup onion, chopped
2 large green bell peppers, roughly chopped
1 (14.5 ounce) can stewed tomatoes, with liquid
3 tablespoons soy sauce
1 teaspoon white sugar
1 teaspoon salt
Directions
Lightly coat sirloin with garlic powder, to taste.
Heat sirloin with vegetable oil over medium heat in the stovetop-safe DuraCeramic® cooking pot, searing on all sides.
Return cooking pot to the slow cooker.
In a small bowl, dissolve beef bouillon in hot water. Add in cornstarch until dissolved.
Pour mixture over steak in slow cooker.
Stir in onion, peppers, tomatoes, soy sauce, white sugar and salt.
Cover and cook on low for 6 to 8 hours or on high for 3 to 4 hours.
Serve with desired vegetables and potatoes.
Spinach and Feta-Stuffed Flank Steak
For an elegant, dinner party-worthy entree, this recipe for flank steak stuffed with feta and spinach will truly impress your guests. To complete the meal, you may serve the flank steak with hot egg noodles if you so choose.
Ingredients:
1 beef flank steak (1-1/2 pounds)
2 cups (8 ounces) crumbled feta cheese
3 cups fresh baby spinach
1/2 cup oil-packed sun-dried tomatoes, drained and chopped
1/2 cup finely chopped onion
5 tablespoons all-purpose flour, divided
1/2 teaspoon salt
1/2 teaspoon pepper
2 tablespoons canola oil
1 cup beef broth
1 tablespoon Worcestershire sauce
2 teaspoons tomato paste
1/3 cup dry red wine, or additional beef broth
Hot cooked egg noodles, optional
Directions
Cut steak horizontally in half within 1/2-inch of opposite side, starting at one long side.
Open the steak and lay flat, covering with plastic wrap.
Use a meat mallet to pound down to 1/2-inch thickness.
Remove the plastic wrap and cover with 1 cup of feta cheese.
Top with spinach, tomatoes, onion and remaining cheese.
Starting with the long side, roll the steak up jelly-roll style.
Tie the steak at 1 1/2-inch intervals using kitchen string.
Sprinkle flour, salt and pepper over the steak.
In the stovetop-safe DuraCeramic® cooking pot, brown steak in oil on all sides over medium heat. Drain.
Transfer cooking pot to your slow cooker.
In a small bowl, combine the broth, Worcestershire sauce and tomato paste.
Pour mixture on top of steak.
Cover and cook on low for 6 to 8 hours, until meat is tender.
Transfer steak to serving platter.
Bring the stovetop-safe DuraCeramic® cooking pot over medium heat and bring cooking juices to a boil.
Mix the remaining flour and wine and slowly add it to the heat, stirring until smooth and thick.
Serve steak with thick gravy sauce on top. Enjoy!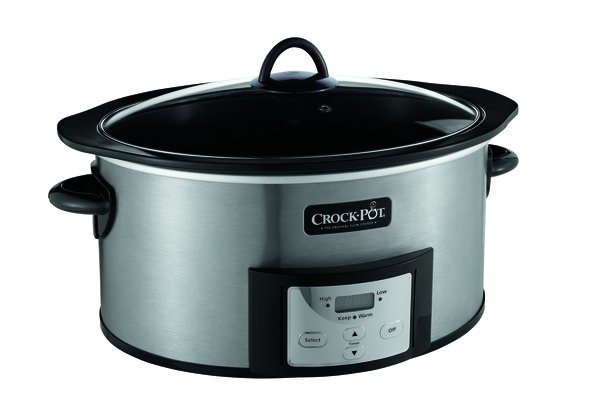 Due to the slow ramp up, and even heating of a slow cooker, recipes featured on this site can be cooked in a range of slow cooker sizes. Recipes can be increased or decreased by one quart size per the cooking instructions. For smaller sauces and dips that call for 3 quarts or less, it is not recommended to alter the unit size. Crock-Pot® is a registered trademark and should not be used generically when referring to a 'slow cooker' within the recipes.
Sunbeam Products, Inc. d/b/a Jarden Consumer Solutions has not tested these recipes and is not responsible for the outcome of any recipe. You may not achieve the results desired due to variations in ingredients, cooking temperatures, cooking times, typos, errors, omissions, or individual cooking abilities. Please always use your best judgment when cooking with raw ingredients such as eggs, chicken or fish.