Tips to Making The Best Crockpot® Meals In Your Slow Cooker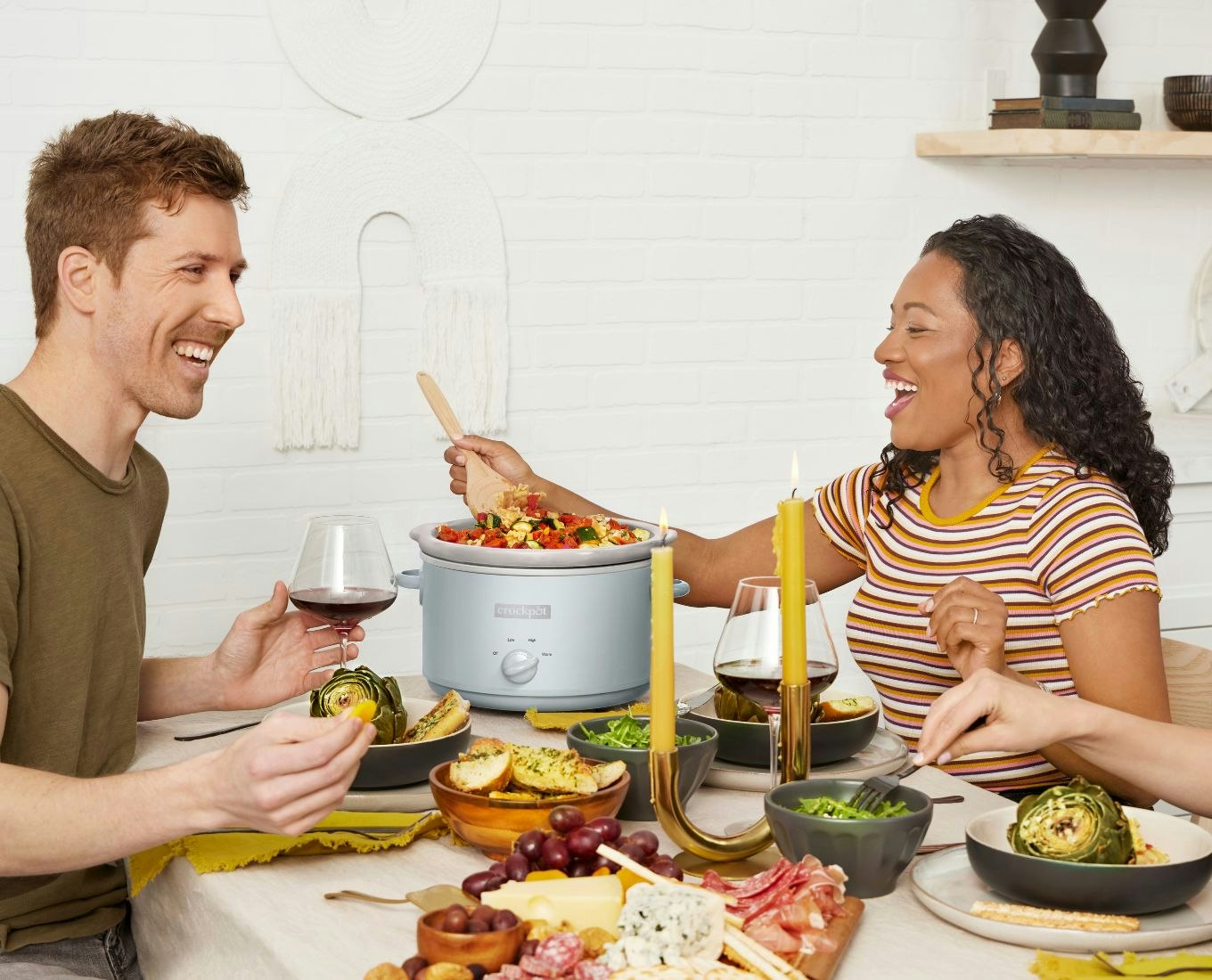 For all-out convenience you simply can't beat cooking with your Crockpot slow cooker. Add your ingredients in the morning, turn it on, and let it simmer while you take on your day! Then return later to a warm, comforting, ready-to-enjoy slow cooker meal—not to mention that delicious smell!

Learning how to slow cook couldn't be easier, but if you have any questions on how to make your best slow cooker meals yet, we're here to help. Can you put frozen meats in your Crockpot slow cooker? What slow cooker temperatures are best for each ingredient? What's the right amount of liquid to include in your recipe? When is the perfect time to add dairy to the ingredients? We'll answer those questions on how to use a Crockpot® slow cooker to its best advantage and more in our easy-to-follow tips for the best Crockpot meals to perfect your slow cooking techniques. Now, let's get cookin'!
Slow Cooking Basics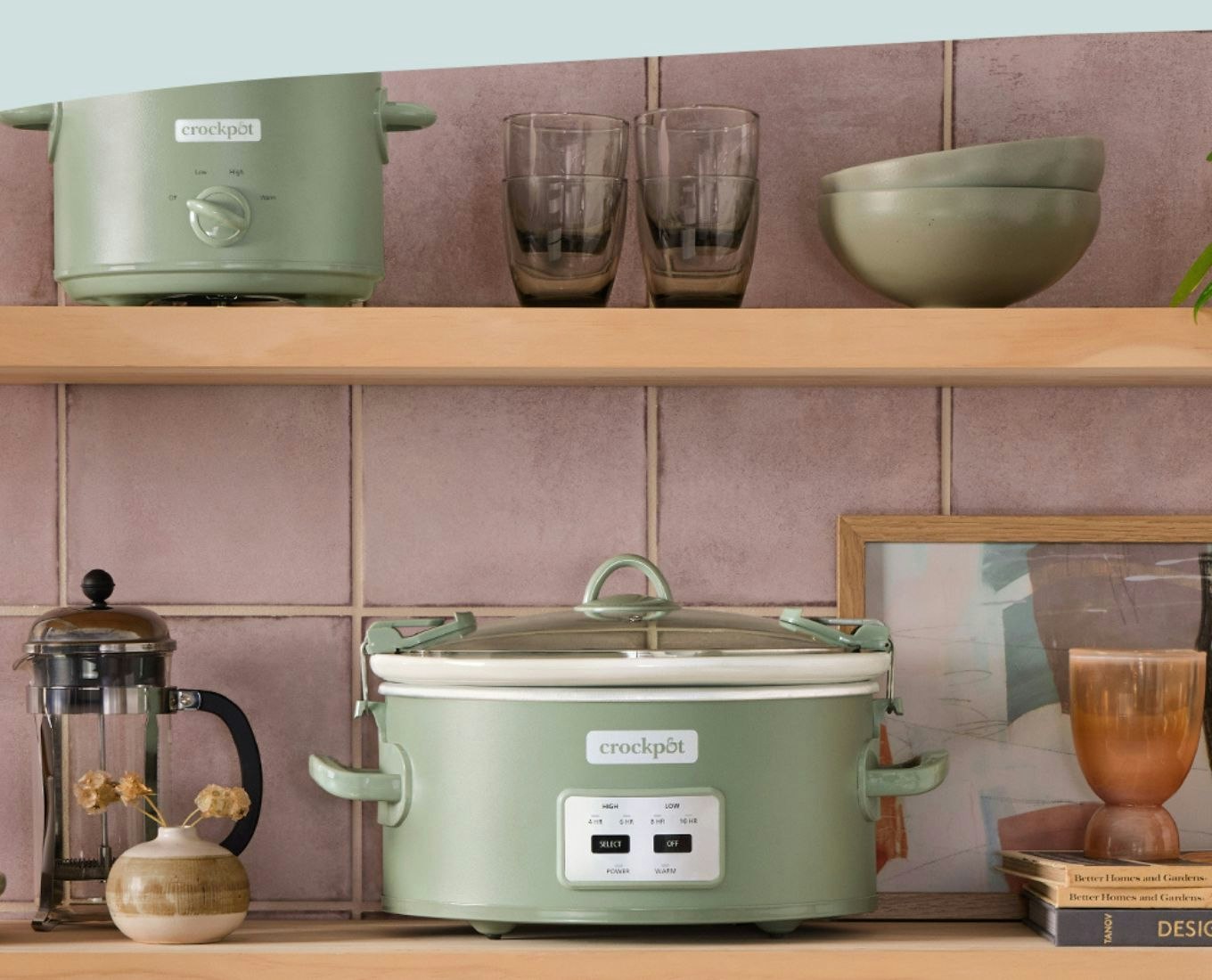 What temperature is 'Low' on a slow cooker?
Most slow cookers have two slow cooker temperature settings. The 'Low' cook setting reaches temperatures between 164-182°F (reaching a peak of around 205°F after 4 hours). Wondering what temperature is 'High' on a Crockpot slow cooker? The 'High' cook setting tops off at around 205°F after cooking for 4 hours. Always follow recipe directions for recommended slow cooker temperature settings and cook times.
How full do I fill my Crockpot slow cooker?
Try not to overcrowd you slow cooker ingredients. You'll get the best results by filling your slow cooker between one-half and two-thirds full. It's fine to cook whole chickens or large cuts of meat in your Crockpot slow cooker, as long as it is roomy enough to allow food to fit comfortably inside, with the lid fitting snugly on top. Want to try a larger cut of meat? You'll love this Heavenly Harvest Pork Roast recipe.
Will food continue to cook on 'Warm' in a Crockpot slow cooker?
The 'Warm' setting is NOT for cooking! The 'Warm' setting is ONLY for keeping already-cooked food at the perfect serving temperature until mealtime. To prevent food from dipping into temperatures that aren't food-safe, you shouldn't use the 'Warm' setting for more than 4 hours.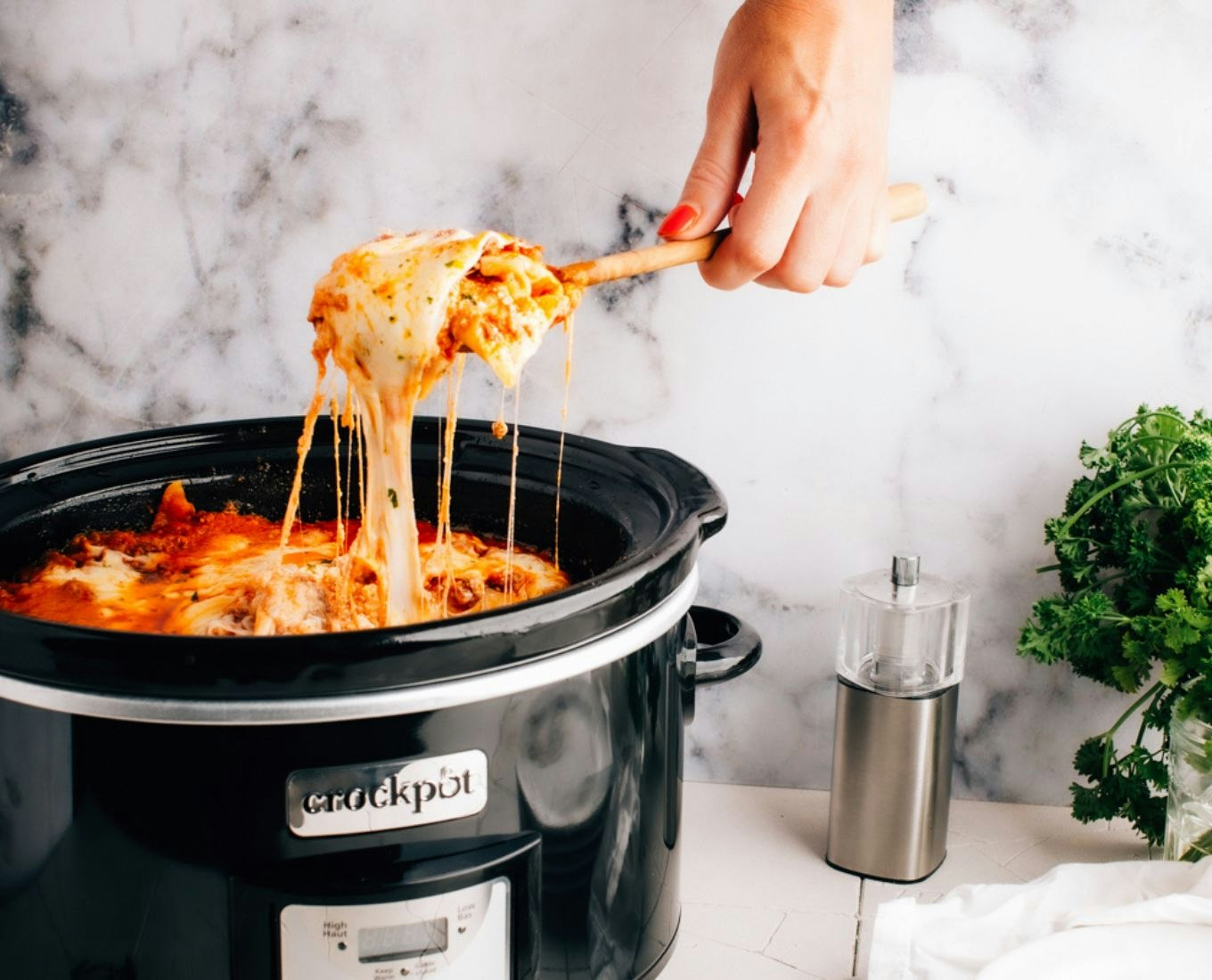 Should I stir ingredients in my Crockpot slow cooker while they're cooking?
Although you may be tempted, resist the urge to check on the ingredients during the cooking process! Lifting the lid allows heat and steam to escape, which will cause you to have to increase the cooking time. Let your slow cooker do its job—just set it and forget it.
How to use the Lunch Crock® Food Warmer
With the Lunch Crock Food Warmer, you can take your favorite meals with you wherever you go! It's a convenient, easy-to-carry electric lunch box that's perfectly sized for one person and so easy to use! Fill your Lunch Crock with whatever you plan to eat for lunch, ensuring that the lid of the warmer is tightened and closed. When it's getting close to lunch time, connect to power and plug it into an outlet so the warmer can begin heating your food. Once your lunch has reached the optimal cooking temperature, unplug and enjoy a warm, home-cooked meal anywhere! Make this 1-2-3 Chili Slow Cooker Recipe in your Crockpot slow cooker today, and bring leftovers for lunch in your Lunch Crock tomorrow!
Answers to Common Crockpot Slow Cooker Questions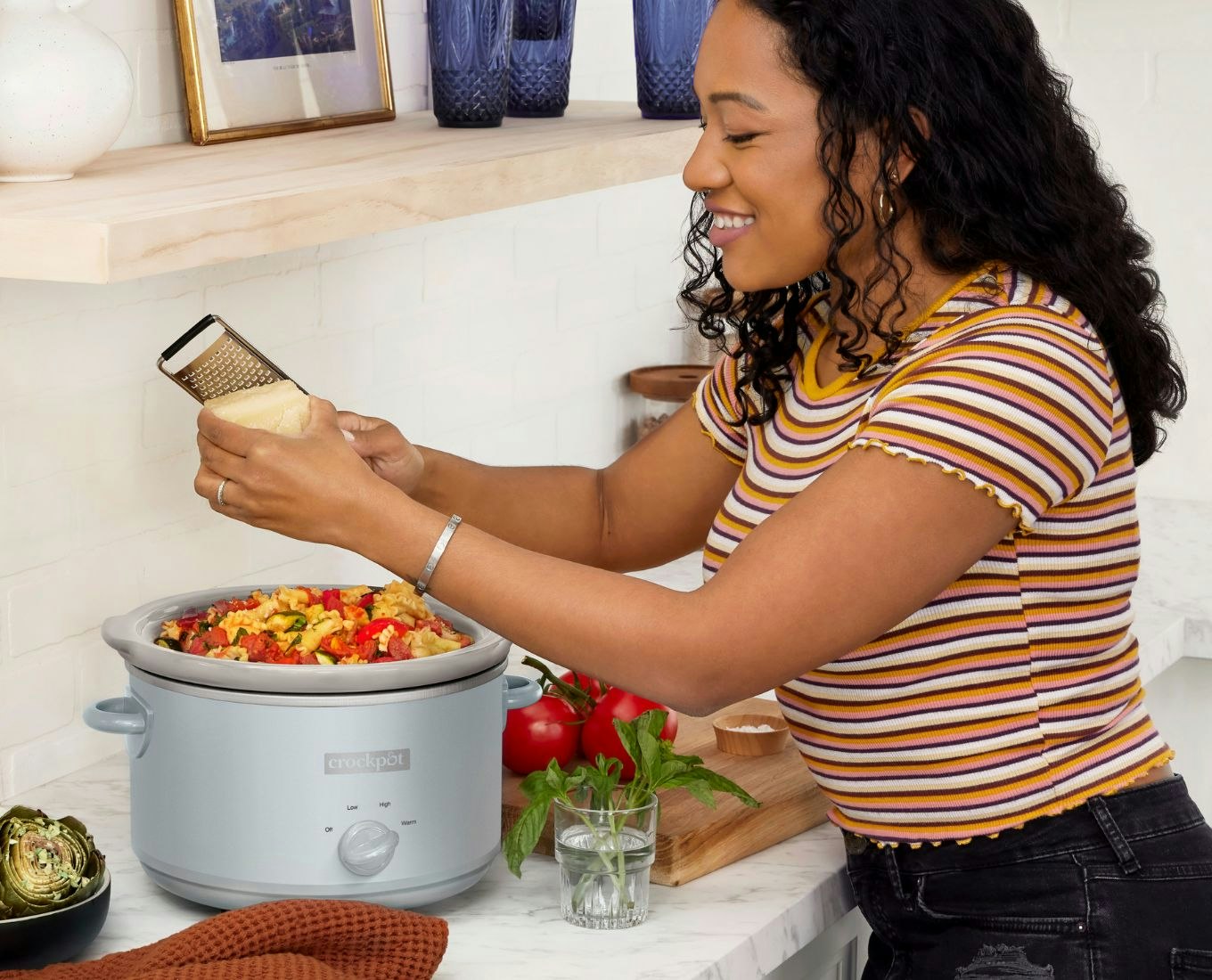 Can you cook rice in a slow cooker?
Yes! For the best results, plan on using long-grain converted rice or the specialty rice suggested in your recipe. If the rice isn't cooked thoroughly after the time suggested in the recipe, you can add an extra 1 to 1 1/2 cups of liquid for each cup of cooked rice and continue cooking for an additional 20 to 30 minutes. Try this Coconut Rice Pudding Slow Cooker Recipe for an easy-to-make take on a dessert classic.
Can you put frozen chicken in a Crockpot slow cooker?
It's fine to slow cook frozen chicken (and other frozen meats) in your Crockpot slow cooker, but you may need to increase the cook time. To make sure the meat is cooked all the way through, use a meat thermometer. To be tender, meat should register above 165°F. You'll love this Honey Garlic Chicken Wings Slow Cooker Recipe, whether you start with frozen or fresh chicken wings.
How long should you cook chicken—and other meats—in a slow cooker?
Cooking times will vary based on the weight of the chicken. Typically, a whole chicken should cook on 'Low' temperature for 7-8 hours (without opening the lid during the cook time). You will be able to tell that the chicken is done when the drumsticks begin to separate from the breast and the juices run clear.
To ensure perfectly cooked poultry, beef, pork, lamb, seafood, and more, be sure to follow the recipe. We've also included a few general cooking times and slow cooker temperature guidelines below:
SLOW COOKING BEEF
Short ribs (Low 8-9 hours; High 5-6 hours)
Chuck roast (Low 9-10 hours; High 7 hours)
SLOW COOKING CHICKEN
Boneless chicken breast (Low 2-3 hours; High 1-2 hours) Turkey breast (Low 5-6 hours; High 3-4 hours)
SLOW COOKING PORK
Baby back ribs (Low 8-10 hours; High 5-6 hours)
Loin roast (Low 4-6 hours; High 2-3 hours)
SLOW COOKING LAMB
Chops (Low 4-6 hours; High 2-3 hours)
Shank (Low 6-8 hours; High 4-5 hours)
SLOW COOKING FISH
Salmon (Low 1 hour; High 30 minutes)
Seafood Stew (Low 4-5 hours; High 2-3 hours)
When is the right time to add dairy to your recipe?
Dairy products including milk, yogurt, and sour cream, break down when cooked low and slow for long periods of time, so you shouldn't add them with the rest of the ingredients. Instead, stir them in during the final 15 minutes of cook time.
How do you solve the "too much liquid" dilemma?
Lifting your Crockpot slow cooker to pour out hot liquid can be challenging, and potentially dangerous. As an alternative, you can use a cooking ladle to remove excess liquid, but be sure to wear kitchen mitts to prevent steam burns on your skin. To remove a smaller amount of liquid from your food, you can prop your slow cooker lid open to allow a bit of steam to escape.
What is the best way to thicken sauces?
If you would like a thicker sauce for your recipe, you can roll meat in a little seasoned flour before you add it to the slow cooker. Another option is to stir in a bit of corn flour at the end of the cooking cycle.
Looking for more easy Crockpot slow cooker cooking tips? Here a few quick ones…
For the best results, choose the right cuts of meat. Fattier meats and dark meat chicken are better options, as leaner cuts may dry out during the cooking process.
Fattier meats are good, but trim the fat away before placing in the Crockpot slow cooker. Unlike frying, fat won't drain away during the cooking process in a slow cooker. Removing the fat prior to cooking will give you a healthier result that's tasty, too.
Browning meat before placing in the Crockpot slow cooker boosts flavor and gives the end result a more appetizing color.
Don't overdo the wine—a splash or two is all you'll need for creating a perfectly flavorful sauce.
Live in a high-altitude area? You'll need to add a bit more cooking time.
There's a method to food placement in your Crockpot slow cooker. The slowest cooking items should go on the bottom and then layer accordingly for the remaining ingredients. The top layer should be for any fresh herbs or slices of citrus.
There are so many benefits to Crockpot slow cooking and so many ways to incorporate it into every meal. From a Cinnamon Swirl French Toast Casserole for breakfast to an Apricot and Brie Dip appetizer, and from Potato Soup for dinner to Blueberry Cobbler for dessert, your Crockpot slow cooker makes everything taste better and so much easier to make.
Looking for more Crockpot slow cooker recipe inspiration? You'll find dozens more ideas here.
Happy slow cooking!
Cooking delicious homemade meals has never been easier with Crockpot® Slow-Cooker Meals! Our helpful tips and techniques make perfect slow cooking as easy as one, two, three. Whether you're a beginner in the kitchen or an experienced five-star chef, you can create mouthwatering slow cooker in your Casserole Crockpot or portable Cook and Carry slow cookers without all the hassle. So get started and try our helpful tricks for adding the right amount of liquid to your recipe, putting frozen meats in your slow cooker for succulent cuts, and more. You now have the peace of mind knowing step-by-step instructions to make easy Crockpot® recipes so you don't have to fret about making a mistake mid-meal. So what are you waiting for? Break out the aprons, set your timers, and let's get slow cooking! You're about to impress your family, friends, and yourself with home cooked meals with help from our Tips for Perfect Crockpot® Slow-Cooker Meals!