How to Make Cranberry Sauce in Your Slow Cooker

Grown predominately in Massachusetts, Wisconsin, Washington, and Oregon, cranberries are often shiny and gumball-sized. They range from shades of deep red to lighter hues similar to those of pinot noir. Because they are only in season for a select few months beginning in October, the fall is the perfect time to incorporate fresh, local cranberry bog finds into your sauces, pies, desserts and more.
Tips for Cranberries
Cranberries can be purchased fresh, frozen or canned. If you decide to purchase a bag of fresh cranberries, the peak time to do so is late November to early December. Be sure to check the bag and get rid of any shriveled, soft or discolored ones. Also be sure to remove any remaining stems. Fresh cranberries can be stored in your refrigerator for up to two months if properly sealed. If you'd like to save them for up to a year, store them in your freezer without washing them beforehand. Both canned and frozen cranberries have quite a long shelf life.
The berries that are most plump and most firm are best for cooking. Rinse them under cold water before using. When boiling cranberries whole, be sure to remove them from the heat source when they pop - when the outer skin expands until it bursts. Otherwise, they will become soft and mushy. For quick results, use a food processor to chop the cranberries.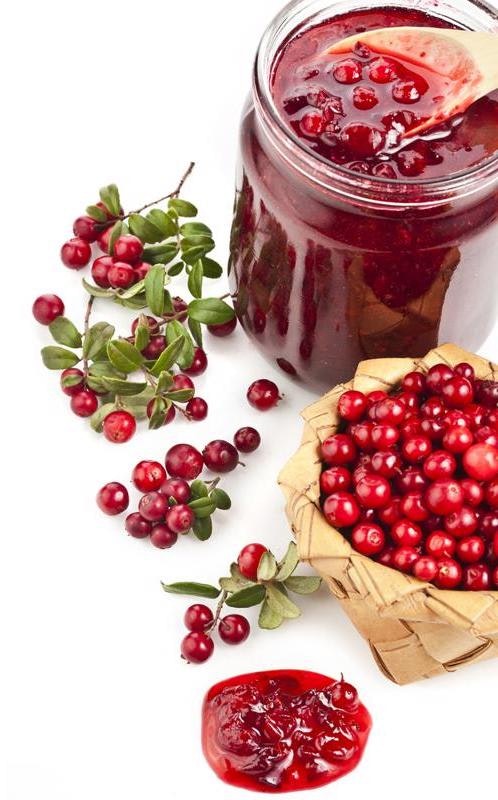 Homemade cranberry sauce is one of the most festive ways to enjoy these tiny berries.
How to Make Cranberry Sauce in Your Slow Cooker
The most traditional way to enjoy the fruit from the bogs is by creating cranberry sauce. Known to pair perfectly with roasted turkey, cranberry sauce is an essential part of Thanksgiving dinner. Use your Crockpot™ 5-Quart Smart-Pot® Slow Cooker to make this festive recipe:
Ingredients:
• 12 ounces cranberries
• 1/2 cup brown sugar
• 1/2 cup white sugar
• 1/2 cup water
• 1/2 cup orange juice
• 1/4 teaspoon ground cinnamon.
Directions
Combine the brown and white sugar, orange juice, water and cinnamon in your slow cooker. Add in the 12 ounces of cranberries and stir to combine. Cover and cook on high for 4 hours. Remove lid and stir once per hour. Cook until sauce has thickened. Serve warm and enjoy!
Cranberry Sauce Additions
In addition to cranberry sauce, these small red berries can create tasty relishes and chutneys. It's easy to jazz up your sauce with additional spices such as nutmeg and allspice, or even orange zest. Other small fruits such as blueberries, currants and raisins or even pecans will also serve as a festive garnish for your cranberry centerpiece.
Due to the slow ramp up, and even heating of a slow cooker, recipes featured on this site can be cooked in a range of slow cooker sizes. Recipes can be increased or decreased by one quart size per the cooking instructions. For smaller sauces and dips that calls for 3 quarts or less, it is not recommended to alter the unit size. Crockpot™ is a registered trademark and should not be used generically when referring to a 'slow cooker' within the recipes.
Sunbeam Products, Inc. d/b/a Jarden Consumer Solutions has not tested these recipes and is not responsible for the outcome of any recipe. You may not achieve the results desired due to variations in ingredients, cooking temperatures, cooking times, typos, errors, omissions, or individual cooking abilities. Please always use your best judgment when cooking with raw ingredients such as eggs, chicken or fish.