Creative Thanksgiving Ideas: Slow Cooker Quinoa Stuffing Recipes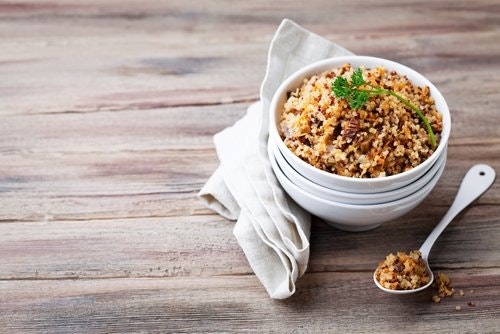 Have you ever considered mixing up the classic Thanksgiving dishes just a little bit? This celebration is all about the traditional turkey, potatoes, stuffing and cranberry sauce, but there are several ways to incorporate unique and creative ingredients that enhance these favorites while still keeping with tradition. With the Crock-Pot® 3.5-Quart Casserole Crock Slow Cooker, you can make these tasty stuffing dishes that can then be easily served right from your slow cooker.

Butternut Squash and Kale Quinoa Stuffing
For a lighter and slightly healthier stuffing dish, try out this recipe that tastes fresh and flavorful. Seasonal ingredients butternut squash, kale and cranberries combine flawlessly to create the perfect Thanksgiving dish, topped with a delightful crunch of walnuts.

Ingredients:
• 1 1/2 cups quinoa, uncooked
• 3 cups chicken or vegetable stock
• 1 bay leaf
• 1 medium butternut squash, peeled and cut into 1/2 inch cubes
• 2 tablespoons olive oil
• 2 ribs celery, diced
• 2 medium leeks, washed and chopped
• 1 teaspoon fresh garlic, minced
• 3 ounces curly kale, chopped
• 1 cup dried cranberries
• 1/4 cup fresh parsley, chopped
• 1 to 2 teaspoons fresh sage or thyme, finely chopped
• Salt and pepper, to taste
• 1/3 cup chopped walnuts, optional

Directions
1. Combine quinoa, vegetable or chicken stock, bay leaf, squash, olive oil, celery, leeks, garlic and kale in your slow cooker.
2. Stir to combine.
3. Cover and cook the quinoa for 5 to 6 hours on low or 3 to 4 hours on high.
4. Remove cover and fluff quinoa with fork.
5. Stir in cranberries, parsley, sage or thyme and salt and pepper.
6. Top with chopped walnuts, if desired, before serving.
7. Serve warm.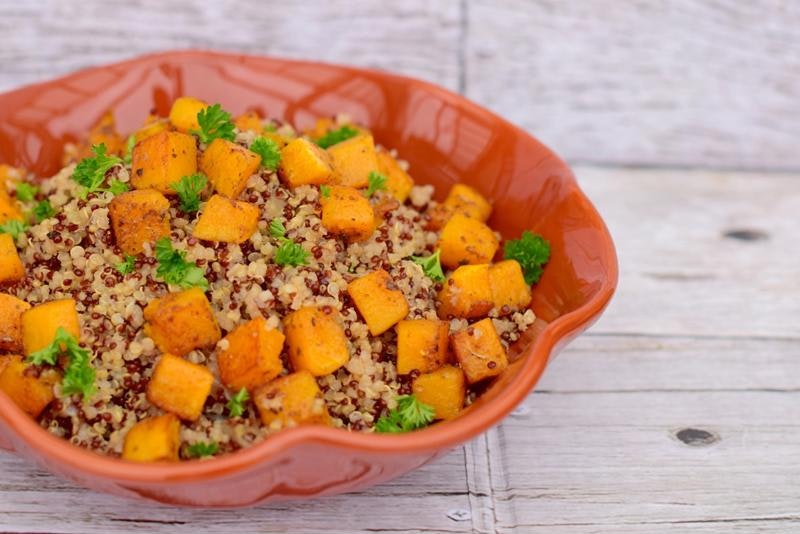 Light and fluffy, this healthy stuffing will be a big hit with your guests.

Apple and Mushroom Quinoa Stuffing
Another lighter version of the traditional stuffing dish, this one will become your new favorite. Sweet apples, soft mushrooms and the crunch of pine nuts make this quinoa stuffing a healthy yet hearty festive dish.

Ingredients:
• 1 cup quinoa, rinsed
• 2 cups water
• 1 onion, chopped
• 1 pound fresh mushrooms, sliced
• 2 cloves garlic
• Salt and pepper, to taste
• 2 teaspoons poultry seasoning
• 2 apples, peeled, cored and chopped
• 1/4 cup pine nuts
• 1/3 cup raisins

Directions:
1. Combine quinoa, water, onion, mushrooms, garlic, salt and pepper and poultry seasoning to your Casserole Crock Slow Cooker.
2. Mix to combine.
3. Cover and cook on low for 6 to 6 1/2 hours, until quinoa is fully cooked and liquid is absorbed.
4. Use a fork to fluff quinoa.
5. Add chopped apples, pine nuts and raisins.
6. Serve warm.

Due to the slow ramp up, and even heating of a slow cooker, recipes featured on this site can be cooked in a range of slow cooker sizes. Recipes can be increased or decreased by one quart size per the cooking instructions. For smaller sauces and dips that call for 3 quarts or less, it is not recommended to alter the unit size. Crockpot™ is a registered trademark and should not be used generically when referring to a 'slow cooker' within the recipes.
Sunbeam Products, Inc. d/b/a Jarden Consumer Solutions has not tested these recipes and is not responsible for the outcome of any recipe. You may not achieve the results desired due to variations in ingredients, cooking temperatures, cooking times, typos, errors, omissions, or individual cooking abilities. Please always use your best judgment when cooking with raw ingredients such as eggs, chicken or fish.