Championship Chili Slow Cooker Recipe
Cook chili like a champ with this easy-to-make recipe that is sure to be a homerun.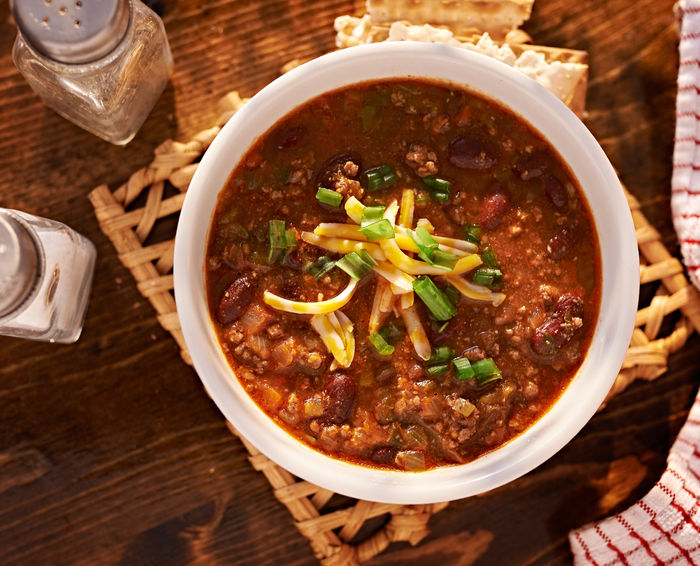 Ingredients:
3 ½ - 4 pounds coarsely ground beef

14 ½ ounces beef broth, canned

3 tablespoons onion, finely chopped

1 teaspoon garlic powder

3 teaspoons instant beef bouillon granules, divided

8 ounces tomato sauce, canned

2 tablespoons paprika

½ teaspoon black pepper

½ teaspoon cayenne

4 tablespoons chili powder

1 tablespoon cumin

¼ teaspoon onion powder

¼ teaspoon salt

¼ teaspoon sugar

¼ teaspoon garlic salt

¼ teaspoon instant chicken bouillon granules

1 tablespoon lime juice
Instructions:
Cook beef in large skillet over medium heat, stirring to crumble until beef is browned; drain.

Place cooked beef, chopped onion, beef broth, tomato sauce, chili powder, paprika, cumin, 2 teaspoons beef bouillon, garlic powder, cayenne pepper, and black pepper in your Crockpot® slow cooker.

Cover; cook on LOW 7 to 8 hours or HIGH 3 to 4 hours.

Stir in remaining beef bouillon, onion powder, salt, sugar, garlic salt, chicken bouillon, and lime juice.

Cover; cook on LOW 1 hour.

Pour servings into bowls and enjoy!
Soups And Stews
American
Beef
Slow Cooker