25 of the Best Ever Crockpot® Slow Cooker Chili Recipes
When it comes to comfort foods, chili takes the prize. Warm, filling, and oh-so tasty, chili has long been a staple for gameday tailgates, cozy nights by the fire, and family-friendly buffet dinners. Incredibly versatile and easy-to-make, there are chili recipes for meat lovers, vegetarians, and vegans, and for every spice level from mild to fiery hot.
One of the best parts of making chili is that it's typically a one-pot meal and it was practically made for cooking in a Crockpot® slow cooker. Grab your ingredients, put everything inside your slow cooker, turn it on, and let us do the rest. Your chili will cook, low and slow, while you're at work, cleaning the house, running errands, or just plain relaxing.
Want to try some of the best homemade chili you've ever had? Let us show you how, with our top 25 slow cooker chili recipes—more than enough to keep you warm during the cold winter months!
Classic Crockpot Slow Cooker Chili Recipes for Easy Weeknight Dinners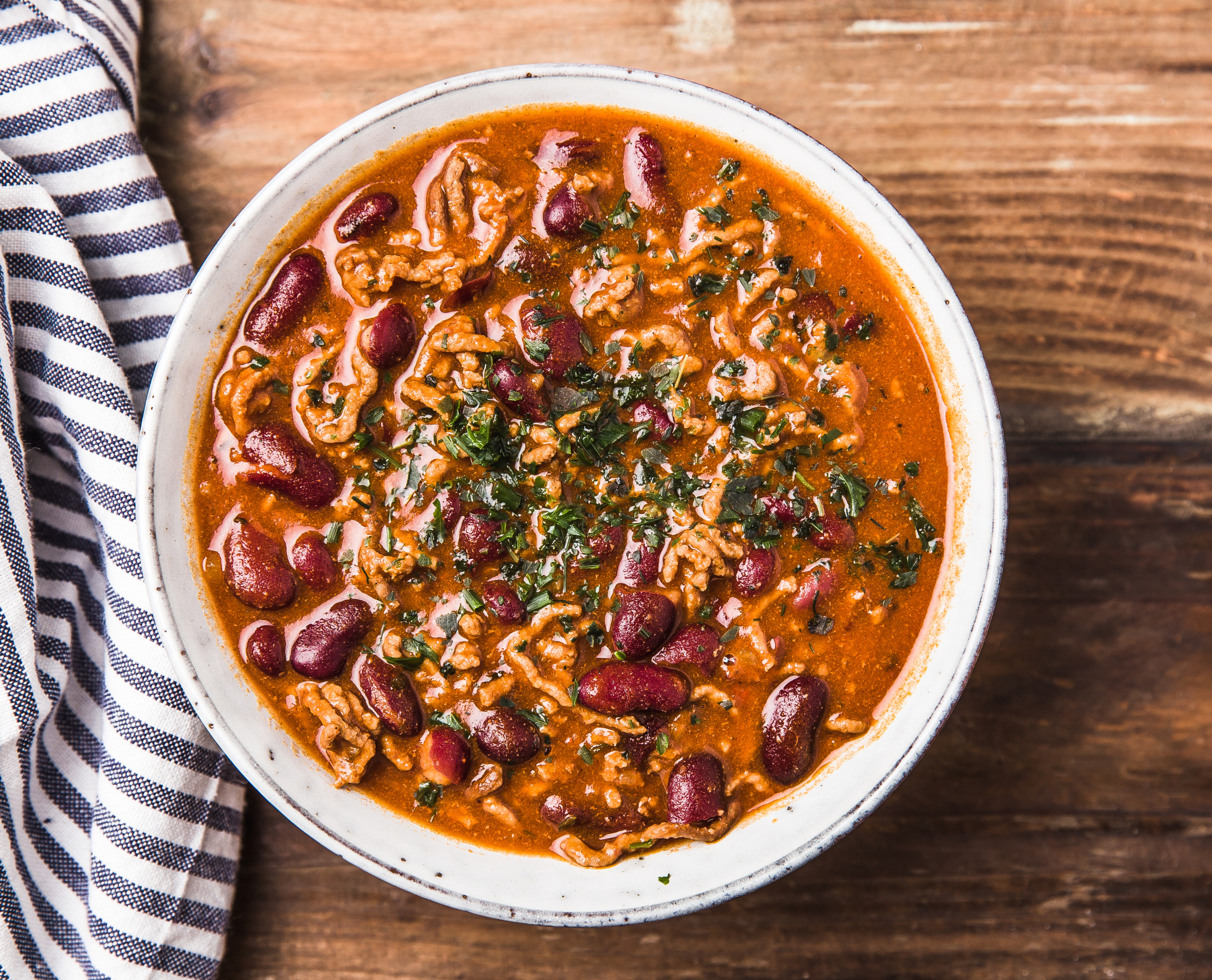 Best Ever Slow Cooker Chili
A bold claim, but one that's definitely warranted, this classic take on slow cooker chili is quite possibly the best and the easiest chili recipe you'll ever make.
Get Recipe here
Slow Cooker Championship Ground Beef Chili
Looking for a chili with some real kick? This classic ground beef recipe is jam-packed with spices for extra flavor and heat.
Get Recipe here
Easy Pleas'n 1-2-3 Slow Cooker Chili
Just 7 simple ingredients, and a few hours in your slow cooker, and you've made a tasty, family-friendly meal that's perfect any night of the week.
Get Recipe here
Best No-Bean Slow Cooker Chili
No beans? No problem. This easy slow cooker recipe is packed with so much ground turkey, peppers, and fire-roasted tomatoes you won't miss the beans at all.
Get Recipe here
Slow Cooker Southern Chili and Cornbread
Nothing pairs better with chili than cornbread. This recipe includes both for an easy and delicious weeknight dinner mainstay.
Get Recipe here
Slow Cooker Beef Chili
Swap out the beef for pork, chicken, or turkey to customize this tomato-rich recipe to suit your taste or healthier-eating lifestyle.
Get Recipe here
Slow Cooker Sunday Chili Con Carne
There's a full 4 pounds of ground beef in this crowd-pleasing chili recipe, that's perfect for game days, Sunday dinners (not to mention a week's work of hearty leftovers).
Get Recipe here
Slow Cooker Tailgate Chili
Want to be the hit of the tailgate? Make this tasty, and super meaty chili, for the next game day! Top with cheddar cheese and sour cream, add crackers, and enjoy!
Get Recipe here
Vegetarian Chili Recipes to Spice Up Your 'Meatless Monday' Meal Plans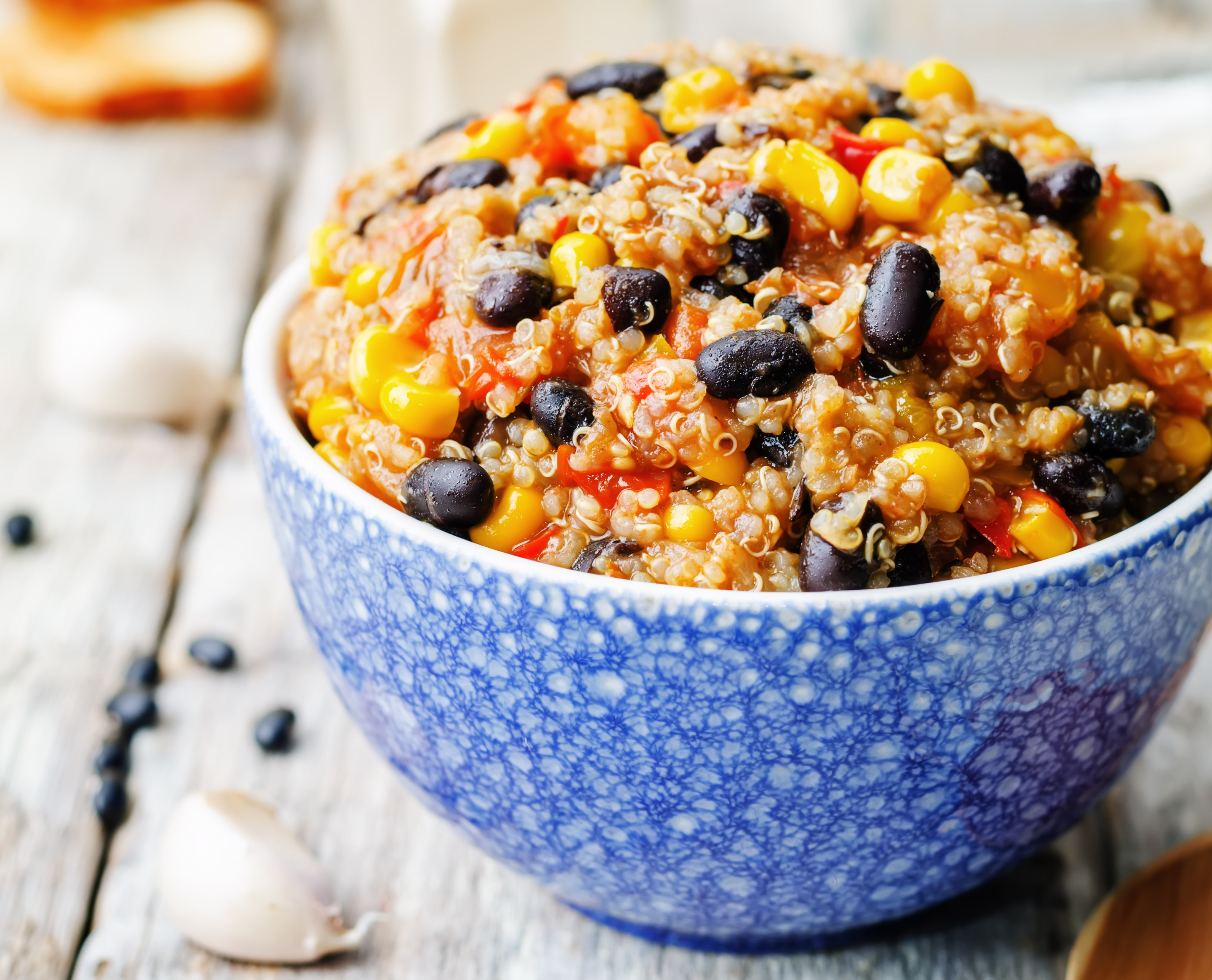 Slow Cooker Quinoa Vegan Chili
A delicious combination of beans and quinoa pack a powerful protein bunch in this vegan-friendly everyday chili recipe.
Get Recipe here
Slow Cooker Vegetarian Chili
Black, kidney, or pinto are thought to be the best beans for chili, but this chili recipe includes chickpeas for a unique twist on a vegetarian favorite.
Get Recipe here
Slow Cooker Black Bean Chili
There are a lot of bean-packed chili recipes, but this chili takes things up a notch with an abundance of meaty mushrooms. Vegetarian friendly and a perfect weekday meal.
Get Recipe here
Slow Cooker Sweet Potato Black Bean Chili
This vegan favorite, mixes sweet potato, peppers, and beans for a hearty and healthy chili—minus the meat—that's great to serve, any night of the week.
Get Recipe here
Slow Cooker Two Bean Chili with Corn
This double-bean chili recipe includes frozen corn for color and crunch. Fire-roasted tomatoes add a unique, smoky flavor.
Get Recipe here
Unique Chili Recipes You'll Definitely Want to Make Again and Again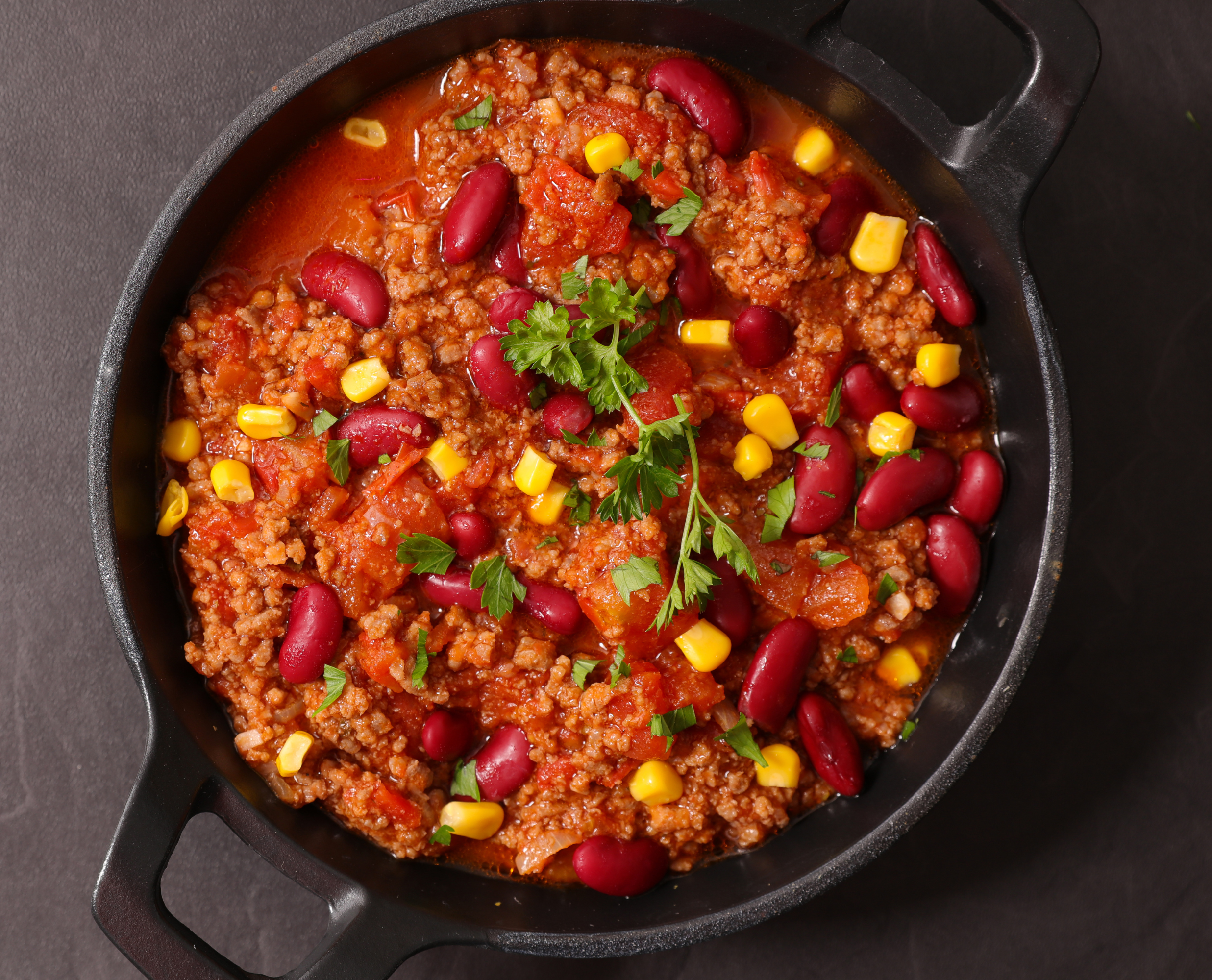 Slow Cooker Chile Mole
This hearty, beefy chili slow cooks boneless chuck roast until it's fork tender and finishes off the recipe with melted semisweet chocolate for unexpected flavor layering.
Get Recipe here
One Pot Slow Cooker Chili Mac
A hearty, beefy meal that's perfect for busy weeknights or leisurely weekends, this chili mac recipe adds elbow macaroni and an array of spices to satisfy your hunger.
Get Recipe here
Slow Cooker Hearty Bacon and Pork Chili
If you have pork lovers in your family, they will go hog wild for this hearty crowd-pleasing recipe — spicy, meaty, and did we mention there's bacon?
Get Recipe here
Slow Cooker Mama's Beer Chili
Here's a turkey chili recipe with a twist—a cup of beer is the liquid that gives it an extra depth of flavor. Plus, the turkey is a healthier option over beef or pork.
Get Recipe here
Slow Cooker Mexican Chorizo Chili
This mouthwatering chorizo chili cooks low and slow while you're away, so dinner is piping hot and ready when you get home.
Get Recipe here
Slow Cooker Italian Sausage Chili
Spicy Italian sausage, ground turkey, and four different types of beans make this one of heartiest chili recipes you can make, for a crowd-pleasing meal guaranteed to satisfy even the most discriminating dinner guest.
Get Recipe here
Pork Tenderloin Slow Cooker Chili
Tasty chunks of pork tenderloin form the basis of this mouthwatering slow cooker chili. Add beans, tomatoes and packaged chili mix for a tasty—and economical—meal.
Get Recipe here
Slow Cooker Southwest Chili Soup
Part soup, part chili, pure heaven-in-a-bowl. Make the base with some veggies and spices, along with a store-bought rotisserie chicken, then add chicken broth and diced tomatoes for a slow cooker treat that will warm up any chilly night.
Get Recipe here
Slow Cooker Turkey and Chicken Chili Recipes for Tasty, Healthier Meals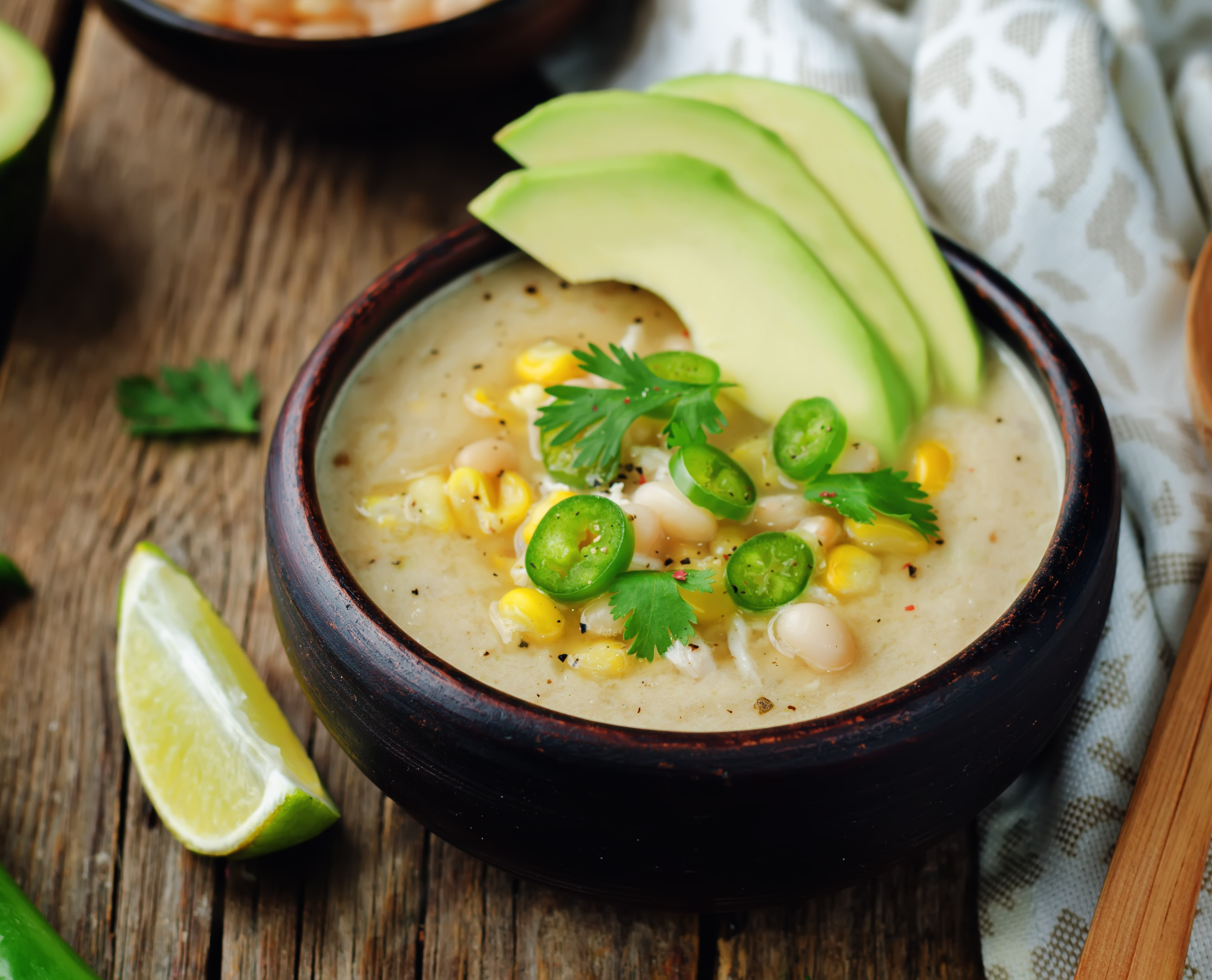 Slow Cooker White Chicken Chili
Fire roasted green chiles add spice, without heat, for an easy weeknight dinner that's loaded with fork-tender white meat chicken.
Get Recipe here
The Best Festive Slow Cooker Turkey Chili Recipe
Top this flavorful turkey chili with cranberry sauce, orange zest, and fried sage leaves for a festive, holiday spin on a classic comfort food.
Get Recipe here
Slow Cooker Chicken Pumpkin Chili
The smoky flavor of chipotle gives an extra kick to a classic family favorite, perfect for cold winter weeknight dinners or Sunday game days on the couch.
Get Recipe here
Slow Cooker Chicken Chili
Boneless chicken thighs make an economical, and tasty, base for this classic crockpot chili. Top with shredded cheese, chopped chives, and sour cream for the perfect finish.
Get Recipe here
What Goes Good with Chili?
We all know that chili is good all on its own, but these side dishes will help to make your chili meal taste even better.

Cornbread: Chili's spicy flavor profile is the perfect foil for the light sweetness of cornbread, which is why cornbread is the most common food served with chili.

Potato skins: Make them ahead of time, and warm them in the oven when it's mealtime. Some kids even like using potato skins as a boat for holding their chili.

Baked potatoes: The same toppings you add to your chili can be used on your baked potato. That's a win/win situation.

Salad: A fresh, crisp, green salad pairs beautifully with a filling comfort food like chili. Using a creamy dressing like ranch, bleu cheese, or Caesar, really helps balance out the spiciness of the chili.

Crusty bread: Partly for dunking, partly for scooping up the last bits of yummy chili from your bowl, adding your favorite crusty bread to your chili meal is no brainer.

Nachos: Your leftover chili becomes the star ingredient for a plate of crunchy nachos. Place the nachos on a baking sheet, load up a generous portion of chili on top, and bake. You've just made a crowd-pleasing snack everyone will love.
What Chili Toppings Should I Add for the Best-Tasting Results?
How can you make your Crockpot chili even better? Just add toppings! Whether you go classic (sour cream), spicy (hot sauce), or all-out unexpected (honey), these are some of the best toppings to elevate your chili to the next level.
Classic:
Shredded cheese
Corn chips
Green onions
Guacamole
Oyster crackers
Greek yogurt
Chopped onions
Fresh herbs: cilantro, chives, or parsley
Salsa
Black olives
Spicy:
Chopped chili or jalapeño peppers
Sriracha
Chili oil
Hot sauce
Red pepper flakes
Unexpected:
Ranch dressing
Maple syrup (sweet goes perfect with savory)
Fried onions
Crumbled bacon
Dried cranberries
Croutons
What is the best secret ingredient for chili?
You've mastered the chili basics, now it's time to go all-out gourmet with some secret ingredients that will really up the flavors.
Anyone for Boozy Chili?
Beer, wine, or even a shot of two of your favorite spirit can add layers of flavor to your chili.
A little red wine provides richness and depth to beef chili, very similar to the way it enhances beef stew or beef burgundy.
A bottle of your favorite beer adds dimensional flavor and can replace some or all of the liquid ingredient in your recipe.
When adding spirits—bourbon, vodka, or tequila are three of the best choices—pour in towards the end of the cooking cycle to help lift the flavor of the individual chili ingredients while camouflaging the taste of the spirits.
Sauce it Up!
Just a few dashes of soy sauce, fish sauce, or Worcestershire emphasize the meaty depth of the chili flavor (even with vegetarian chilis).
A Bit of Caffeine
Like it does for you in the morning, a cup of dark roasted espresso or strong-brewed black coffee really wakes up the complex flavors of chili.
Chocolate Makes Everything Better!
Unsweetened baking chocolate, cocoa powder, or even bits of dark chocolate are pure magic in chili and really complement its spiciness.
Peanut Butter to the Rescue
Move over, jelly, peanut butter has a brand-new buddy. Peanut butter adds creamy richness and helps bulk up the taste of even lean vegetable chilis.
Explore Your Spice Rack
A little bit of baking spices, including cinnamon, allspice, cloves, or nutmeg, make chili more aromatic and delicious. Note: A little goes a long way, so only a pinch or two is needed.
Smashing Pumpkins
Canned puréed pumpkin provides a natural creaminess and richness to chili, while adding a sweet earthiness that's indescribably tasty, too.
Can't Miss Seasoning Mix
Not sure how to create the perfect chili seasoning? Our Crockpot Slow Cooker Original Chili Seasoning Mix makes sure you always spice things up right. Buy it now, here.
In Conclusion
Chili has long been recognized as an easy, comforting meal option, and never easier to make than when done in your Crockpot Slow Cooker. Pull together your ingredients in the morning—or even the night before—set your slow cooker to the setting suggested in your recipe and it gets to work, blending flavors, and sealing in the juiciness so all you'll need to do is set the table and enjoy the meal.
Looking for more Crockpot Slow Cooker recipe inspiration? You'll find dozens more ideas here.
Happy slow cooking!
Crockpot™ is a trademark of Sunbeam Products, Inc, used under license