5 Snacks in Your Slow Cooker
Snacking doesn't have to be boring. With your slow cooker, there are endless snack creations that you can easily concoct, from healthy veggie snacks to sweet and savory treats. The next time you're in the mood for something new to snack on, use your Crock-Pot® Smart-Pot® 4-Quart Digital Slow Cooker to make these recipes.
1. Pear and Ginger Applesauce
Fresh, juicy and naturally sweet, like apples, pears are ideal for cooking down to an applesauce. Together, these two firm fruits blend for a rich and flavorful sauce, enhanced by the zest of ginger and the subtle cinnamon in this recipe. This is a great snack for after school, mid-morning or even as a dessert!
Ingredients:
5 medium-sized Gala apples, peeled, cored, quartered and sliced
5 medium-sized Bartlett pears, cored, quartered and sliced
3 tablespoons sugar
1/2 teaspoon ground cinnamon
1 1/2 teaspoons finely grated fresh ginger
1/4 cup water or apple juice
Directions
Once sliced, add apples and pears to a large bowl.
Coat with sugar, cinnamon and fresh ginger, evenly.
Add water or apple juice to slow cooker and then pour in pear and apple mixture.
Cover and cook on LOW for 8 hours or on HIGH for 5 hours.
Use a wooden spoon to stir occasionally during cook time and to break up larger pieces of fruit.
When finished, leave sauce chunky or stir to get desired smoothness.
Serve warm or at room temperature.
Garnish with a dash of cinnamon, if desired.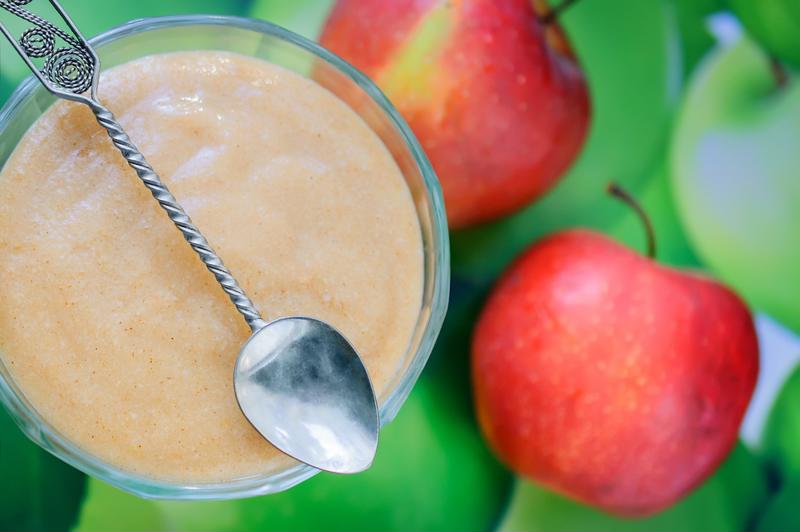 2. Brown Sugar and Honey-Glazed Carrots
Mix up the classic snack of carrots and hummus and give this sweet recipe a try instead. It's a great way to get in a serving of vegetables for you or for the kids. Sugar-glazed and delivering some zing, you also have the option of adding wedged onion to this slow-cooked snack for a little extra flavor.
Ingredients:
1 (32 ounce) bag ready-to-eat baby-cut carrots
1/2 teaspoon salt
1/2 cup packed brown sugar
2 tablespoons butter, cut into small pieces
1 medium onion, cut into wedges (optional)
1 tablespoon chopped fresh parsley
Directions
Use a Crock-Pot® Slow Cooker Liner in the bottom of your slow cooker.
Empty bag of baby carrots into slow cooker.
Cover with salt, brown sugar and butter.
If desired, add onion wedges as well.
Cover and cook on HIGH for 4 to 5 hours, stirring twice throughout cook time.
Cook time is up when carrots are at desired tenderness.
Use a slotted spoon to transfer carrots to a serving dish.
Coat with sauce from slow cooker if desired.
Garnish with fresh parsley.
3. Taco-Seasoned Pretzels
When you're craving something crunchy and salty, pretzels are a great snack. When made in your slow cooker with this homemade taco seasoning, you're in for an even better treat. Zippy, zesty and spicy, this taco seasoning brings even more flavor to everybody's favorite snack. You can even bring out a slow-cooked Mexican-inspired dip for the pretzels too!
Ingredients:
1 bag (320 grams) tiny twist pretzels
1 tablespoon chili powder
1/4 teaspoon garlic powder
1/4 teaspoon onion powder
1/4 teaspoon crushed red pepper flakes
1/4 teaspoon dried oregano
1/2 teaspoon paprika
1 1/2 teaspoon ground cumin
1 teaspoon sea salt
1/2 cup canola oil
Directions
In a large bowl, combine pretzels, spices and canola oil.
Stir well to coat.
Add mixture to slow cooker.
Cover and cook on LOW heat for 2 hours, stirring regularly.
Transfer pretzels to parchment-lined baking sheet to cool.
Enjoy!
4. Pumpkin Hazelnut Granola
Another great snack that's easy to make in your slow cooker is granola. This versatile snack can be enjoyed on its own, eaten as cereal or topped on your morning yogurt. No matter how you choose to enjoy it, this homemade granola is rich with flavor that will ignite your taste buds.
Ingredients:
3/4 cup honey or maple syrup
1/2 cup pumpkin puree (not pie filling)
1/4 cup vegetable oil
1/4 cup hazelnut spread
2 teaspoons pure vanilla extract
3/4 teaspoon ground cinnamon
1/2 teaspoon ground ginger
1/4 teaspoon ground cloves or nutmeg
4 cups old-fashioned oats
1 cup rice crisps cereal
1/4 cup sunflower or pumpkin seeds
1/2 cup raisins
1/4 teaspoon salt
Directions
Use a Crock-Pot® Slow Cooker Liner for your slow cooker.
In one bowl of medium size, combine maple syrup, pumpkin puree, vegetable oil, hazelnut spread and vanilla extract.
In a larger bowl combine all dry ingredients including spices, oats, rice crisps, sunflower or pumpkin seeds, raisins and salt.
Pour wet ingredients over dry ingredients and stir gently to coat.
Add granola mix to slow cooker.
Cover and cook on HIGH for 2 to 2 1/2 hours, stirring occasionally.
Transfer granola to parchment-lined baking sheet to cool and dry.
To store, keep in air-tight container.
At room temperature, granola will keep for about one week. To preserve longer, keep in refrigerator.
5. S'mores Brownies
For a sweet and savory dessert-like snack to finish off the list of slow-cooked bites, s'mores brownies takes the cake. Warm, gooey and chocolaty, this marshmallow delight is perfect for celebrations or any weekday afternoon treat.
Ingredients:
1/3 cup semisweet chocolate chips, melted
10 tablespoons butter, melted
2 large eggs
1 teaspoon vanilla extract
1 1/4 cup sugar
3 tablespoons unsweetened cocoa powder
1/4 teaspoon salt
3/4 cup all-purpose flour
16-18 individual graham crackers
2 cups milk chocolate chips
2 cups marshmallow fluff (more as desired)
Directions
Line your slow cooker with a Crock-Pot® Slow Cooker Liner.
In the microwave, melt chocolate chips and butter together.
In a bowl, beat eggs, vanilla and sugar.
Slowly add melted chocolate mixture.
In a separate small bowl, sift together cocoa, salt and flour.
Combine wet and dry ingredients but do not overmix.
Pour half of batter into slow cooker.
Top with about half of graham crackers, breaking when necessary to cover batter completely.
Top graham crackers with chocolate chips.
Cover with remaining batter.
Cover and cook on LOW for 1 1/2 hours.
Check if brownies are firm and cooked through.
If so, let cool and then top with marshmallow fluff for serving.
Cut s'mores brownies to serve.
Due to the slow ramp up, and even heating of a slow cooker, recipes featured on this site can be cooked in a range of slow cooker sizes. Recipes can be increased or decreased by one quart size per the cooking instructions. For smaller sauces and dips that call for 3 quarts or less, it is not recommended to alter the unit size. Crock-Pot® is a registered trademark and should not be used generically when referring to a 'slow cooker' within the recipes.
Sunbeam Products, Inc. d/b/a Jarden Consumer Solutions has not tested these recipes and is not responsible for the outcome of any recipe. You may not achieve the results desired due to variations in ingredients, cooking temperatures, cooking times, typos, errors, omissions, or individual cooking abilities. Please always use your best judgment when cooking with raw ingredients such as eggs, chicken or fish.