Slow-Cooker Meatloaf
One of the most hearty and wholesome meals of all time, meatloaf, is best made in your slow cooker. But did you know there is more than one way to create this traditional dish? In fact, you can get as creative as you want with meatloaf recipes including everything from balsamic vegetables to bacon-wrapped meatloaf. And, when you make your next meatloaf dinner in your Crock-Pot® Swing and Serve™ Slow Cooker, you can make two different gravies in each of the upper 1.5-quart crocks.
Entertaining with your Crock-Pot® Swing and Serve™ Slow Cooker makes your life simpler and more hassle-free than ever before. Conveniently cook your meatloaf in the bottom 3.5-quart crock and slow-cook two different sauces above, all on their own temperatures and cook times. Each can easily switch to the WARM setting when done so that all dishes are ready to go as soon as your guests arrive. Perfect for hosting, this appliance takes up little counter space and makes it easy for friends and family to serve themselves.
Before guests arrive, try out each of these meatloaf dishes until you find your favorite and follow these gravy recipes for the upper crocks.
Bacon-Wrapped Meatloaf
Adding bacon to an already savory meat dish only intensifies that mouth-watering flavor, making it an exciting and delicious mid-week meal.
Ingredients:
1 pound bacon
1 lb grass-fed ground beef
1 small egg
1 small onion, diced
1/2 cup kale, chopped
2 cloves garlic
8 ounces diced tomatoes
1/4 cup almond flour
2 tablespoon Italian seasoning
1 teaspoon Himalayan salt
1/2 teaspoon pepper
2 hard boiled eggs, peeled (optional)
Directions
Weave bacon strips together as you lay them on a cutting board.
In a large bowl, combine beef, small egg, onion, kale, garlic, tomatoes, flour, seasoning, salt and pepper.
Use your hands to shape the meat mixture into a loaf, carefully placing the two hard boiled eggs in the middle.
Lay the meatloaf on top of the woven strips of bacon.
Wrap the bacon up and over the meatloaf, tucking it on all sides.
Place the bacon-wrapped meatloaf in your slow cooker, tucked side down.
Cover and cook on HIGH for 3 to 4 hours or on LOW for 6 to 8 hours.
Italian Turkey Meatloaf
For a slightly more zesty version of your grandmother's famous meatloaf recipe, this one adds the perfect blend of Parmesan, breadcrumbs and tomato sauce.
Ingredients:
1 (20 ounce) package ground turkey
1 medium onion, chopped
1 small green pepper, finely chopped
1 egg, lightly beaten
2 garlic cloves, chopped
1 (8 ounce) can tomato sauce, divided
1/2 cup seasoned bread crumbs
1/3 cup grated Parmesan cheese, plus more
2 tablespoons grated Parmesan cheese, divided
2 teaspoons Italian seasoning, divided
1/2 teaspoon garlic salt
1/4 teaspoon black pepper
Directions
In a large bowl, combine ground turkey, onion, green pepper, egg, garlic, 1/2 cup tomato sauce, bread crumbs, 1/3 cup cheese, 1 teaspoon Italian seasoning, garlic salt and black pepper.
Form mixture into a 9-by-5-inch log and place in slow cooker.
Cover and cook HIGH for 2 1/2 hours or on LOW for 4 to 5 hours, until temperature reaches 160 degrees.
With 30 minutes of cook time remaining, mix remaining tomato sauce, 2 tablespoons Parmesan cheese and Italian seasoning in a bowl.
Pour over meatloaf and continue cooking for 30 more minutes.
Remove meatloaf slow cooker, slice and serve warm.
Mushroom and Sun-Dried Tomato Meatloaf
For a "meatless meatloaf" that's filled with flavor, and sweeter than your classic dish, this delicious mushroom and sun-dried tomato recipe is sure to be a hit.
Ingredients:
4 ounces sun-dried tomatoes
1 cup breadcrumbs, plus more for coating ramekins
1 cup warm water
2 eggs
3 tablespoons olive oil
1 yellow onion, diced
2 cloves garlic, minced
1 pound mix of portobello and cremini mushrooms, trimmed and finely chopped in a food processor
Kosher salt and freshly ground pepper
4 ounces cheddar, grated
8 ounces baby spinach leaves, for serving
Directions
Soak sun-dried tomatoes in hot water until soft, then chop.
In a bowl, mix eggs with soaking water and breadcrumbs.
Heat onions with olive oil over medium-high heat, until brown.
Add garlic, mushrooms and sun-dried tomatoes, continuing to cook for about 15 minutes.
Season with salt and pepper.
Add vegetables to large bowl and mix in breadcrumbs and egg mixture.
Add grated cheese and use your hands to mix.
Form log shape with mixture and place in slow cooker.
Cover and cook on HIGH for 2 1/2 hours or on low for 4 hours.
When cook time is almost finished, sauté spinach in skillet until wilted.
Slice veggie meatloaf and serve over spinach.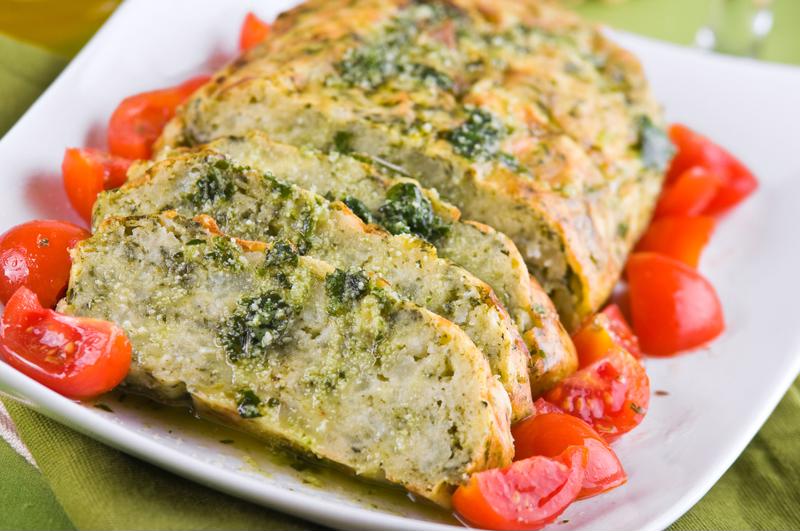 Due to the slow ramp up, and even heating of a slow cooker, recipes featured on this site can be cooked in a range of slow cooker sizes. Recipes can be increased or decreased by one quart size per the cooking instructions. For smaller sauces and dips that call for 3 quarts or less, it is not recommended to alter the unit size. Crock-Pot® is a registered trademark and should not be used generically when referring to a 'slow cooker' within the recipes.
Sunbeam Products, Inc. d/b/a Jarden Consumer Solutions has not tested these recipes and is not responsible for the outcome of any recipe. You may not achieve the results desired due to variations in ingredients, cooking temperatures, cooking times, typos, errors, omissions, or individual cooking abilities. Please always use your best judgment when cooking with raw ingredients such as eggs, chicken or fish.