How to Host a Mexican Night With Your Slow Cooker
If there is one reason you'll want to cook at home and entertain, it's Mexican night with your Crock-Pot® Swing and Serve™ Slow Cooker. This innovative 3-in-1 slow cooker makes creating cheesy, spicy, Mexican-inspired dips and dishes easier than ever. You can simultaneously slow cook a side of refried bean, your favorite dip and a main dish of enchiladas, all on different temperatures and cook times. Eliminating the need for excess pots and pans and oven space, you're left with less mess to clean later. Forget the clutter of warming trays, serving bowls and cords, you'll also gain more counter space as three of your dishes will be served from one compact appliance, which makes storing easy as well!
For hosting made easy, follow these convenient steps and helpful tips. With these incredible recipes and the Crock-Pot® Swing and Serve™ Slow Cooker, Taco Tuesday will soon become the favored night of the week.
1. Prepare
One of the best things about slow cooking is the freedom and flexibility it provides. Though you may be hosting dinner on Friday night, if your day looks busy you can easily prepare everything the night before. In the morning, just place all of the ingredients in your slow cooker, set the proper temperature and cook time and go about your day. Instead of worrying about chopping, dicing, slicing and preparing in the hours before your guests arrive, you can spend your time setting the table and decorations or getting ready yourself.
Prepare your recipes - by considering our list of best slow-cooked Mexican dips, prepare your ingredients and assemble everything the night before you plan to host so that on the day off, all you have to do is turn on your slow cooker.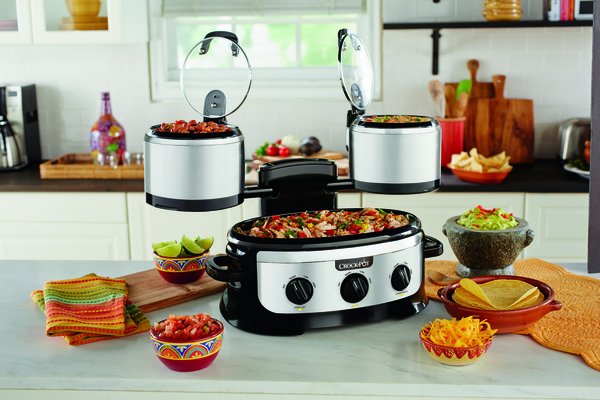 2. Slow Cook
From tacos and burritos to nachos and tamales, selecting the perfect spread for your Mexican night can be difficult to narrow down - all of the choices are just too tasty! We've made it easy for you, by selecting three dishes to slow cook in your Crock-Pot® Swing and Serve™ Slow Cooker.
Enchiladas
For the main dish, make these zesty and cheesy slow-cooked enchiladas in the 3.5-quart crock. With a little hint of everything, this dish is sure to be a hit.
Ingredients:
1 pound ground beef
1 cup chopped onion
1/2 cup chopped green pepper
1 can (16 ounces) pinto or kidney beans, rinsed and drained
1 can (15 ounces) black beans, rinsed and drained
1 can (10 ounces) diced tomatoes and green chilies, undrained
1/3 cup water
1 teaspoon chili powder
1/2 teaspoon ground cumin
1/2 teaspoon salt
1/4 teaspoon pepper
1 cup shredded sharp cheddar cheese
1 cup shredded Monterey Jack cheese
6 flour tortillas (6 inches)
Directions
In a skillet over medium-high heat, brown beef, onion and green peppers until meat is cooked through and no longer pink.
Add kidney beans, black beans, tomatoes and chilies, water, chili powder, cumin, salt and pepper and bring to a boil.
Reduce heat and cover for 10 minutes.
In a bowl, combine cheddar and Monterey Jack cheese.
Add 1/3 cup of beef mixture to slow cooker, top with 1 tortilla and 1/3 cup of cheese mixture.
Continue layers two more times.
Cover and cook on LOW for 6 to 7 hours.
Refried Beans
For a hearty and tasty side dish, use this recipe for refried beans. Slow cook them in the 1.5-quart crock of your Crock-Pot® Swing and Serve™ Slow Cooker.
Ingredients:
1/2 pound dry pinto beans (about 2 1/2 cups), rinsed, sorted
1/2 medium onion, chopped
1 clove garlic, finely chopped
1/2 teaspoon sea salt (or Himalayan salt), divided use
1/2 teaspoon ground black pepper
1 sprig fresh espazote (or fresh oregano)
1/4 crushed red pepper (optional)
3 cups hot water, divided use
1 teaspoon olive oil
Directions
Add pinto beans, onion, garlic, salt, pepper, espazote, red pepper and 2 cups of water in your upper 1.5-quart crock.
Cover and cook on LOW for 6 to 8 hours, or until beans are just soft.
If needed, add more water so beans do not dry out.
Remove and toss espazote sprig.
Drain beans and reserve liquid.
In large, heavy skillet heat oil over medium-high heat.
Add strained beans and 1/4 cup of reserved liquid.
Cook, mashing with a potato masher for 5 to 8 minutes, until a puree forms.
Add more water if or when necessary.
Return to slow cooker and turn to WARM setting for serving.
Mexican Dip
Hot, spicy and perfectly blended, this rich and flavorful Mexican dip is ready-to-serve right from the upper 1.5-quart crock of your Crock-Pot® Swing and Serve™ Slow Cooker. Serve with tortilla chips or nachos.
Ingredients:
1/2 can (10 ounce) black beans
1 can (15 ounce) diced tomatoes with green chilies
Medium onion, diced
3 cloves garlic, diced
3 tablespoons taco seasoning
32 ounces smooth America cheese, cubed
Directions
Mix black beans, tomatoes and green chilies, onion, garlic and taco seasoning in your 1.5-quart crock.
Top with a layer of cheese.
Cover and cook on LOW for 1 hour.
Remove top and mix well, until cheese is well-incorporated.
Turn cook temperature to WARM for serving.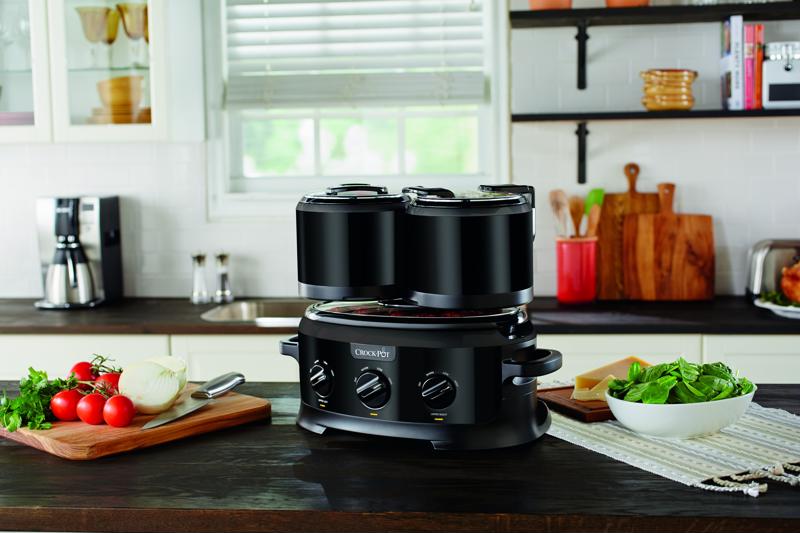 3. Serve
One of the best things about the Crock-Pot® Swing and Serve™ Slow Cooker is that it practically does the serving for you! As the host, you can sit back and relax while your eager diners dig in. Each of the crocks are operated independently and once the dish has finished, you can conveniently turn the temperature to WARM so that your food is at the perfect temperature for your dinner guests. When your company begins to arrive, simply swing apart the upper crocks for serving. Designed with upper and lower crocks, all three can be easily accessed at once, making it easy for your friends and family members to help themselves.
As the mouth-watering aroma of Mexican food fills the room, allow guests to dig in to the enchiladas, refried beans and Mexican dip. The centralized utensil holder also makes it easy for them to grab forks, knives, napkins and the like. Fix yourself a plate and sit down to enjoy a lively night of homemade Mexican food with good company. And don't forget to concoct a festive drink or cocktail to complement your Mexican spread!
Due to the slow ramp up, and even heating of a slow cooker, recipes featured on this site can be cooked in a range of slow cooker sizes. Recipes can be increased or decreased by one quart size per the cooking instructions. For smaller sauces and dips that call for 3 quarts or less, it is not recommended to alter the unit size. Crock-Pot® is a registered trademark and should not be used generically when referring to a 'slow cooker' within the recipes.
Sunbeam Products, Inc. d/b/a Jarden Consumer Solutions has not tested these recipes and is not responsible for the outcome of any recipe. You may not achieve the results desired due to variations in ingredients, cooking temperatures, cooking times, typos, errors, omissions, or individual cooking abilities. Please always use your best judgment when cooking with raw ingredients such as eggs, chicken or fish.