Two Stuffed Bell Pepper Recipes
For a fun and healthy meal that packs flavor, protein and nutrients all into a colorful veggie, try these recipes for stuffed bell peppers. Complemented by the juicy crunch of the bell pepper, these two recipes will leave you feeling perfectly satiated and content. Moreover, they serve as healthier versions of some of your favorite classics. For example, if you're craving tacos in the middle of the week but looking for a more nutritious option, perhaps with less carbs, try out the lean ground beef-stuffed peppers. The veggie-stuffed bell peppers are also filled with zest, spices and lots of nutrients.
Try this recipe in the Crock-Pot® Swing and Serve™ Slow Cooker to enjoy the seamless ease of slow cooking one main dish and two sides at once. Making your life easier one step at a time, this innovative slow cooker decreases oven and counter-top clutter. With an elevated design, a larger base crock and two upper 1.5-quart crocks that swing open for easy preparing and serving, this slow cooker is the answer to all of your cooking needs. Craft the mouth-watering stuffed peppers in the bottom unit while a Mexican bean dip or slow-cooked Charro beans slow cook up above. Easily serve right from this slow cooker and enjoy its compact convenience when it's time to pack it away.
Ground Beef Stuffed Peppers
High in fiber, these Mexican-inspired stuffed peppers are made complete with chili powder and cilantro for all the fixings of your taco Tuesday - without the tortillas! Made with salsa, these stuffed peppers can also be topped with sour cream and guacamole for the full Mexican dinner ensemble. Best of all, these are easy to make.
Ingredients:
1 pound lean ground beef
1 1/2 cups cooked brown rice
1 1/2 cups shredded cheddar cheese, divided
1 (15-ounce) can black beans, drained and rinsed
1 cup corn kernels, frozen or canned
1 cup salsa, homemade or store-bought
2 tablespoons chopped fresh cilantro leaves
1 teaspoon cumin
1/2 teaspoon chili powder, or more to taste
Kosher salt and freshly ground black pepper, to taste
6 bell peppers, tops cut, stemmed and seeded
2 tablespoons sour cream, for topping, optional
Guacamole, for topping, optional
Directions
Combine ground beef, brown rice, 1 cup cheddar cheese, black beans, corn, salsa, cilantro, cumin, chili powder, salt and pepper in a large bowl.
Stir well to fully incorporate ingredients.
Slice tops off bell peppers and discard.
Core peppers and remove all seeds.
Stuff each bell pepper with 1/6 of beef and rice mixture until full.
Place each bell pepper upright in slow cooker.
Cover and cook on LOW for 3 to 4 hours or on HIGH for 2 to 3 hours, until peppers are tender and beef is cooked through.
Remove cover and sprinkle remaining 1/2 cup of cheese over bell peppers.
Cover and cook on LOW heat for another 10 to 15 minutes, until cheese is melted.
Serve peppers with warm, with sour cream and guacamole for toppings if desired.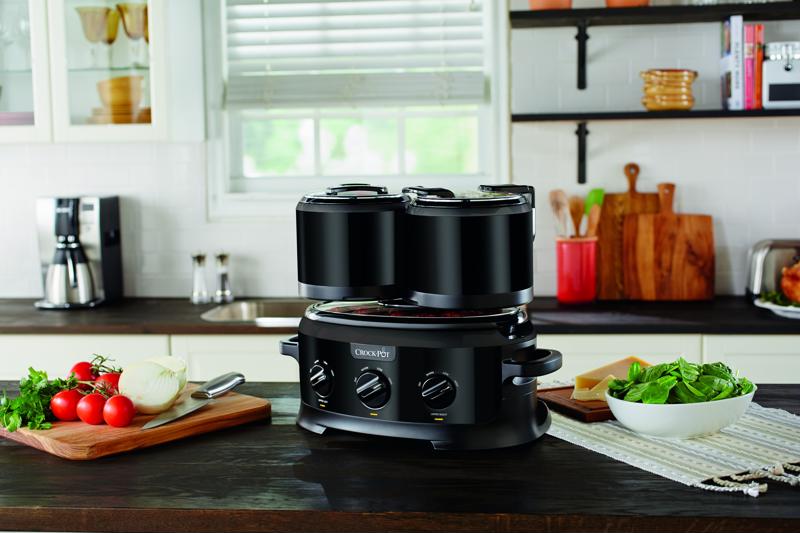 Vegetarian Stuffed Bell Peppers
Hearty brown rice blended with ripe tomatoes, sweet corn and two types of beans make for a multi-hued bell pepper stuffing. Add the rich taste of olives, onions, spices and cheese and you'll have yourselves a savory, slow-cooked dinner that everyone will enjoy.
Ingredients:
2 cups cooked brown rice

3 small tomatoes, chopped

1 cup frozen corn, thawed

1 small sweet onion, chopped

3/4 cup cubed Monterey Jack cheese

1/3 cup chopped ripe olives

1/3 cup canned black beans, rinsed and drained

1/3 cup canned red beans, rinsed and drained

4 fresh basil leaves, thinly sliced

3 garlic cloves, minced

1 teaspoon salt

1/2 teaspoon pepper

6 large sweet peppers

3/4 cup meatless spaghetti sauce

1/2 cup water

4 tablespoons grated Parmesan cheese, divided
Directions
In a large bowl, combine brown rice, tomatoes, corn, onion, cheese, olives, black beans, red beans, basil leaves, garlic cloves and salt and pepper.
Mix well.
Slice tops off bell peppers and discard.
Core peppers and remove all seeds.
Stuff each bell pepper with the rice and bean mixture.
In another bowl, combine water and spaghetti sauce.
Pour in slow cooker to cover bottom.
Add all six stuffed bell peppers to slow cooker.
Pour remaining sauce over top.
Sprinkle each with Parmesan cheese.
Cover and cook on LOW for 3 1/2 to 4 hours, until peppers are tender.
Top with additional Parmesan cheese and serve warm.
Due to the slow ramp up, and even heating of a slow cooker, recipes featured on this site can be cooked in a range of slow cooker sizes. Recipes can be increased or decreased by one quart size per the cooking instructions. For smaller sauces and dips that calls for 3 quarts or less, it is not recommended to alter the unit size. Crock-Pot® is a registered trademark and should not be used generically when referring to a 'slow cooker' within the recipes.
Sunbeam Products, Inc. d/b/a Jarden Consumer Solutions has not tested these recipes and is not responsible for the outcome of any recipe. You may not achieve the results desired due to variations in ingredients, cooking temperatures, cooking times, typos, errors, omissions, or individual cooking abilities. Please always use your best judgment when cooking with raw ingredients such as eggs, chicken or fish.