Slow-Cooked Summertime Chowder
Chowders come in all varieties, but no matter how your enjoy your fish stew, there's no denying that it's one of the best meals of summer. Signaling the start of all things sunshine and cookouts, fish chowder is a staple of backyard barbecues and neighborhood potlucks on warm evenings. This season, rather than heat up your home with the oven, use your slow cooker to make a mouth-watering chowder that people will swoon over.
For slow cooker recipes that require more than one step, such as browning or sauteing prior to slow cooking, the Crock-Pot® 6-Quart Slow Cooker with Stovetop-Safe Cooking Pot gives you the flexibility to complete two steps in one! Thanks to the DuraCeramic™ coating of the slow cooker pot, you can place it right on the stove for all of your browning, frying and sauteing needs.That means less dishes for you to clean and the added bonus of sealed-in flavor. The Stovetop-Safe DuraCeramic™ Cooking Pot ensures that you won't lose a single drop of flavor. Once you've completed the first step, simply transfer the cooking pot back to your slow cooker base and add the remaining ingredients. Cover, slow cook and return to a savory, homemade meal just waiting to be enjoyed - with less mess to worry about as well!
This summer, try making this hearty fish chowder in your slow cooker:
Fish and Corn Chowder
This fish and corn chowder can be made with any variety of white fish. Cod, haddock or pollock all work well in this stew as they really soak up the flavors of the spices while slow cooking. For the complete experience, serve your chowder with fresh oyster crackers.
Ingredients:
2 pounds frozen fish fillets (catfish, haddock, etc.), thawed
1/4 pound bacon or streaky salt pork, diced
1 medium onion, chopped

2

cups

cor

n, fresh or frozen
2 large carrots, peeled and diced
2 stalks celery, d

iced

4 medium red-skinned potatoes, peeled and cubed
2 cups water
1 to 1 1/2 teaspoons kosher salt, or to taste
1/4 teaspoon pepper
1 can (12 ounces) evaporated milk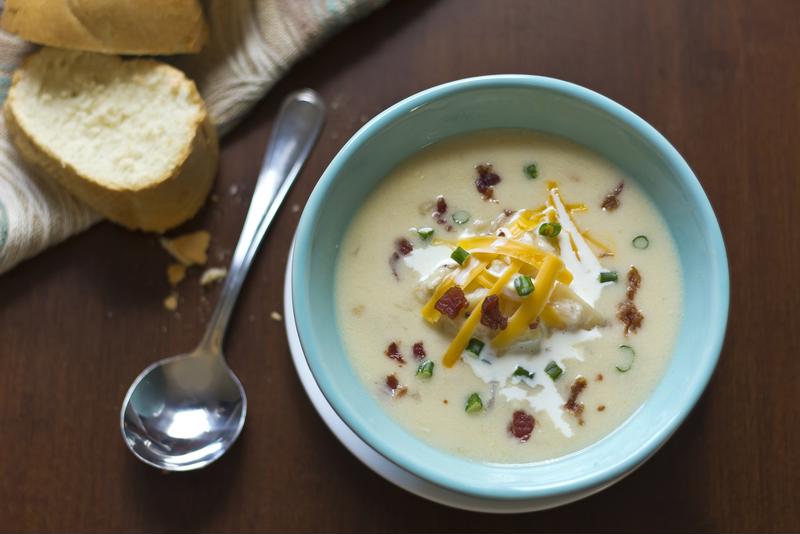 Directions
Thaw frozen fish fillets overnight in the refrigerator.
Chop thawed fish into bite-sized pieces and set aside.
Heat olive oil and 1/4 pound of bacon in the stovetop-safe pot over medium-high heat.
Add chopped onion, cooking until it is translucent and bacon is cooked through.
Drain and discard excess fat.
Transfer stovetop-safe cooking pot to slow cooker and add in white fish pieces.
Add corn, carrots, celery, potatoes and water, stirring to combine.
Season with salt and pepper to taste.
Cover and cook on LOW for 5 to 6 hours, until potatoes are tender.
Add evaporated milk and cook for 1 more hour.
Serve fish and corn chowder warm, with oyster crackers.
Bonus Tip: If preferred, you can use clam broth or unsalted chicken broth instead of water. You may also add a small can of minced clams to fish chowder.
Due to the slow ramp up, and even heating of a slow cooker, recipes featured on this site can be cooked in a range of slow cooker sizes. Recipes can be increased or decreased by one quart size per the cooking instructions. For smaller sauces and dips that call for 3 quarts or less, it is not recommended to alter the unit size. Crock-Pot® is a registered trademark and should not be used generically when referring to a 'slow cooker' within the recipes.
Sunbeam Products, Inc. d/b/a Jarden Consumer Solutions has not tested these recipes and is not responsible for the outcome of any recipe. You may not achieve the results desired due to variations in ingredients, cooking temperatures, cooking times, typos, errors, omissions, or individual cooking abilities. Please always use your best judgment when cooking with raw ingredients such as eggs, chicken or fish.