The Best Game-Day Snacks for the Big Game
Outside, the snow could be falling, and the temperatures may be dropping. But there's little that can dissuade football teams - or ardent fans - from taking the field each week. For most football fanatics, however, this is the perfect time of year for homegating. It doesn't get much better than having jersey-clad friends and family gathered around the big screen with a great spread of snacks and appetizers available.
This season, homegate in style and with ease by using the Crock-Pot® Swing and Serve™ Slow Cooker. Designed to take slow cooking and entertaining to the next level, this slow cooker allows you to create three different delicious appetizers, dips or side dishes at the same time while saving you counter space and reducing clutter. Each of the two 1.5-quart crocks on the upper level and the 3.5-quart slow cooker on the base can operate at different temperatures and cook times. When your favorite football fans arrive, swing the upper crocks open for convenient and hassle-free serving. Guests can easily help themselves to each dish and grab serving utensils appropriately placed in the slow cooker's centralized caddy.
And once the party is over, each lid and stoneware removes for easy cleaning, and then the crocks swing back together for compact storage. This season, make these game-day snacks in your slow cooker in advance so that you won't miss a minute of action during the game: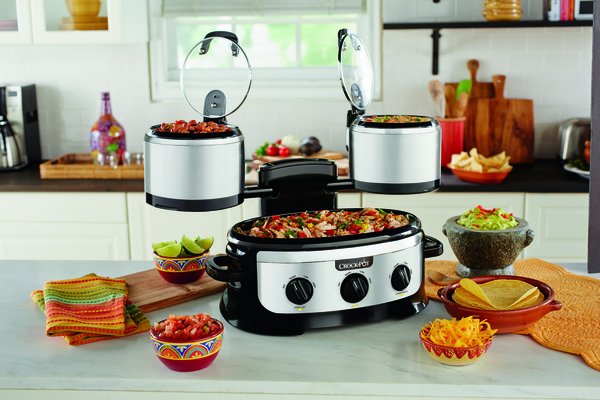 Queso Blanco Cheese Dip
This creamy Mexican sauce is a step up from your traditional nacho cheese dip and the perfect snack for an afternoon game.
Ingredients:
3/4 cup queso blanco cheese, cubed
3/4 cup half and half
3/4 cup colby jack cheese, shredded
1/2 teaspoon pepper
1 teaspoon onion powder
1 teaspoon garlic powder
3/4 cup salsa, well drained
Tortilla chips, for dipping
Directions
Add cubed cheese to one of the upper 1.5-quart crocks.
Stir in remaining ingredients, except for chips.
Cover and cook on low for 2 hours, stirring every 20 minutes.
Serve with chips for dipping.
Spinach Artichoke Dip
You can never have too many dips when it comes to homegating. Satisfy all your guests' taste buds with this savory spinach artichoke dip and an array of bread, crackers or pita chips.
Ingredients:
1/2 (5 ounce) bag frozen spinach
1 (15 ounce) can artichoke hearts
1/2 (8 ounce) package cream cheese
3/4 cup white cheddar cheese, shredded
1/4 cup Parmesan cheese, grated
1 clove garlic, crushed
1/2 teaspoon crushed red pepper flakes
Salt, to taste
Directions
Combine spinach, artichoke hearts, cream cheese, cheddar cheese, Parmesan cheese, garlic and red pepper flakes in the second 1.5-quart crock.
Mix well and season with salt, to taste.
Cover and cook on high for 1 hour.
Stir until creamy.
Reduce to low and cook for another 30 to 60 minutes.
Serve warm.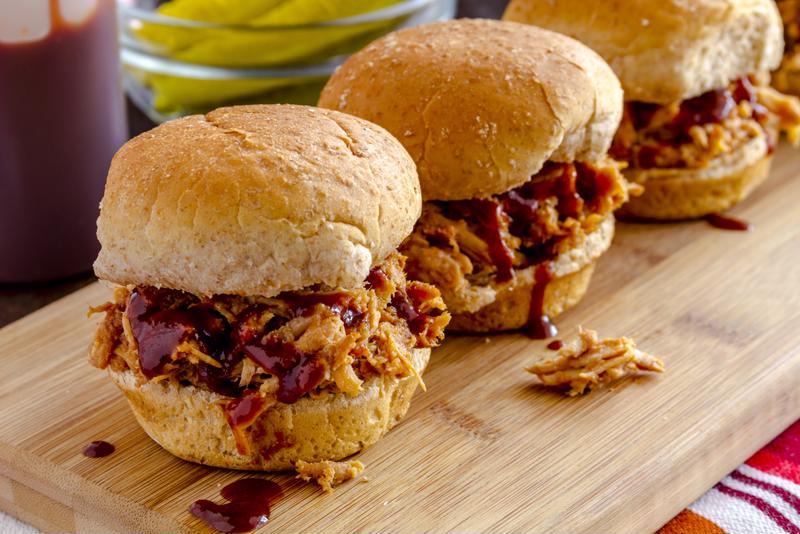 Shredded Buffalo Chicken
A football game just feels incomplete without at least one buffalo-infused dish. Delight your fellow fans with this hot and zesty pulled chicken recipe that can serve perfectly on mini slider buns.
Ingredients:
3 pounds skinless, boneless chicken breast
1 bottle (12 ounces) mild buffalo sauce
1 package dry ranch dressing mix
1/2 stick butter
Directions
Add chicken and buffalo sauce to your 3.5-quart crock.
Cover and cook on low for 8 hours.
Remove chicken and shred with two forks.
Return to slow cooker and add ranch dressing mix and butter.
Stir well until all ingredients are mixed.
Serve pulled chicken warm on slider buns.
Due to the slow ramp up, and even heating of a slow cooker, recipes featured on this site can be cooked in a range of slow cooker sizes. Recipes can be increased or decreased by one quart size per the cooking instructions. For smaller sauces and dips that call for 3 quarts or less, it is not recommended to alter the unit size. Crock-Pot® is a registered trademark and should not be used generically when referring to a 'slow cooker' within the recipes.
Sunbeam Products, Inc. d/b/a Jarden Consumer Solutions has not tested these recipes and is not responsible for the outcome of any recipe. You may not achieve the results desired due to variations in ingredients, cooking temperatures, cooking times, typos, errors, omissions, or individual cooking abilities. Please always use your best judgment when cooking with raw ingredients such as eggs, chicken or fish.