Can You Slow Cook Calamari?
For all those looking to venture beyond the traditional slow-cooked casseroles and stews, there is a long list of creative recipes just waiting to be mastered in your slow cooker. You may even be surprised to discover all of the culinary possibilities the slow cooker presents. For instance, did you know you can slow cook calamari? The top cuisiniers will agree that when you want to create the perfect calamari dish, you have only two options: fry, grill or sauté it fast or cook it slowly. If you opt for any method in the middle, you risk a rather rubbery plate of seafood.
Slow Cooking Calamari
Slowly cooking is often the preferred technique, as it produces a tantalizingly tender calamari. By slow cooking on a low temperature for several hours, the seafood gets a soft texture that really soaks up the flavor of the liquids and spices that it's braised in. Rather than crispy bites dipped in a tomato sauce or aioli, serve your slow-cooked calamari with its broth and pair it with a pasta or hearty grain.
And before you hesitate to make this dish based on the number of pots and pans you think you'll need, consider the Crock-Pot® 6-Quart Slow Cooker with Stovetop-Safe Cooking Pot. With its non-stick, DuraCeramic™ stovetop-safe cooking pot, this slow cooker doubles as two appliances in one. The innovative cooking pot removes easily from the slow cooker so you can brown, sear or sauté any dishes that require two cooking steps, such as calamari. Not only does completing both steps in one pot help to seal in flavors, but it also reduces the number of dishes you'll have to clean afterward. Thanks to the double-duty cooking pot, you can brown your sauce over the stovetop and then seamlessly transfer the pot back to your slow cooker for the next step without creating extra messes or losing any flavors.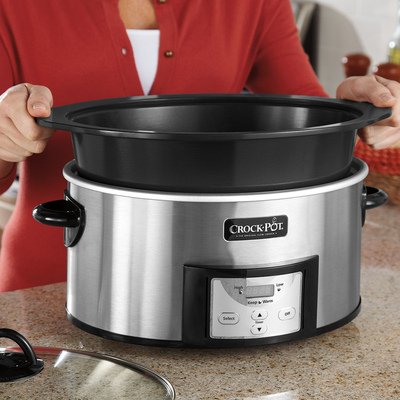 Calamari in Puttanesca Sauce
Even if you don't consider yourself a calamari connoisseur, this slow cooker recipe made in a robust Italian sauce is easy to follow and yields a mouth-watering seafood dish.
Ingredients:
1 large squid, cleaned and sliced into rings
1 tablespoon olive oil
1 large onion, chopped
2 cloves garlic, finely chopped
1 can (400 grams) chopped tomatoes
150 ml fish stock
4 teaspoons capers, drained
1/2 cup olives, pitted
2 to 3 sprigs thyme
1 teaspoon fennel seeds, crushed
1 teaspoon caster sugar
Salt and pepper to taste
Linguine or your choice of pasta, to serve
Directions
Clean squid by removing tentacles from squid tubes.
Use cold water to rinse inside tubes.
Place all parts in a strainer and rinse well.
Place tentacles in a bowl in refrigerator.
Slice tubes into thin rings.
Heat olive oil and onion over medium-high heat in stovetop-safe cooking pot until browned.
Add garlic, cooking for 2 more minutes.
Stir in tomatoes, stock, capers, olives, thyme, fennel seeds, sugar, salt and pepper.
Bring sauce to a boil than transfer cooking pot to slow cooker.
Add sliced rings of squid and submerge below the sauce.
Cover and cook on low for 3 to 4 hours.
Meanwhile, cook pasta accordingly.
When cook time is up, add tentacles to slow cooker.
Cover and cook for 30 more minutes.
Toss with linguine to serve.
Due to the slow ramp up, and even heating of a slow cooker, recipes featured on this site can be cooked in a range of slow cooker sizes. Recipes can be increased or decreased by one quart size per the cooking instructions. For smaller sauces and dips that call for 3 quarts or less, it is not recommended to alter the unit size. Crock-Pot® is a registered trademark and should not be used generically when referring to a 'slow cooker' within the recipes.
Sunbeam Products, Inc. d/b/a Jarden Consumer Solutions has not tested these recipes and is not responsible for the outcome of any recipe. You may not achieve the results desired due to variations in ingredients, cooking temperatures, cooking times, typos, errors, omissions, or individual cooking abilities. Please always use your best judgment when cooking with raw ingredients such as eggs, chicken or fish.