Raspberry Blueberry Muffin Recipe for Your Multi-Cooker
Everyone needs a go-to muffin recipe: These fresh and moist pastries are perfect for breakfast or snacking! But a go-to recipe needs a tried-and-true cooking method to go along with it, which is where the Crock-Pot® 5-in-1 Multi-Cooker really shines. An appliance that provides five different ways to cook, the Crock-Pot® 5-in-1 Multi-Cooker is your one-stop-shop for all of your cooking needs. Bringing browning/sauteing, roasting, steaming, baking and slow cooking together in one appliance, this Multi-Cooker does it all.
With the bake feature, preparing cakes, muffins and cookies is a piece of cake. With just the touch of a button to switch functions, the Multi-Cooker makes it easy to whip up delicious, homemade muffins. Filled with berry-goodness, these raspberry blueberry muffins are the perfect place to start with baking in your Multi-Cooker. And once you're done and want to create another recipe, simply switch functions to one of the other four cooking features!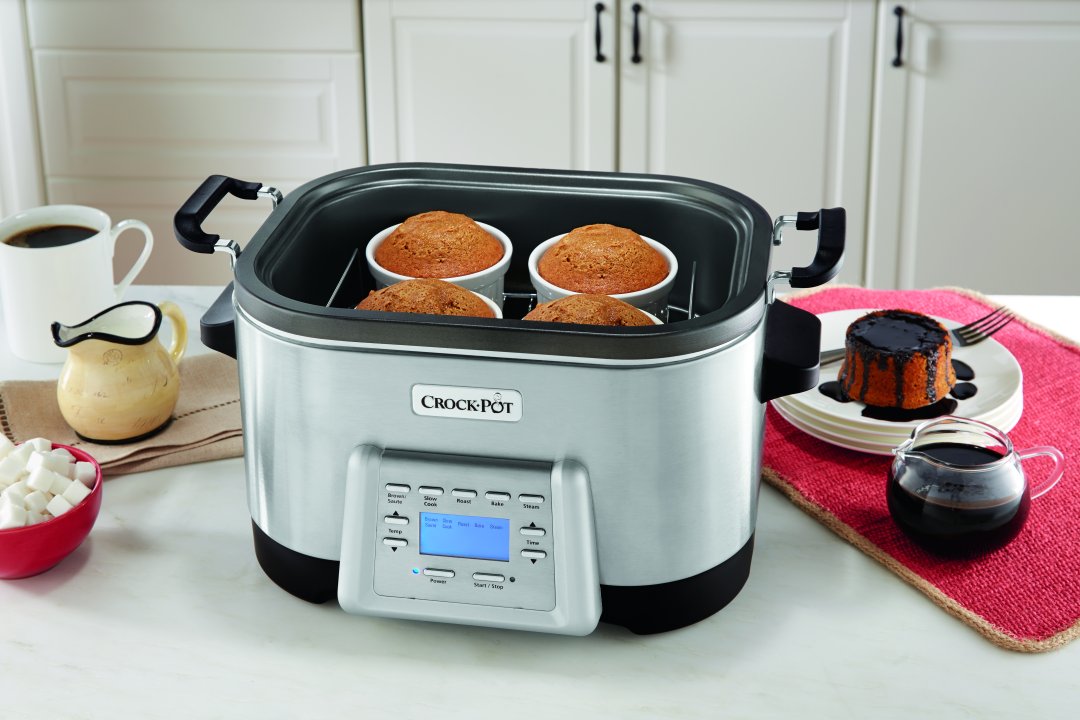 Raspberry Blueberry Muffins
Fluffy and fruit-filled, these raspberry blueberry muffins are a great way to start any morning off on the right foot. For a little extra sweetness, top these muffins with the streusel topping recipe below.
Ingredients:
1 egg
1/2 cup milk
1/2 cup butter or margarine, melted
1 3/4 cups all-purpose flour
1/4 cup granulated sugar
1/4 cup packed brown sugar
2 teaspoons baking powder
1 1/2 teaspoons grated lemon peel
1 teaspoon ground cinnamon
1/2 teaspoon salt
1/2 cup fresh raspberries
1/2 cup fresh blackberries
Directions
Select the bake function and set the temperature to 400 degrees.
Allow the Multi-Cooker to preheat.
Prepare a 12-cup muffin tin with paper liners.
Beat egg with fork in a large bowl.
Add milk and 1/2 cup melted butter.
Stir in flour, sugar, brown sugar, baking powder, lemon peel, cinnamon and salt, until just moistened.
Fold in raspberries and blackberries.
Pour batter evenly into muffin liners.
Sprinkle each one with streusel from recipe below, if desired.
Bake for 20 to 25 minutes, until golden brown.
Let cool before serving.
Streusel Topping
For a sweet and nutty optional topping, consider frosting your freshly-baked muffins with this confectionery recipe.
Ingredients:
1/4 cup all-purpose flour
2 tablespoons butter, softened
2 tablespoons sugar
1 teaspoon finely grated lemon peel
2 tablespoons finely chopped walnuts
Directions
In a medium bowl, mix flour, butter, sugar and lemon peel until crumbly,
Stir in walnuts.
Before baking muffins, frost each one with streusel topping.
Due to the slow ramp up, and even heating of a slow cooker, recipes featured on this site can be cooked in a range of slow cooker sizes. Recipes can be increased or decreased by one quart size per the cooking instructions. For smaller sauces and dips that call for 3 quarts or less, it is not recommended to alter the unit size. Crock-Pot® is a registered trademark and should not be used generically when referring to a 'slow cooker' within the recipes.
Sunbeam Products, Inc. d/b/a Jarden Consumer Solutions has not tested these recipes and is not responsible for the outcome of any recipe. You may not achieve the results desired due to variations in ingredients, cooking temperatures, cooking times, typos, errors, omissions, or individual cooking abilities. Please always use your best judgment when cooking with raw ingredients such as eggs, chicken or fish.