How to Make the Best Burrito Bowl
Tacos, quesadillas and enchiladas step aside: The burrito bowl is back in town. Combining all the best parts of the Mexican ensemble, from the brown rice and corn to the black beans and shredded chicken, the burrito bowl packs in the full flavor with chili, cheese and fresh tomatoes. More importantly, when you make a burrito bowl in your slow cooker, the total preparation time is around just 10 minutes.
How to Make the Best Burrito Bowl
For all your burrito needs - whether you're hosting a Mexican night with friends or simply feeding your family - use the Crock-Pot® Swing and Serve™ Slow Cooker. This innovative slow cooker allows you to cook three different dishes at once, all on their own temperature and cook times. This means there's no need for extra pots and pans for beans, sauces and dips. Seamlessly create your burrito bowl in the larger bottom crock, while two Mexican dips slow cook in the smaller crocks above. When it comes time to serve your famed dish, simply swing apart the upper crocks to create a convenient serving station.
Providing space-saving convenience and flexibility, this Swing and Serve™ Slow Cooker allows your guests or family members to serve themselves. They'll have easy access to the main dish and two side dishes - such as refried beans and a Mexican dip - so that they can help themselves to firsts as well as seconds. And the utensil holder caddy even offers a place to set out forks, knives and serving utensils.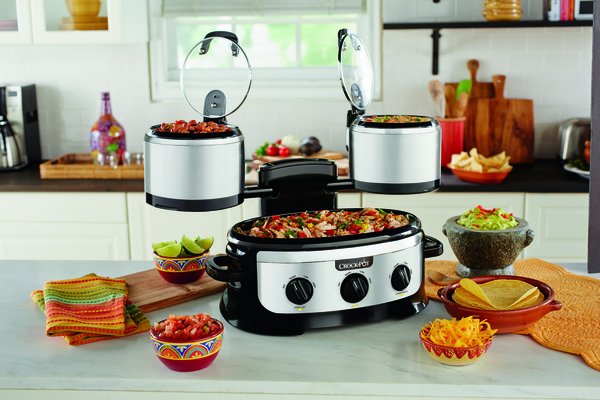 Slow-Cooked Burrito Bowl
Hearty and healthy, this recipe for a slow-cooked burrito bowl can be further customized to satisfy your taste buds. Choose from a variety of toppings including sour cream, cilantro, limes and avocado. And of course, extra shredded cheese.
Ingredients:
2 pounds boneless, skinless chicken breasts
1 small yellow onion, diced
2 tablespoons olive oil
3 teaspoons onion powder
3 teaspoons chili powder
2 teaspoons garlic powder
3 teaspoons ground cumin
Sea salt and freshly ground black pepper to taste
3 cups organic, low sodium chicken broth
2 cups diced tomatoes, drained
1 1/2 cups prepared black beans, rinsed
1 cup frozen corn
2 1/2 cups brown rice, or quinoa
1/3 cup shredded colby jack cheese (optional)
Avocado, sour cream, cilantro, sliced limes, shredded lettuce, diced peppers for toppings (optional)
Directions
Add chicken, onion and olive oil to 3.5-quart of Crock-Pot® Swing and Serve™ Slow Cooker.
Coat with onion powder, chili powder, garlic powder, ground cumin, salt and pepper.
Cover with chicken broth and diced tomatoes. Gently mix to combine.
Cover and cook on HIGH for 4 to 5 hours, until chicken is cooked through.
Remove chicken and use to forks to shred.
Meanwhile, stir in black beans, corn and brown rice.
Cook on HIGH for an additional 10 minutes.
Add shredded chicken back to slow cooker and stir to combine all ingredients.
If desired, sprinkle shredded cheese over top of burrito bowl.
Swing open upper crocks of sauce and/or dip for serving.
Arrange optional toppings in front of slow cooker.
Due to the slow ramp up, and even heating of a slow cooker, recipes featured on this site can be cooked in a range of slow cooker sizes. Recipes can be increased or decreased by one quart size per the cooking instructions. For smaller sauces and dips that call for 3 quarts or less, it is not recommended to alter the unit size. Crock-Pot® is a registered trademark and should not be used generically when referring to a 'slow cooker' within the recipes.
Sunbeam Products, Inc. d/b/a Jarden Consumer Solutions has not tested these recipes and is not responsible for the outcome of any recipe. You may not achieve the results desired due to variations in ingredients, cooking temperatures, cooking times, typos, errors, omissions, or individual cooking abilities. Please always use your best judgment when cooking with raw ingredients such as eggs, chicken or fish.