African-Inspired Groundnut Chicken Stew
An original recipe from Western Africa, groundnut chicken stew is rich, hearty and flavorful. Blending the vibrant nuttiness of peanut butter with naturally caramelized sweet potatoes, ginger, curry paste and crushed red pepper, this recipe brings great piquancy to the chicken. Traditionally made with lots of heat, the peanut flavor serves as a nice balance to the red pepper and curry. Slow cooking this stew for hours on low, slow heat yields the most satisfying results.
For recipes such as this groundnut chicken stew that require a browning or searing step before slow cooking, the Crock-Pot® 6-Quart Slow Cooker with Stovetop-Safe Cooking Pot is great. Enabling you to complete both steps - browning and slow cooking - in one pot saves you dirty dishes, hassle and time! The stovetop-safe DuraCeramic™ cooking pot has a nonstick coating so that you can sear your meat over the stove before transitioning the entire pot to your slow cooker, helping to lock in that rich flavor. This one-pot innovation makes your life easier and enhances taste at the same time! Food doesn't stick, you don't need to wash excess pots and pans and in one easy move you can bring your seared meat to your slow cooker.
Groundnut Chicken Stew
Heavy and full-flavored, this stew is typically made with chicken wings, thighs or legs as they can best hold the rich spices and seasonings of the recipe.
Ingredients:
2 to 3 pounds chicken legs, thighs or wings - or combination
3 tablespoons peanut oil
1 large yellow or white onion, sliced
3-inch piece of ginger, peeled and minced
6-8 garlic cloves, chopped roughly
2 to 3 pounds sweet potatoes, peeled and cut into chunks
1 (15-ounce) can of crushed tomatoes
1 quart chicken stock
1 cup peanut butter
1 cup roasted peanuts
1 tablespoon ground coriander
1 teaspoon cayenne, or to taste
2 teaspoons curry powder
1 teaspoon crushed red pepper flakes
Salt and black pepper
1/4 pound collard greens, roughly chopped
1/4 to 1/2 cup of chopped cilantro
Directions
Heat peanut oil in DuraCeramic™ cooking pot over medium-high heat.
Brown chicken on all sides.
Add onion, ginger and garlic, cooking until onion is translucent and slightly browned.
Transfer cooking pot to slow cooker.
Add sweet potatoes, tomatoes, chicken stock, peanut butter, roasted peanuts, coriander, cayenne, curry powder, red pepper flakes, salt and pepper.
Cover and cook on LOW for 8 to 10 hours.
With about 30 minutes remaining, stir in collard greens.
Serve stew as is, or over bowls of warm rice.
Top with chopped cilantro.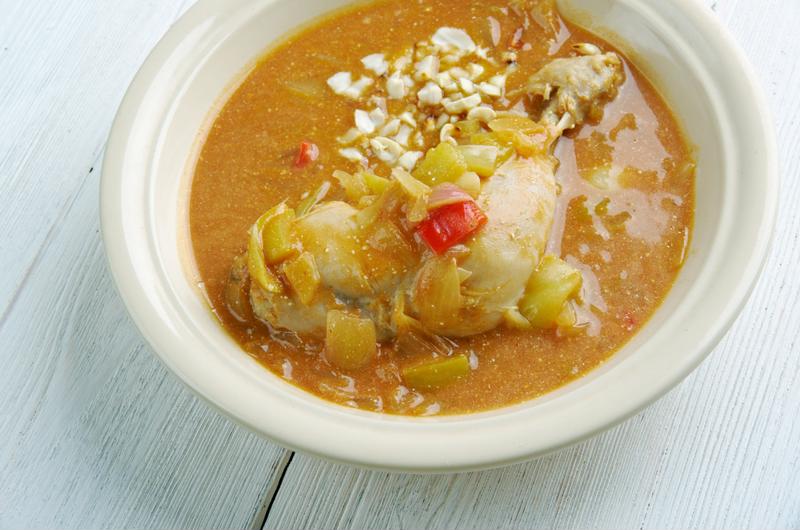 Due to the slow ramp up, and even heating of a slow cooker, recipes featured on this site can be cooked in a range of slow cooker sizes. Recipes can be increased or decreased by one quart size per the cooking instructions. For smaller sauces and dips that call for 3 quarts or less, it is not recommended to alter the unit size. Crock-Pot® is a registered trademark and should not be used generically when referring to a 'slow cooker' within the recipes.
Sunbeam Products, Inc. d/b/a Jarden Consumer Solutions has not tested these recipes and is not responsible for the outcome of any recipe. You may not achieve the results desired due to variations in ingredients, cooking temperatures, cooking times, typos, errors, omissions, or individual cooking abilities. Please always use your best judgment when cooking with raw ingredients such as eggs, chicken or fish.