4 Slow-Cooked Drinks for the Season
Looking for some inspiration for warm, tasty libations this season? Break out your slow cooker and check out these great recipes for cocktails and beverages that will wow all your family, friends and special guests this month. Crafting the perfect drink could be the final touch to a fabulous brunch spread or dinner party.
Best of all, when you make these drinks in the Crock-Pot® Lift & Serve Hinged Lid 6-Quart Oval Slow Cooker, you have the ideal appliance that seamlessly turns into your favorite serving bowl too! When the guests arrive you can keep your slow-cooked beverage on the WARM setting and simply lift the lid for guests to serve themselves. Thanks to the durable hinged lid that stays securely in place, it's easy to keep the beverage warm and open the slow cooker whenever you want to ladle some more delicious cider or punch right into your cup.
1. Apple Cranberry Sangria
Sangria - both virgin and with alcohol - is a tasty refreshment enjoyed any time of the year. For a real delight, give this sweet and fruity beverage a try in your slow cooker.
Ingredients:
1 bottle sparkling apple juice
1 bottle sparking grape juice
3 cups apple cider
3 cups cranberry juice
1/2 cup of Italian soda cherry syrup
4 cinnamon sticks
1/2 cup mulling spices
Sliced apples, oranges and fresh cranberries, to garnish
For an alcoholic version, sub sparkling apple juice with white wine, sparking grape juice with red wine and Italian soda cherry syrup with 1 cup brandy.
Directions
Combine white wine, red wine, apple cider, cranberry juice and brandy in your slow cooker.
Stir to combine.
Add cinnamon sticks and mulling spices.
Cover and heat on LOW for several hours until warm.
Add fruits to garnish and serve warm.
2. Wassail Bowl Punch
Wondering what wassail is? This sweet drink is a blend of hot tea and fruit juices that began as more of a tradition than a beverage. It dates back to the Anglo-Saxon ritual of greeting and toasting friends and loved ones over a warm libation. This delicious take on the classic recipe is perfect for your next spring brunch or party.
Ingredients:
4 cups hot brewed tea
4 cups cranberry juice
4 cups unsweetened apple juice
2 cups orange juice
1 cup sugar
3/4 cup lemon juice
3 cinnamon sticks (3 inches)
12 whole cloves
Directions
Combine hot tea, cranberry juice, apple juice, orange juice, sugar and lemon juice in your slow cooker.
Wrap the cinnamon sticks and cloves in cheesecloth that is double thick.
Tie corners of the cloth together and place in your slow cooker.
Cover and cook on HIGH for 1 hour, until punch starts to boil.
Discard cheesecloth and serve.
3. Hot Butter Rum
When the cool winds of March are still giving you a slight chill, why not warm up with a boozy hot drink? This hot butter rum recipe is an old time favorite and it's easily made right in your slow cooker.
Ingredients:
2 cups packed dark brown sugar
1/2 cup unsalted butter
1 teaspoon salt
1/2 teaspoon ground nutmeg
1 pinch ground allspice
5 whole cloves
3 cinnamon sticks
1 vanilla bean
8 cups hot water
2 cups rum
Directions
Combine all ingredients through hot water in your slow cooker.
Stir to combine.
Cover and cook on LOW for about 5 hours.
Once finished, stir in rum.
Serve in glasses and top with whipped cream, ground nutmeg or cinnamon, if desired.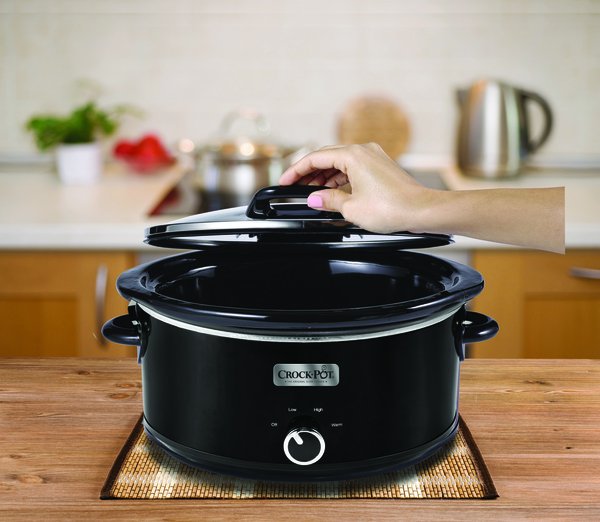 4. Peach and Apricot Spiced Cider
Nothing adds a seasonal flair to cider like the addition of the sweet and punchy peach fruit and the zing of apricot nectar.
Ingredients:
2 cups peach nectar
2 cups apricot nectar
1 (12-ounce) bag frozen peach slices
3 cups water
1 cup bourbon (optional)
1/2 cup lemon juice
1 cup brown sugar
1 teaspoon allspice
2 to 3 cinnamon sticks, plus more for serving
Directions
Combine all ingredients in your slow cooker.
Stir well.
Cover and cook on LOW for 2 to 3 hours, until warm.
Remove cinnamon sticks.
Remember to drink responsibly and follow all drinking laws.
Due to the slow ramp up, and even heating of a slow cooker, recipes featured on this site can be cooked in a range of slow cooker sizes. Recipes can be increased or decreased by one quart size per the cooking instructions. For smaller sauces and dips that call for 3 quarts or less, it is not recommended to alter the unit size. Crock-Pot® is a registered trademark and should not be used generically when referring to a 'slow cooker' within the recipes.
Sunbeam Products, Inc. d/b/a Jarden Consumer Solutions has not tested these recipes and is not responsible for the outcome of any recipe. You may not achieve the results desired due to variations in ingredients, cooking temperatures, cooking times, typos, errors, omissions, or individual cooking abilities. Please always use your best judgment when cooking with raw ingredients such as eggs, chicken or fish.