4 Healthy Chia Seed Recipes for Your Multi-Cooker
The trend of adding chia seeds to everything from baked goods and smoothies to salads and full meals has continued to grow in popularity in recent years. Despite their small size, they are among some of the most nutritious food additions out there. Packed with fiber, protein, omega-3 fatty acids and various micronutrients, chia seeds have a multitude of health benefits. And though they can be added to almost any slow-cooked meal, they can also be used for baking with your Crock-Pot® 5-in-1 Multi-Cooker.
Despite the plethora of options, we've narrowed it down to four must-try Multi-Cooker recipes that use chia seeds:
1. Sweet and Nutty Overnight Oatmeal
This ready-to-go breakfast recipe is not only convenient for busy mornings, it's also packed with numerous health benefits. Best of all, it's full of fruity, nutty flavors. Simply slow cook this dish overnight and when you wake up, you'll have a nutritious and filling morning meal ready to enjoy.
Ingredients:
1 cup steel cut oats
3 cups unsweetened almond milk
1 cup water
2 tablespoons chia seeds
1/4 cup dried wild blueberries
1/4 cup pomegranate
1/4 cup sliced almonds
Additional fruit, nuts or seeds for toppings
Directions
Select the Slow Cook function on your Multi-Cooker.
Add oats, almond milk, water and chia seeds into the bottom of your slow cooker.
Cover and turn to "keep warm" setting and let slow cook overnight, for about 8 hours.
In the morning, remove lid and mix oats together.
If oats are too dry, add more almond milk or water.
Serve into bowls and top with almonds, dried blueberries, pomegranate and any other toppings desired.
2. Chia Seed Chicken Tenders
For a plate of crispy, gluten-free chicken tenders that are healthier than their counterparts and simple to make, try out this tasty recipe.
Ingredients:
1 pound skinless and boneless chicken breasts, cut into 1-inch pieces
3/4 cup ground flax seed
1/4 cup chia seeds
1/4 cup freshly grated Parmesan cheese
1 teaspoon salt
1 teaspoon oregano
1/2 teaspoon basil
2 cloves minced garlic
2 eggs
Directions
Select Bake and set temperature to 400 degrees.
Allow Multi-Cooker to preheat.
In a large bowl, mix together the flax seed, chia seeds, grated Parmesan cheese, salt, oregano, basil and garlic.
In another bowl, whisk the eggs well.
Line the two bowls up next to each other.
Dip each piece of chicken first in the egg mixture, then in the dry mixture and lay on small, prepared baking sheet.
Place baking sheet in your Multi-Cooker and bake for 25 minutes, until cooked through.
Flip once during bake time.
Enjoy warm with your choice of dipping sauce.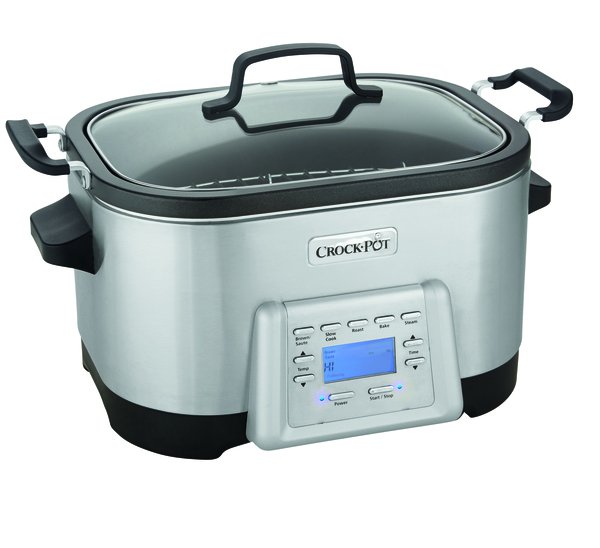 3. Creamy Chia Coconut Ginger-Carrot Soup
Full of flavorful zest, this creamy soup gives your taste buds lots to talk about. Not only do the chia seeds thicken this delicious soup, but they also add a nice little crunch as well.
Ingredients:
1 (13.5-ounce) can coconut milk
1 medium yellow onion, chopped
3/4 teaspoon sea salt
2 teaspoons peeled, grated fresh ginger
2 teaspoons Thai yellow or red curry paste
1 clove garlic, peeled and chopped
12 ounces baby carrots, quartered lengthwise
2 3/4 cups low-sodium vegetable broth, plus more as needed
2 tablespoons freshly squeezed lime juice (from about 1 lime)
15 large cilantro sprigs plus 5 small cilantro sprigs
1/4 cup plus 1 teaspoon black or white chia seeds
Directions
Select Brown/Sauté and set to medium.
Allow Multi-Cooker to preheat.
Heat 1/3 cup of the coconut milk in cooking bowl.
Add the onion and salt and cook while stirring until onion is softened, about 5 minutes.
Stir in the ginger, curry paste, and garlic and cook while stirring until well combined and fragrant, about 1 minute.
Switch to Slow Cook function.
Add the carrots, 2 3/4 cups of broth, the lime juice, the 15 large cilantro sprigs and the remaining coconut milk.
Cover and cook on high for 4 hours, until carrots are tender.
Remove the cilantro sprigs.
Puree soup in batches in a blender, using the hot fill line as a guide.
Return soup to Multi-Cooker and add in 1/4 cup of the chia seeds.
Cook on high until chia seeds are completely hydrated and soup is at desired consistency.
Enjoy warm.
4. Lemon Poppy Seed Bread
Filled with a healthy and natural sweetness, this soft and delicious bread serves as the perfect pairing with morning coffee or as an after-dinner treat.
Ingredients:
2 cups of white whole wheat flour
1/2 cup of natural cane sugar
1/2 teaspoon of baking soda
1 1/2 tablespoons of poppy seed
1 teaspoon of chia seed
3/4 cup of coconut oil, melted
1 cup of vanilla Greek yogurt
1 tablespoon of vanilla extract
1/4 teaspoon of salt
2 eggs
1 teaspoon of lemon zest
4 tablespoons of lemon juice
Directions
Select Bake and set temperature to 375 degrees.
Allow Multi-Cooker to preheat.
In a large bowl, combine the white whole wheat flour, natural cane sugar, baking soda, lemon zest, salt, poppy seeds and chia seeds. Mix well.
Using a small bowl, whisk together melted coconut oil, vanilla Greek yogurt, vanilla extract, fresh lemon juice, and eggs.
Combine wet and dry ingredients and mix well.
Use coconut oil to grease bread pan.
Pour batter into bread pan and place into the bottom of your Multi-Cooker.
Bake for 40 minutes or until toothpick comes out clean.
Due to the slow ramp up, and even heating of a slow cooker, recipes featured on this site can be cooked in a range of slow cooker sizes. Recipes can be increased or decreased by one quart size per the cooking instructions. For smaller sauces and dips that call for 3 quarts or less, it is not recommended to alter the unit size. Crock-Pot® is a registered trademark and should not be used generically when referring to a 'slow cooker' within the recipes.
Sunbeam Products, Inc. d/b/a Jarden Consumer Solutions has not tested these recipes and is not responsible for the outcome of any recipe. You may not achieve the results desired due to variations in ingredients, cooking temperatures, cooking times, typos, errors, omissions, or individual cooking abilities. Please always use your best judgment when cooking with raw ingredients such as eggs, chicken or fish.