Super Delicious Super Foods: 3 Quinoa Bowl Recipes
Nutritious and versatile with a great crunch, quinoa can be added to almost any meal these days. As it has continued to gain popularity in recent years this tasty grain, high in fiber and protein, has become a staple in most households. Quinoa bowls are a great way to create a quick and easy dinner, customized with your favorite flavors and toppings. They're extremely easy to make, especially slow-cooked. The Crock-Pot® 4.5 Quart Manual Slow Cooker is the ideal size for making quinoa bowls at home.
Healthy and delicious, yet requiring very little meal prep, these quinoa recipes are ones you'll make again and again and again. Leftovers make for the perfect lunch the next day too!
Mexican Quinoa Bowl
Hearty and zesty with a little bit of spice, this healthy Tex Mex quinoa bowl could serve as a great alternative to your next Taco Tuesday night.
Ingredients:
1 cup of dry quinoa, rinsed
1 (15 ounce) can of black beans, rinsed and drained
1 (15 ounce) can of fire roasted diced tomatoes with green chilies
6-8 small red and orange peppers, diced
1 zucchini, diced
1 package of mild taco seasoning
1/4 teaspoon of garlic powder
2 cups of filtered water
1 cup sweet corn, frozen
Cilantro, chopped for garnish
Avocado, optional for garnish
Shredded cheese, optional for garnish
Directions
Place quinoa, black beans, tomatoes, peppers and zucchini to the bottom of your 4.5-quart slow cooker.
Add taco seasoning, garlic powder and water and mix gently.
Cover and cook on low for 6 to 8 hours.
With 30 minutes remaining, add corn.
Serve in bowls and garnish with cilantro, avocado and shredded cheese.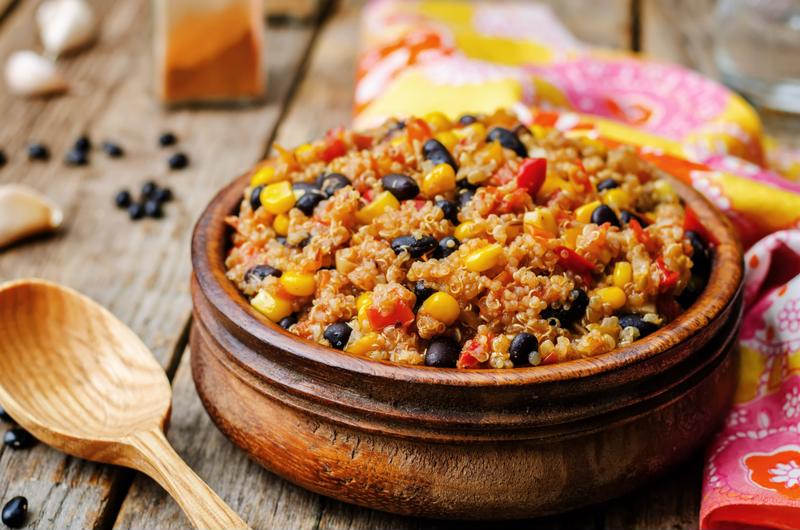 Veggie Parmesan Quinoa Bowl
Fresh vegetables and cheesy Parmesan are the perfect balance to this hearty bowl. Ingredients can be interchangeable and you can add as many vegetables as you'd like.
Ingredients:
2 cups quinoa, rinsed and drained
4 cups vegetable or chicken broth
1 can small white beans, rinsed and drained
1-2 cups broccoli florets, chopped
1/2 cup sun dried tomatoes, chopped (not in oil)
1 small onion, diced
3 cloves garlic, minced
1 large zucchini, sliced
1 cup mushrooms, wiped clean and sliced
1/2 teaspoon salt (optional)
1 teaspoon dried basil
1 teaspoon dried oregano
Salt and fresh black pepper to taste
1/4 cup freshly shredded Parmesan cheese
Directions
Add quinoa to the bottom of your slow cooker and cover with broth.
Add white beans, broccoli florets, sun dried tomatoes, onion, garlic, zucchini, mushrooms, salt, basil, oregano and pepper.
Cover and cook on low for 5 to 6 hours or on high for 3 to 4 hours.
Remove cover and fluff with a fork.
Serve in bowls and top with Parmesan cheese.
Barbecue Chicken Quinoa Bowl
If you're looking to kick things up a notch, try out this smoky barbecue infused quinoa bowl with the added protein of chicken.
Ingredients:
1 cup quinoa, uncooked
1 cup corn, frozen
1 cup red bell pepper, chopped
1/2 cup onion, diced
2 tablespoons garlic, minced
1/2 tablespoons cumin powder
1/2 tablespoon chili powder
1/2 tablespoon smoked paprika
1 cup barbecue sauce and extra for topping
1/4 teaspoon salt
1/2 teaspoon hickory liquid smoke
1 cup and 2 tablespoons chicken broth
1/2 pound chicken breast
Cilantro, for garnish
Green onion, for garnish
Cheddar cheese, grated, for garnish
Directions
Add quinoa to the bottom of your slow cooker.
Top with corn, peppers, onion, garlic, cumin, chili powder, paprika, 1 cup barbecue sauce, salt, liquid smoke and chicken broth.
Nestle chicken breasts between all ingredients in the middle.
Ensure that liquid covers them.
Cover and cook on high for 2 to 3 hours, until broth is absorbed and chicken is cooked through.
Remove the chicken breasts and shred, using two forks.
Add the shredded chicken back into the slow cooker and mix well.
Serve in bowls and garnish with remaining barbecue sauce, cilantro, green onions and cheddar cheese.
Due to the slow ramp up, and even heating of a slow cooker, recipes featured on this site can be cooked in a range of slow cooker sizes. Recipes can be increased or decreased by one quart size per the cooking instructions. For smaller sauces and dips that call for 3 quarts or less, it is not recommended to alter the unit size. Crock-Pot® is a registered trademark and should not be used generically when referring to a 'slow cooker' within the recipes.
Sunbeam Products, Inc. d/b/a Jarden Consumer Solutions has not tested these recipes and is not responsible for the outcome of any recipe. You may not achieve the results desired due to variations in ingredients, cooking temperatures, cooking times, typos, errors, omissions, or individual cooking abilities. Please always use your best judgment when cooking with raw ingredients such as eggs, chicken or fish.