Fall is Back: This Season's Best Vegetarian Soups and Stews
The leaves have just begun bursting with vivid seasonal hues, the evenings now require a light sweater and a few mornings have rolled in with a light frost. Cooler evenings and rainy days call for nothing other than a delicious soup, warm and waiting after a long day. Slow cooking soup is great because it brings out all of the rich and unique flavors of each ingredient and, it makes enough to last all week long. Even better, your Crock-Pot® 5-in-1 Multi-Cooker makes cooking these multi-step recipes easy.
This season, spice up your classic chicken noodle soup recipe and give these three creative soups a try:
Eggplant and Chickpea Stew
This thick and hearty vegetarian stew is perfect for chilly fall evenings. Serve with warm rolls or a side of rice.
Ingredients:
1 ounce porcini mushrooms, dried
1 cups hot water
2 large eggplants, sliced
3 tablespoons olive oil, divided
2 large onions, thinly slices
6 cloves garlic, minced
2 teaspoons dried oregano, crumbled
1 small cinnamon stick
1 teaspoon salt
1 teaspoon pepper
1 bay leaf
1 cup chickpeas
1 can tomatoes (drained and coarsely chopped)
1/4 cup finely chopped fresh parsley
Directions
Soak mushrooms in hot water for 30 minutes.
Drain and chop finely, reserve liquid.
Select the Bake function and heat Multi-Cooker to 400 degrees.
Brush eggplant slices with 2 tablespoons olive oil.
Lay on rimmed baking sheet, cut-side down and set baking sheet on rack insert.
Bake for 25 minutes.
Let cool and remove eggplant from baking sheet.
Select Start/Stop to switch to Brown/Sauté function.
Add remaining olive oil and onions, cooking until soft, 3 to 6 minutes,
Add garlic, oregano, cinnamon stick, salt, pepper, bay leaf and the chopped mushrooms, cook for one minute while stirring.
Add chickpeas and reserved mushroom liquid.
Bring to a boil and cook for 5 minutes, stirring occasionally.
Select Start/Stop to switch to Slow Cook function.
Add sliced eggplant.
Cover and cook for 4 hours on high or on low for 7 to 8 hours, until chickpeas are tender.
Remove cinnamon stick and bay leaf.
Stir in tomatoes and parsley.
Black Bean and Mushroom Chili
Filled with hearty vegetables, this smoky and spiced chili is a healthy and filling meal. The sweetness of tomatoes and the robust flavor of chipotle peppers, along with black beans and mushrooms blend for a full-bodied chili that will satisfy everyone.
Ingredients:
2 1/2 cups black beans
1 tablespoon extra-virgin olive oil
•1/4 cup mustard seeds
•2 tablespoons chili powder
•1 1/2 teaspoons cumin seeds, or ground cumin
•1/2 teaspoon cardamom seeds, or ground cardamom
•2 medium onions, coarsely chopped
•1 pound mushrooms, sliced
8 ounces tomatillos, husked, rinsed and coarsely chopped
•1/4 cup water
•5 1/2 cups mushroom broth, or vegetable broth
•1 (6-ounce) can tomato paste
•1 to 2 tablespoons minced canned chipotle peppers in adobo sauce
1 1/4 cups grated Monterey Jack, or pepper Jack cheese
•1/2 cup reduced-fat sour cream
•1/2 cup chopped fresh cilantro
•2 limes, cut into wedges
Directions
Drain liquid from black beans.
Select the Brown/Sauté function and set to medium.
Combine olive oil, mustard seeds, chili powder, cumin and cardamom in your Multi-Cooker.
Stir until the spices sizzle, about 30 seconds.
Add onions, mushrooms, tomatillos and water.
Cover and cook, until the vegetables are juicy, 5 to 7 minutes. Stir occasionally.
Remove cover and stir until juices evaporate and vegetable are browned.
Then add broth, tomato paste and chipotle peppers.
Select Start/Stop to switch to Slow Cooker function.
Add beans, cover and cook on high for 5 to 8 hours.
Serve in bowls garnished with cheese, sour cream, cilantro and lime juice.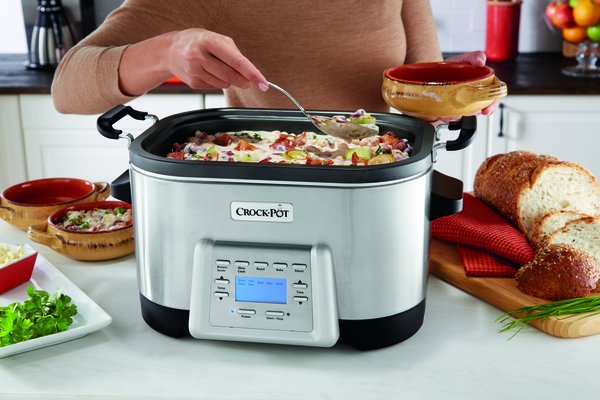 Carrot Coconut Soup
Rich and savory, this healthy soup will hit the spot on any night of the fall season.
Ingredients:
1 tablespoon olive oil
2 onions, finely chopped
4 garlic cloves, minced
2 teaspoons turmeric
2 teaspoons cumin seeds
1 teaspoon salt
1/2 teaspoon cracked black peppercorns
1 (28 ounce) can tomatoes, including juice
2 large carrots, peeled
2 cups red lentils, well washed
1 tablespoon fresh lemon juice
6 cups vegetable or chicken broth
1 (14 ounce) can light coconut milk
1 -4 teaspoon of hot sauce, your choice
1/2 cup finely chopped cilantro, for garnish
Directions
Select the Brown/Sauté function on your Multi-Cooker.
Combine olive oil and onions, cooking until soft.
Add garlic, turmeric, cumin seeds, salt and pepper and cooking for 1 minute, stirring.
Add tomatoes and bring to boil. Break tomatoes while stirring.
Blend in carrots, lentil, lemon juice and broth.
Select Start/Stop to switch to Slow Cook Function.
Cover and cook on high for 4 to 5 hours or low for 8 to 10 hours.
Add coconut milk, stir and continue cooking on high for 20 more minutes, until heated through.
Serve in bowls topped with cilantro and dash of hot sauce.
Due to the slow ramp up, and even heating of a slow cooker, recipes featured on this site can be cooked in a range of slow cooker sizes. Recipes can be increased or decreased by one quart size per the cooking instructions. For smaller sauces and dips that call for 3 quarts or less, it is not recommended to alter the unit size. Crock-Pot® is a registered trademark and should not be used generically when referring to a 'slow cooker' within the recipes.
Sunbeam Products, Inc. d/b/a Jarden Consumer Solutions has not tested these recipes and is not responsible for the outcome of any recipe. You may not achieve the results desired due to variations in ingredients, cooking temperatures, cooking times, typos, errors, omissions, or individual cooking abilities. Please always use your best judgment when cooking with raw ingredients such as eggs, chicken or fish.