Top Tips for Thanksgiving Day Prep
Whether it's your first or you've hosted for many years, the Thanksgiving holiday meal requires a lot of planning, preparation and hard work. Regardless of your expertise on all things turkey day, there are a few tips and tricks suitable for anyone that can help make the holiday a little less stressful, and a lot more enjoyable.
Don't Forget to Thaw Your Turkey
This tip may seem like a no-brainer, though you would be surprised at how many first-time Thanksgiving hosts forget to allow enough time for their turkey to fully thaw. It is advised to purchase your turkey at least one week before the big day. This allows plenty of time for defrosting in the refrigerator. One of the best methods for thawing is to put the turkey in the coldest area of your fridge with a pan underneath to catch any drips. It will need one day to thaw for every four pounds in weight. Moreover, if you are going to brine your turkey, it must be defrosted one day earlier. It is important to note that a frozen turkey should never be defrosted out on the countertop.
Slow Cook in Advance
If you're looking for convenient preparation and cooking this Thanksgiving, look no further than your slow cooker. The long list of turkey day side dishes, from green bean casserole and mashed potatoes to apple pies and freshly made bread, can all be easily made in your Crock-Pot® Slow Cooker or Multi-Cooker. Allowing you to prepare the ingredients for each of these dishes well in advance, your slow cooker saves you more time on the big day.
Forget the Oven
One of the best tips for Thanksgiving this year is to forego using your oven whenever possible. If you're hosting a small celebration, including just six people or less, you can take advantage of slow cooking your turkey overnight. Not only does this allow for the optimal convenience in giving you the freedom to prepare other things while it's cooking, it also frees up your oven for other small dishes. Best of all, with this slow-cooked turkey recipe that cooks the bird in its sauces and seasonings for hours on end you get an irresistibly delicious flavor.
Keep It Simple
All told, the most important thing to remember during this holiday is to keep it simple. The Crock-Pot® Hook Up® Connectable Entertaining System 3-Piece Set allows you to do just that. It's perfect for pre-Thanksgiving Day prep as it allows you to simultaneously slow cook two side dishes and two sauces, such as cranberry sauce or gravy, at once. Once they are finished, simply keep them on the WARM setting throughout the evening while guests are still eating.
Requiring just one outlet, this entertaining system is everything you need for celebrating a big feast. It also doubles as the perfect serving station, no matter the size of your Thanksgiving gathering. It allows people to create their own plate of turkey, stuffing and all the toppings. And if you're looking for a bit more cooking space, consider adding on the Crock-Pot® Hook Up® 5 Qt Oval Slow Cooker this Thanksgiving. It's perfect for larger side dishes and desserts and connects right into your existing units for cooking and serving all in one convenient place.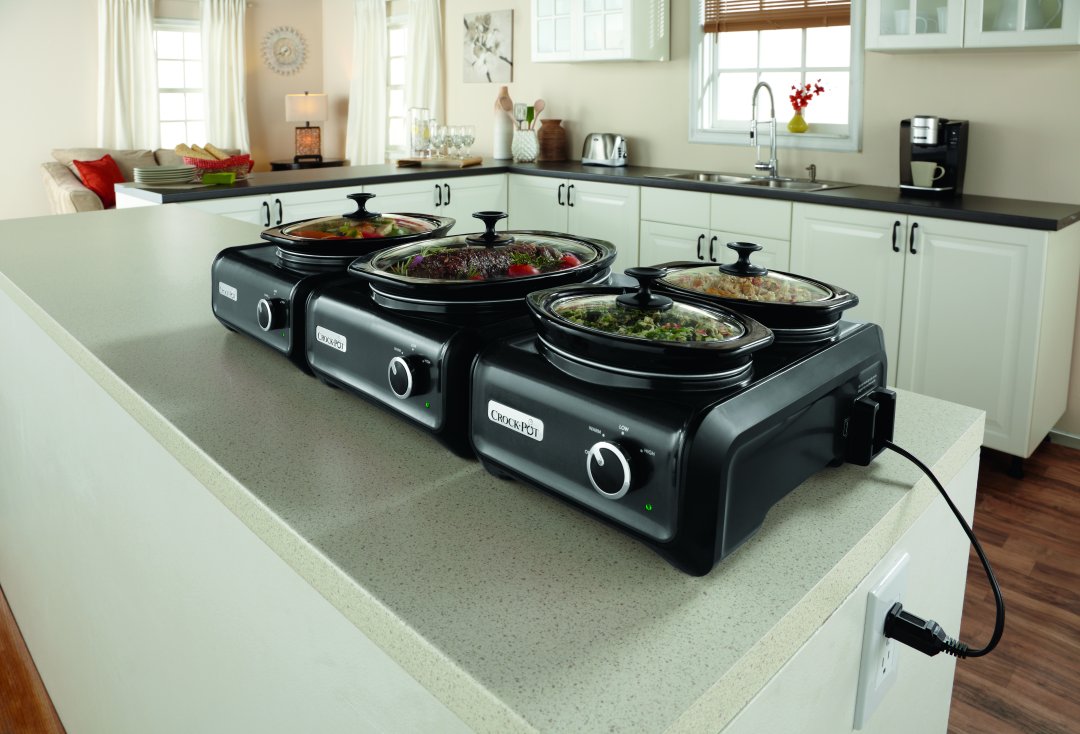 Save the Leftovers
For many people, Thanksgiving leftovers may be even better than the main meal itself. There's really nothing better than a next-day turkey sandwich. But before you decide on the classic sandwich, consider these three tasty and creative ways to put your leftovers to use in your slow cooker.
Make this turkey day one to remember - by spending it with loved ones and prepping your slow-cooked dishes in advance!