Healthy Chicken Dinner with Two Side Sauces
For a healthy, balanced dinner that's easy to prepare with twice the taste factor, try this slow-cooked chicken that gets lots of flavor from complimentary sauces. It's great for entertaining guests as they'd be sure to appreciate the different sauce offerings.
And with the all-new Crock-Pot® Swing and Serve® Slow Cooker, you'll be equipped to prepare and serve this delicious meal easily. It's designed with three crocks that each have their own cook settings and the elevated design provides convenience to simultaneously cook your main dish along with the two tasty sauces below in the same appliance, saving you counter space and clutter.
When you're ready to serve, simple swing open the upper crocks that hold these two delicious sauce recipes and let guests help themselves!
The Main Dish: Slow-Cooked Chicken
Ingredients:
6 pounds boneless, skinless chicken breasts
2 teaspoons salt
2 teaspoons black pepper
2 teaspoons garlic powder
1/2 cup water or chicken broth, optional
Directions
Season chicken breasts and add to the bottom of your slow cooker.
Pour water or chicken broth on top.
Cover and cook on low for 8 hours.
Serve with honey garlic and white cream and sun-dried tomato sauces below!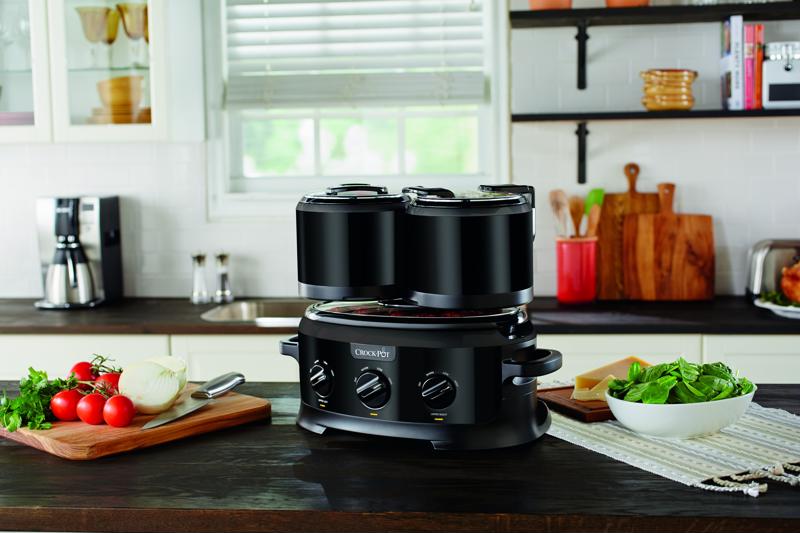 Honey Garlic Sauce
There's nothing that pairs quite as well with chicken as honey garlic sauce. This perfectly balanced sweet-and-sour recipe is easy to make in the in the elevated level of your Crock-Pot® Swing and Serve® Slow Cooker, while your main chicken dish and other sauce cook at the same time!
Ingredients:
3 garlic cloves, minced or chopped
1/2 cup low-sodium soy sauce
1/2 cup ketchup
1/2 cup honey
Fresh basil, shredded, for garnish
Directions
Combine garlic, soy sauce, ketchup and honey in one of the upper level 1.5 quart slow cookers.
Stir well.
Cover and cook on low for 1 to 2 hours.
Serve warm as a dipping sauce with chicken dish.
White Cream and Sun-Dried Tomato Sauce
Savory and flavorful, this white cream and sun-dried tomato sauce serves delightfully with the aforementioned chicken dish. Notes of zesty red pepper are balanced with white wine while the tapioca gives this sauce its great creamy texture. Use the second 1.5-quart slow cooker on the appliance's upper level to make this sauce.
Ingredients:
1 onion, minced
1/4 cup oil-packed sun-dried tomatoes, rinsed, patted dry, and sliced thin
6 garlic cloves, minced
1 tablespoon extra-virgin olive oil
1 teaspoon dried thyme
1/4 teaspoon red pepper flakes
1 1/2 cups low-sodium chicken broth
1/4 cup dry white wine
1 1/2 tablespoons minute tapioca
Directions
Combine onion, tomatoes, garlic, oil, thyme and red pepper flakes in a small bowl.
Heat for 5 minutes in microwave, stirring halfway through.
Pour mixture into upper level 1.5 court slow cooker.
Add broth, wine and tapioca.
Stir together.
Cover and cook on low for 2 to 3 hours.
Stir well and serve warm with chicken for dipping.
Sunbeam Products, Inc. d/b/a Jarden Consumer Solutions has not tested these recipes and is not responsible for the outcome of any recipe. You may not achieve the results desired due to variations in ingredients, cooking temperatures, cooking times, typos, errors, omissions, or individual cooking abilities. Please always use your best judgment when cooking with raw ingredients such as eggs, chicken or fishDue to the slow ramp up, and even heating of a slow cooker, recipes featured on this site can be cooked in a range of slow cooker sizes. Recipes can be increased or decreased by one quart size per the cooking instructions. For smaller sauces and dips that call for 3 quarts or less, it is not recommended to alter the unit size. Crock-Pot® is a registered trademark and should not be used generically when referring to a 'slow cooker' within the recipes.