3 Slow Cooker Holiday Side Dishes
There's an easy way to simplify both cooking and serving this holiday season, with the Crock-Pot® Programmable Lift & Serve Hinged Lid 6-Quart Oval Slow Cooker. First, the programmable control panel enables versatile 30-minute to 20-hour digital timer to allow for optimal convenience and cooking flexibility while preparing for the festivities. Once the cook time is up, it automatically switches to WARM to keep your food at the perfect temperature. Second, the hostess-friendly durable locking hinged lid seamlessly stays in place while guests help themselves. This also eliminates the worry about where to put the lid! Third, this slow cooker is even designed to be travel-friendly in case you plan on bringing your slow-cooked side dish to a neighbor or relative's house for the celebrations. The locking rubber gasket lid ensures that your meal makes it to the final destination, mess-free!
For a creative side dish that incorporates exciting flavors and spices, consider one of these three recipes below:
Sausage Apple Cornbread Stuffing
Everyone loves cornbread and your dining companions will really enjoy this unique twist on the classic side dish. Fresh sage, savory butter and sweet onions make this warm and delicious dish come alive with every bite. For a simpler version of this recipe, simply remove apples and sausage.
Ingredients:
1 (16 oz.) package ground pork sausage
2 Granny Smith apples, peeled and diced
5 cups crumbled cornbread
1 (14-oz.) package herb stuffing
2 (10 3/4-oz.) cans cream of chicken soup
2 (14-oz.) cans chicken broth
1 large sweet onion, diced
1 cup diced celery
4 large eggs, lightly beaten
1 tablespoon rubbed sage
1/2 teaspoon pepper
2 tablespoons butter, cut up
Directions
In a large skillet over medium heat, cook ground pork sausage for about 8 to 10 minutes until crumbly and no longer pink.
Combine sausage, apples, cornbread, herb stuffing, chicken soup and broth, sweet onion, celery, eggs, sage and pepper in large bowl.
Combine well.
Transfer mixer to 6-quart slow cooker and dot with butter.
Cover and cook on low for 4 to 6 hours, until set.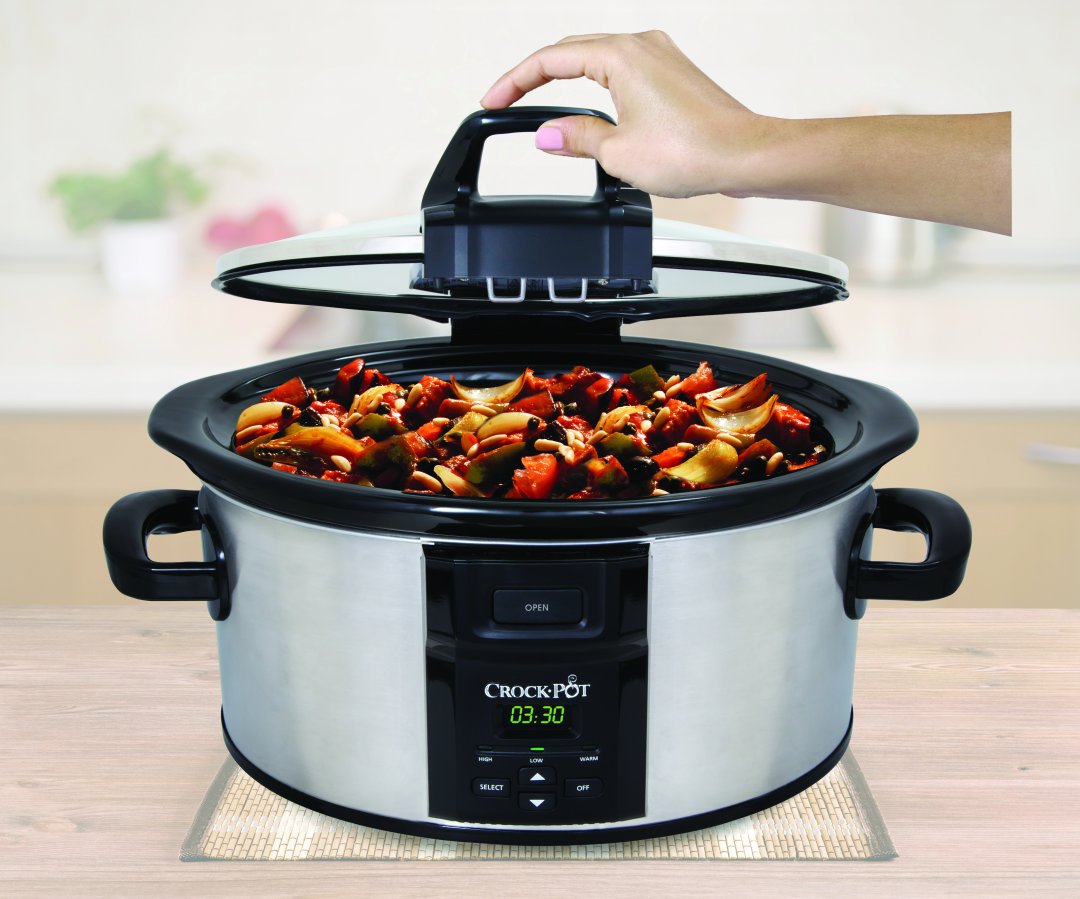 Balsamic Root Vegetables
For a delightfully flavorful side dish filled with several hearty vegetables, give this balsamic-glazed recipe a try. For a perfect fresh and savory combination, top with crumbled bacon and parsley before serving.
Ingredients:
1 1/2 pounds sweet potatoes
1 pound parsnips
1 pound carrots
2 large red onions, coarsely chopped
3/4 cup sweetened dried cranberries
1 tablespoon light brown sugar
3 tablespoons olive oil
2 tablespoons balsamic vinegar
1 teaspoon salt
1/2 teaspoon freshly ground pepper
1/4 cup bacon, cooked and crumbled
1/3 cup chopped fresh flat-leaf parsley
Directions
Peel sweet potatoes, parsnips and carrots and cut into 1 1/2-inch pieces.
Combine parsnips and carrots with onions and cranberries in the bottom of your 6-quart slow cooker.
Layer sweet potatoes on top.
In a bowl, combine brown sugar, olive oil, balsamic vinegar and salt, whisking to combine.
Pour over vegetables in slow cooker.
Cover and cook on high for 4 to 5 hours, until vegetables are tender.
Top with crumbled bacon and fresh parsley before serving.
Wild Rice Pilaf
Rice pilaf makes for a great accompanying side dish no matter what the occasion. But this recipe tossed with sweet dried cherries and nutty pecans give it a true seasonal touch.
Ingredients:
2 cups uncooked brown rice
2 cups uncooked wild rice
4 tablespoons butter, melted
1 1/2 (32-oz.) container chicken broth
1 1/2 cup diced sweet onion
1 teaspoon freshly ground pepper
1 cup dried cherries, coarsely chopped
1 cup coarsely chopped pecans
Directions
Combine wild and brown rice with butter in your slow cooker until rice is coated.
Stir in chicken broth, onion and pepper.
Cover and cook on high for 3 1/2 to 4 hours, until rice is tender.
Add cherries and stir with a fork.
Turn off heat and let stand for 15 minutes, with cover.
Meanwhile, in a nonstick skillet over medium heat, cook pecans for 3 to 4 minutes, stirring often.
Once toasted and fragrant, stir pecans into slow cooker with a fork.
Fluff just before serving.
Due to the slow ramp up, and even heating of a slow cooker, recipes featured on this site can be cooked in a range of slow cooker sizes. Recipes can be increased or decreased by one quart size per the cooking instructions. For smaller sauces and dips that call for 3 quarts or less, it is not recommended to alter the unit size. Crock-Pot® is a registered trademark and should not be used generically when referring to a 'slow cooker' within the recipes.
Sunbeam Products, Inc. d/b/a Jarden Consumer Solutions has not tested these recipes and is not responsible for the outcome of any recipe. You may not achieve the results desired due to variations in ingredients, cooking temperatures, cooking times, typos, errors, omissions, or individual cooking abilities. Please always use your best judgment when cooking with raw ingredients such as eggs, chicken or fish.