3 Quick and Easy Slow-Cooked Sides for Thanksgiving
This year, make Thanksgiving extra special by giving yourself more time to spend with loved ones with the help of your slow cooker! With these quick and easy slow cooker side dishes, planning and preparing your Thanksgiving meal becomes simple and stress-free. Each of these delicious side dishes requires just a little bit of preparation.
Garlic Mashed Potatoes
Creamy, soft and buttery, this is the easiest batch of mashed potatoes you'll ever make.
Ingredients:
3 pounds red potatoes, chopped
1/4 cup unsalted butter
4 cloves garlic, crushed and peeled
Kosher salt and freshly ground black pepper, to taste
1/2 cup sour cream
1/3 cup freshly grated Parmesan
2 tablespoons milk, or more, as needed
1/2 teaspoon dried thyme
1/2 teaspoon dried oregano
1/2 teaspoon dried basil
1/4 teaspoon freshly grated nutmeg
2 tablespoons chopped fresh chives
Directions
Use a Crock-Pot® Slow Cooker Liner to line stoneware.
Add potatoes, butter, garlic and 1/4 cup water to your slow cooker.
Season with salt and pepper, to taste.
Cover and cook on low for 7 to 8 hours or on high for 3 to 4 hours, until tender.
Transfer to mixing bowl.
Add in sour cream, Parmesan, milk, thyme, oregano, basil and nutmeg, mixing with an electric mixer fitted with paddle attachment.
Blend until potatoes are light and fluffy, for about 2 to 3 minutes.
Add more milk if potatoes are too thick and mix until desired consistency is reached.
Garnish with fresh chives and serve warm.
Slow-Cooked Green Bean Casserole
The green bean casserole is a staple of Thanksgiving dinner and it gets even easier to make when you use your Crock-Pot® Programmable Casserole Crock Slow Cooker. Simply combine the ingredients, set the time and temperature and go enjoy the party while your dish slow cooks all afternoon!
Ingredients:
2 (16 ounce) packages frozen french-cut green beans, thawed
1 (10 ounce) container refrigerated Alfredo sauce
1 (8 ounce) can diced water chestnuts, drained
1 (6 ounce) jar sliced mushrooms, drained
1 cup (4 ounce) shredded Parmesan cheese
1/2 teaspoon freshly ground pepper
1 (6-ounce) can French fried onions, divided
1/2 cup chopped pecans
Directions
Combine green beans, Alfredo sauce, water chestnuts, mushrooms, Parmesan, ground pepper and 1/2 of the French fried onions in the bottom of your slow cooker.
Combine until mixture is well-mixed.
Cover and cook on low for 4 1/2 hours, until bubbly.
Heat remaining friend onions and pecans in non-stick skillet until browned.
Pour over casserole before serving.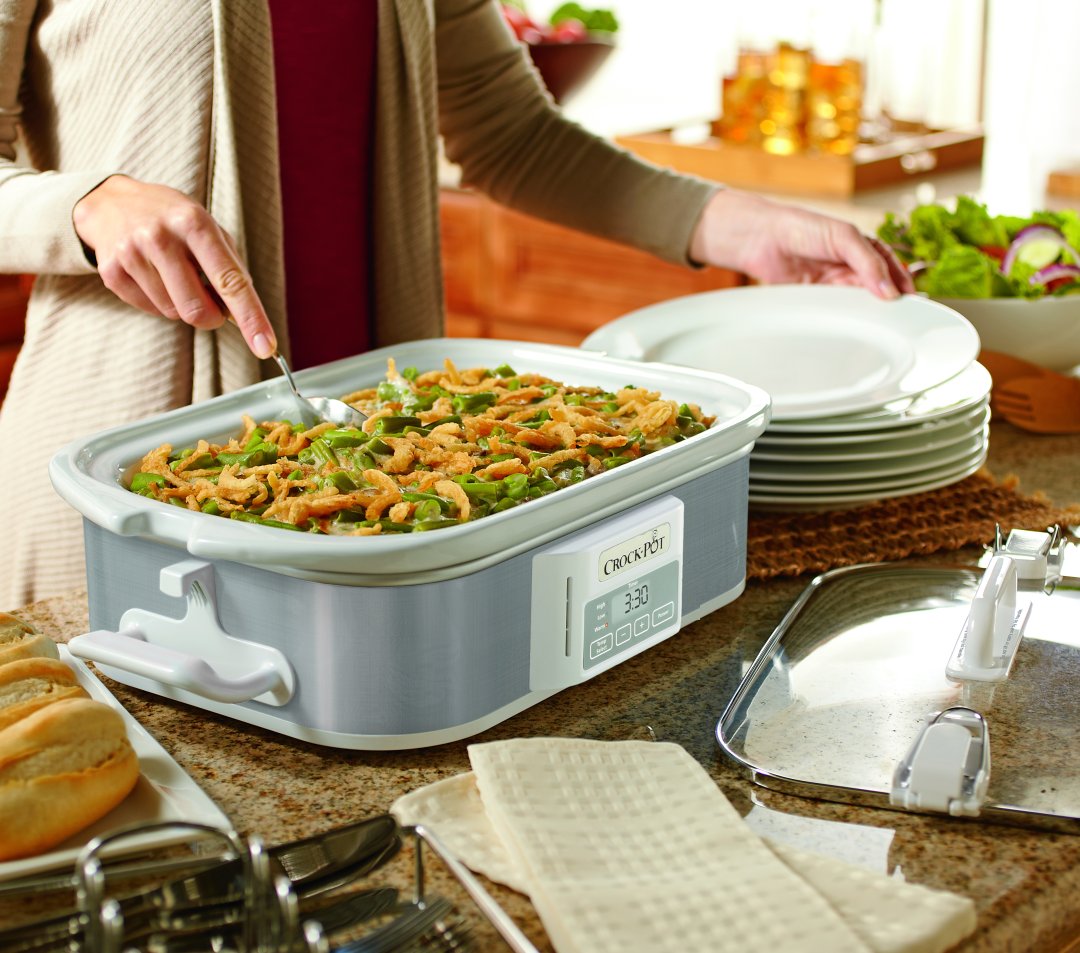 Orange-Glazed Carrots and Parsnips
This sweet holiday vegetable dish is easy to prepare and delicious to enjoy. The rich flavors of the marmalade and white wine combine perfectly with the zest of the orange juice and peels for a tasty sauce.
Ingredients:
2 pounds carrots, cut into 2-inch chunks
1 pound parsnips, peeled and cut into 2-inch chunks
1 cup orange juice
1/2 cup orange marmalade
1/2 cup vegetable broth
1/4 cup dry white wine
1 tablespoon quick-cooking tapioca, crushed
1/2 teaspoon salt
1/4 teaspoon ground black pepper
2 tablespoons finely shredded orange peel
1/4 cup snipped fresh parsley
3 tablespoons butter
Directions
Use a Crock-Pot® Slow Cooker Liner to line stoneware.
Combine carrots and parsnips in slow cooker.
In a bowl, mix orange juice, marmalade, broth, wine, tapioca, salt and pepper.
Pour mixture over vegetables and toss to coat.
Cover and cook on low for 8 to 10 hours or on high for 4 to 5 hours.
With 30 minutes remaining, stir in orange peel, parsley and butter.
Serve warm.
Due to the slow ramp up, and even heating of a slow cooker, recipes featured on this site can be cooked in a range of slow cooker sizes. Recipes can be increased or decreased by one quart size per the cooking instructions. For smaller sauces and dips that call for 3 quarts or less, it is not recommended to alter the unit size. Crock-Pot® is a registered trademark and should not be used generically when referring to a 'slow cooker' within the recipes.
Sunbeam Products, Inc. d/b/a Jarden Consumer Solutions has not tested these recipes and is not responsible for the outcome of any recipe. You may not achieve the results desired due to variations in ingredients, cooking temperatures, cooking times, typos, errors, omissions, or individual cooking abilities. Please always use your best judgment when cooking with raw ingredients such as eggs, chicken or fish.