3 Vegan Recipes for Your Slow Cooker
There's an easy and convenient way to cook tasty vegan dishes and desserts, even when you have a busy week ahead of you. Simplify mealtime by using your slow cooker to make all of your favorite meals, without any of the hassle. With the versatile Crock-Pot® 6-Quart Manual Slow Cooker with Travel Strap, you can add the necessary ingredients in, set the temperature and cook time and go about your day! Best of all, you can easily transport these dishes to share with family and friends, thanks to the travel strap.
Puttanesca Pizza
You really can make almost anything in your slow cooker, even vegan pizza! Impress your family and friends with this zesty flatbread slow cooked to perfection - the ideal Friday night dinner.
Pizza Dough Ingredients:
1 1/2 cups unbleached all-purpose flour
1 1/2 teaspoons instant yeast
1/2 teaspoon salt
1/2 teaspoon Italian seasoning
1 tablespoon olive oil
1/2 cup warm water, or as needed.
Sauce Ingredients:
1/2 cup crushed tomatoes
1/4 cup pitted kalamata olives, sliced
1/4 cup pitted green olives, sliced
1 tablespoon capers, rinsed and drained
1 tablespoon chopped fresh flat-leaf parsley
1/4 teaspoon dried basil
1/4 teaspoon dried oregano
1/4 teaspoon garlic powder
1/4 teaspoon sugar
1/4 teaspoon hot red pepper flakes
Salt and freshly ground black pepper
1/2 cup shredded vegan mozzarella cheese (optional).
Directions
In a food processor, combine the flour, yeast, salt and Italian seasoning. Slowly add in oil and as much water as is needed to form a slightly sticky dough ball.
Lightly oil the inside of a large bowl.
Move dough to floured surface and gently knead for 1 to 2 minutes.
Once it is smooth and elastic-like, shape into a ball and place in prepared bowl.
Turn the dough to coat with oil and then cover with plastic wrap.
Set aside to rise at warm room temperature for about 1 hour.
While it's rising, combine the tomatoes, both types of olives, capers, parsley, basil, oregano, garlic powder, sugar, red pepper flakes, salt and pepper in a bowl.
Oil the insert of your slow cooker and spray with nonstick cooking spray.
Punch down dough and return it to floured surface.
Flatten and shape the dough to fit in the bottom of your slow cooker.
Spread sauce over dough.
Cover and cook on high for 1 hour and 45 minutes.
If using vegan mozzarella cheese, add on top of sauce with 30 minutes remaining.
Indian Saag Aloo
For a deliciously flavorful and healthy Indian dish, try out this vegan recipe that only requires minimal preparation! It can be served as a side dish or main dish with curry.
Ingredients:
3 to 6 potatoes
1/2 onion, thinly sliced
1/4 cup water
1/2 vegetable stock cube, crumbled
1 tablespoon oil
1/2 teaspoon cumin
1/2 teaspoon ground coriander
1/2 teaspoon garam masala
1/2 teaspoon hot chilli powder
Black pepper
1 cup fresh spinach, roughly chopped.
Directions
Peel and chop potatoes into cubes about 1 inch in size.
Place potatoes in the bottom of your slow cooker and cover with sliced onion, water, vegetable stock cube, oil, cumin, coriander, garam masala, hot chilli powder and black pepper.
Mix ingredients together.
Top with layer of 1 cup of spinach.
Cover and cook on low for 4 hours, until potatoes are soft.
Stir every hour or so to scrape down the sides.
Enjoy warm!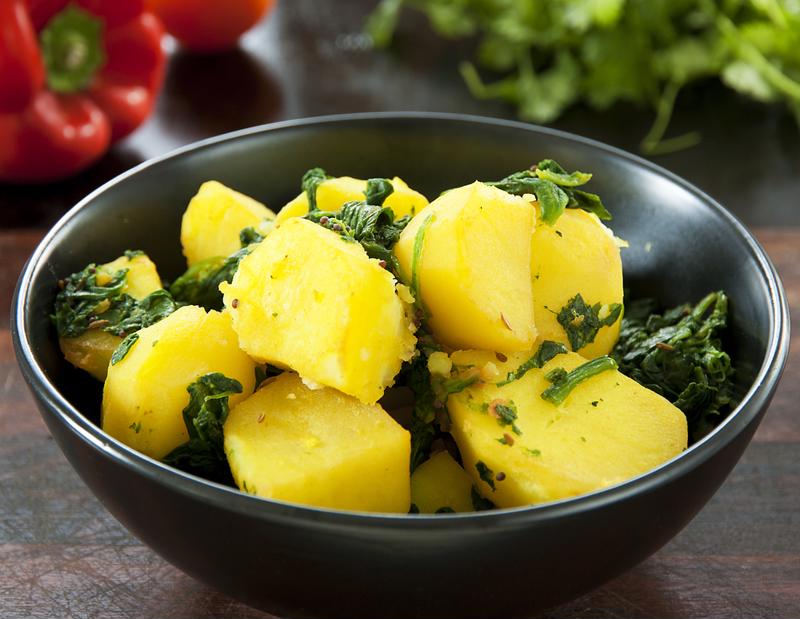 Apple Pie Cake
Sweet, fluffy and confectionery, the apple and cinnamon bring out the mouth-watering flavors of this vegan dessert.
Ingredients:
4 green apples, sliced
1/4 cup coconut sugar
1/8 teaspoon ground cinnamon
1/3 cup vegan butter, melted
1 box yellow cake mix
1/4 cup pecans, chopped (optional).
Directions
Peel and slice the apples and place them in the bottom of your slow cooker.
Mix sugar and cinnamon together and sprinkle on top of apples.
Stir to coat apples.
Melt butter in microwave and then combine in a medium bowl with cake mix.
Mix well, until mixture is crumbly.
Sprinkle half of mixture over apples and stir well.
Pour remaining mixture on top and do not stir.
Cover and cook on low for 2 to 3 hours.
Top with pecans if desired.
Due to the slow ramp up, and even heating of a slow cooker, recipes featured on this site can be cooked in a range of slow cooker sizes. Recipes can be increased or decreased by one quart size per the cooking instructions. For smaller sauces and dips that calls for 3 quarts or less, it is not recommended to alter the unit size. Crock-Pot® is a registered trademark and should not be used generically when referring to a 'slow cooker' within the recipes.
Sunbeam Products, Inc. d/b/a Jarden Consumer Solutions has not tested these recipes and is not responsible for the outcome of any recipe. You may not achieve the results desired due to variations in ingredients, cooking temperatures, cooking times, typos, errors, omissions, or individual cooking abilities. Please always use your best judgment when cooking with raw ingredients such as eggs, chicken or fish.