3 Cinco De Mayo Recipes for Your Slow Cooker
Break out the sombreros and maracas, the queso and the tortillas because Cinco de Mayo is right around the corner! If you're going to be hosting the big fiesta this year, you'll want to use your Crock-Pot® 6-Quart Manual Slow Cooker for all of your Mexican-inspired dishes. It's the perfect size for all of your Cinco de Mayo needs.
Enchilada Quinoa
Rich, hearty and zesty, this enchilada quinoa is the perfect main dish for your Cinco de Mayo celebrations. Not only is it healthy and filled with protein, but delicious as well!
Ingredients:
1 can black beans, drained and rinsed
1 can yellow corn, drained and rinsed
2 cans red enchilada sauce (mild or medium), divided
1 can fire roasted tomatoes and green chiles, diced
1 cup quinoa uncooked, plus 1/2 cup water
4 ounces cream cheese
Salt and pepper to taste
1 cup shredded Mexican cheese
Chopped cilantro, for topping
Sour cream, for topping
Sliced avocado, for topping.
Directions
Add beans, corn, 1 can of enchilada sauce, diced tomatoes and chiles, quinoa, water, cream cheese, salt and pepper to the slow cooker. Mix well.
Cover and cook on low for 5 to 7 hours or on high for 4 to 5 hours.
Add 1 cup of shredded Mexican cheese to top and let sit for 10 minutes, or until meleted.
Top with cilantro, sour cream and sliced avocado to enjoy!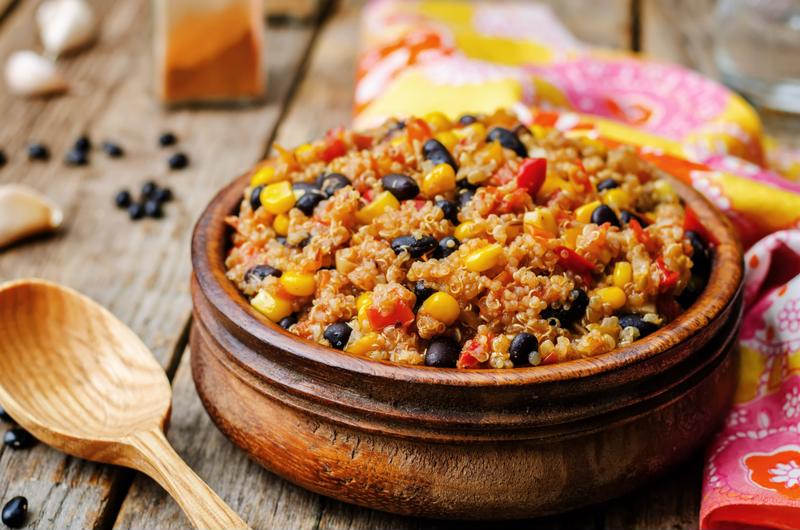 Charro Beans
This side dish of charro beans is the perfect accompaniment to any Mexican dish you make. Bursting with flavor, bacon bits and spicy jalepenos, this dish is sure to be a crowd pleaser!
Ingredients:
1/2 pound bacon
1 pound dry pinto beans
4 cups water
2 cups beef broth
6 cloves garlic, minced
Fresh jalapeno, diced (optional)
1 tablespoon cumin
1 teaspoon garlic powder
1 teaspoon chili powder
1 (15-ounce) can diced tomatoes and green chiles
1 cup fresh cilantro leaves, chopped
Salt and pepper, to taste.
Directions
Cook bacon until crispy. Drain, chop and set aside.
Rinse beans in colander, rinsing well and removing shells or shriveled beans.
Pour beans into your slow cooker. Cover with water and beef broth.
Add garlic, jalepeno, cumin, garlic powder and chili powder.
Cover and cook on low for 7 hours.
Stir in green diced tomatoes and chiles and fresh cilantro.
Cover and cook for another hour, until tender.
Top with salt and pepper, and fresh lime if desired.
Shredded Beef for Tacos
Cinco de Mayo just isn't complete without a heaping serving of smoky, shredded beef topped over warm taco shells or tortillas. For the ultimate flavor and perfect tenderness, slow cook your beef all day long with this great recipe.
Ingredients:
2 to 3 pounds chuck roast
Salt and pepper to taste
1 teaspoon cayenne
1 teaspoon ground cumin
1 teaspoon smoked paprika
1 teaspoon garlic, minced
1/4 cup beef broth
2 tablespoons tomato paste
1 jalapeno pepper, diced
1/4 cup lime juice
1 medium yellow onion, diced.
Directions
Season chuck roast with desired amount of salt and pepper. Then brown for about 2 minutes on either side with olive oil.
In the bottom of your slow cooker mix the cayenne, cumin, paprika, garlic and beef broth. Stir well.
Add tomato paste, jalepeno and lime juice. Add in seared beef and diced onions.
Cook on low for 6 to 8 hours, until tender.
Shred beef with two forks and toss to coat with the juices.
Lay out spread with a taco and toppings bar to serve. Enjoy!
Due to the slow ramp up, and even heating of a slow cooker, recipes featured on this site can be cooked in a range of slow cooker sizes. Recipes can be increased or decreased by one quart size per the cooking instructions. For smaller sauces and dips that calls for 3 quarts or less, it is not recommended to alter the unit size. Crock-Pot® is a registered trademark and should not be used generically when referring to a 'slow cooker' within the recipes.
Sunbeam Products, Inc. d/b/a Jarden Consumer Solutions has not tested these recipes and is not responsible for the outcome of any recipe. You may not achieve the results desired due to variations in ingredients, cooking temperatures, cooking times, typos, errors, omissions, or individual cooking abilities. Please always use your best judgment when cooking with raw ingredients such as eggs, chicken or fish.