How to Make S'mores in Your Slow Cooker
Summer cookouts are synonymous with s'mores, the classic treat made using fire-roasted marshmallow topped with a melting piece of chocolate and sandwiched between two graham crackers. But did you know that you can create the exact same taste at any time of the year in your slow cooker? Follow these mouth-watering recipes to re-create the feeling of warm summer nights in your Crock-Pot® Smart-Pot® 4-Quart Digital Slow Cooker.
Fudgy S'mores Cake
If you thought it couldn't get any better than the gooey, delicious s'mores that melt in your mouth, think again. This cake recipe combines all of the wonderful flavors of s'mores with the perfectly moist and fluffy consistency of cake for an unforgettable treat.
Ingredients:
1 box triple chocolate cake mix
Water, vegetable oil and eggs called for on cake mix box
2 cups miniature marshmallows
1 cup semisweet chocolate chips
Graham cracker squares, if desired
Directions
Cover the inside of your slow cooker with non-stick cooking spray or liners.
Mix cake batter ingredients as directed on box. Pour batter into slow cooker.
Cover and cook on high for 2 1/2 hours, or until toothpick comes out clean.
Turn slow cooker off and cover cake with marshmallows and chocolate chips.
Cover for another 10 minutes.
Serve warm in bowls with graham cracker squares.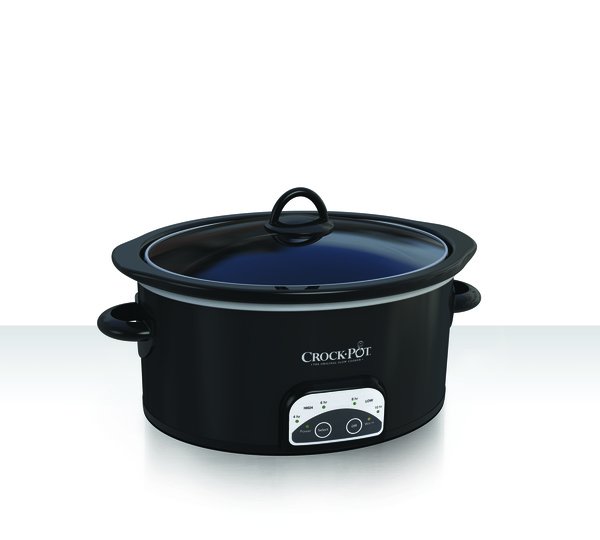 S'mores Fondue Dip
One unique way of using your Crock-Pot® Smart-Pot® 4-Quart Slow Cooker is for fondue. This recipe for s'mores fondue dip brings together the perfect blend of milk chocolate, sticky marshmallows and graham cracker crumbs to create a taste that's bursting with deliciously sweet flavor. This is one dessert that will have the whole family coming back for seconds.
Ingredients:
1 bag milk chocolate chips
1 bag large marshmallows
1/2 cup heavy whipping cream
1 teaspoon vanilla
Graham crackers, strawberries and additional marshmallows for dipping
Directions
Use liners or a non-stick cooking spray in the inside of your slow cooker.
Add chocolate chips and marshmallows to the bottom of your slow cooker.
In small bowl, mix together the heavy cream and vanilla.
Slowly pour the mixture into slow cooker and stir together.
Cover and cook on low for 1 1/2 to 2 hours, stirring halfway through.
Serve with graham crackers, strawberries, more marshmallows, and anything else to dip into the fondue while it's warm!
Due to the slow ramp up, and even heating of a slow cooker, recipes featured on this site can be cooked in a range of slow cooker sizes. Recipes can be increased or decreased by one quart size per the cooking instructions. For smaller sauces and dips that call for 3 quarts or less, it is not recommended to alter the unit size. Crock-Pot® is a registered trademark and should not be used generically when referring to a 'slow cooker' within the recipes.
Sunbeam Products, Inc. d/b/a Jarden Consumer Solutions has not tested these recipes and is not responsible for the outcome of any recipe. You may not achieve the results desired due to variations in ingredients, cooking temperatures, cooking times, typos, errors, omissions, or individual cooking abilities. Please always use your best judgment when cooking with raw ingredients such as eggs, chicken or fish.