Summer Entertaining Made Easy
The long, lazy and blissful days of summer are perfect for entertaining. When the weather is pleasant and the daylight seems to last forever, your backyard garden transforms into the quintessential area for hosting. With your ambience ready-made, all you need to plan is the dinner spread, which is instantly made seamless with the Crock-Pot® Hook Up® Connectable Entertaining System. Before you start planning the next get-together, consider this guide for summer entertaining made easy:
1. Get The System
Slow cooking is the go-to option for all your entertaining needs. Not only does slow cooking help to save you time, it makes your life as the host easier than ever. You can seamlessly slow cook delicious appetizers and main dishes the night before with little prep work. When the big day rolls around, you'll have time and energy to spend on other essentials since the food will already be taken care of.
And what if you want to cook multiple dishes? All at once? Connectable and customizable, the Crock-Pot® Hook Up® Connectable Entertaining System offers unmatched versatility and brings flexibility to entertain your way. This bundle features an assortment of three units that include one 3.5-quart oval unit, one 2-quart round unit and one double oval unit with 2 quart-sized slow cookers. Each unit is designed with high, low and warm settings to provide cooking options that accommodate your party needs. And if you're looking for a bit more cooking space, consider the attachable Crock-Pot® Hook Up® 5 Qt Oval Slow Cooker. It's perfect for dips, finger foods, small roasts and more. And, they can all plug in to just one outlet!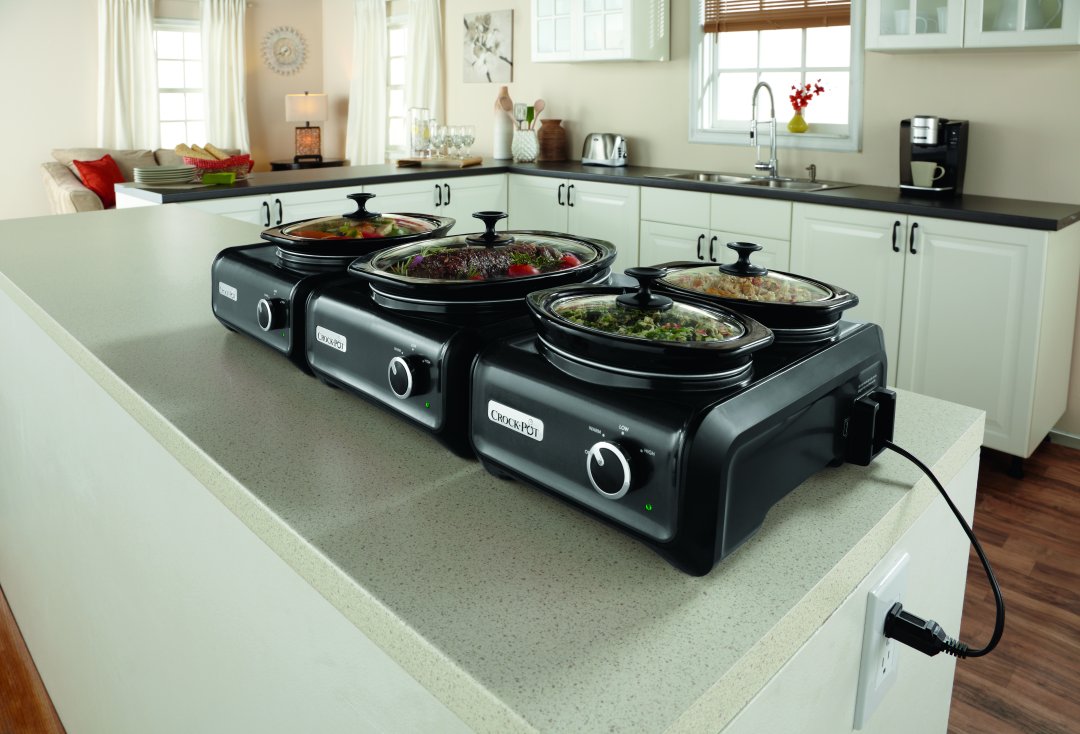 Best of all - and in line with tip No. 2 below - each unit can plug into the others to create the perfect table setting for any size party. Simply prepare your snacks, meals and desserts the night before, set this Entertaining System up outside and let guests dig in!
2. Keep It Simple
The best thing about entertaining during the lovely warm months is that people aren't expecting a lavish dinner at an elaborate dining room table. In the summer, it's all about simplicity. If guests have a cold drink in their hands, a spread of appetizers to indulge in and good company surrounding them, they'll stay happy for hours. Keep it simple by opting for paper plates and utensils, finger foods with a buffet-style setup and an area where guests can make their own drinks.
3. Add Color
As mentioned above, your outdoor patio or garden space essentially sets itself up for the party. With a few lawn chairs and picnic tables, there's nothing else you need. Though if you do wish to add a little more color and pop to your layout, consider incorporating several Mason jars of flowers, strung-up lights or bright and fun pillows to the patio furniture. Yellows, pinks and oranges are great on the eye during the warm months so consider picking a combination of these hues as your theme.
4. Make It Tasty
A great party isn't complete without equally-amazing food. Consider these two slow-cooked appetizer recipes that will please the palates of any crowd. Happy hosting!
Queso Verde Dip
Creamy, zesty and full of flavor, this queso verde dip is the perfect way to welcome your guests to the party. Simply keep the dip in your Entertaining System and have a big bowl of crunchy tortilla chips nearby.
Ingredients:
1 pound ground turkey, cooked
3/4 cup onion, chopped
1 tablespoon cooking oil
1 (16 ounce) jar green salsa (salsa verde)
1 (8 ounce package) cream cheese, cut up
2 cups Monterey Jack cheese, shredded
1 medium poblano pepper, seeded and chopped
1 tablespoon Worcestershire-style marinade
1 teaspoon ground cumin
2 cloves garlic, minced
1 tablespoon fresh cilantro, snipped
Tortilla chips
Directions
In the bottom of your 3.5-quart connectable hook-up, combine the turkey, onion, salsa, cream cheese, Monterey Jack cheese, poblano pepper, Worcestershire marinade, cumin and garlic.
Mix gently.
Cover and cook on low setting for 3 to 3 1/2 hours or on high setting for 1 1/2 to 1 3/4 hours.
Stir until cream cheese is blended.
Serve immediately or keep covered on warm or low-heat setting for up to 2 hours. Stir before serving.
Sprinkle with cilantro and serve with tortilla chips!
Cherry-Pistachio Brie
Though artisan-style cherry-pistachio brie will impress all of your guests, it will only take you 10 minutes to prepare! Use the 2-quart attachment of your slow cooker Entertaining system for this recipe and serve with your choice of crackers.
Ingredients:
1/2 cup dried cherries, snipped
1/4 cup cherry preserves
1 tablespoon brandy (optional)
2 (8 ounce) rounds Brie cheese
1/2 cup pistachios
Crackers or pear slices
Directions
In a small bowl mix together the dried cherries, cherry preserves and brandy.
Place one round of Brie in the bottom of your slow cooker.
Spoon half of cherry mixture on top of cheese in cooker.
Add the second round of Brie and the remaining cherry mixture.
Cover and cook on low setting for 3 hours or on high setting for 1 to 1-1/4 hours, until Brie is softened but not melted.
Sprinkle with pistachios and serve with sliced pears or crackers.
Due to the slow ramp up, and even heating of a slow cooker, recipes featured on this site can be cooked in a range of slow cooker sizes. Recipes can be increased or decreased by one quart size per the cooking instructions. For smaller sauces and dips that call for 3 quarts or less, it is not recommended to alter the unit size. Crock-Pot® is a registered trademark and should not be used generically when referring to a 'slow cooker' within the recipes.
Sunbeam Products, Inc. d/b/a Jarden Consumer Solutions has not tested these recipes and is not responsible for the outcome of any recipe. You may not achieve the results desired due to variations in ingredients, cooking temperatures, cooking times, typos, errors, omissions, or individual cooking abilities. Please always use your best judgment when cooking with raw ingredients such as eggs, chicken or fish.