How to Make Slow-Cooked Pulled Pork Even Better: Add Bourbon
You already love pulled pork, but have you tried this mouth-watering version with bourbon-peach barbecue sauce? Adding bourbon to a traditional pulled pork dish is a great way to add flavor. Even if you're crunched for time you can still prepare this homemade recipe with ease, thanks to the Crock-Pot® 5-in-1 Multi-Cooker. Seamlessly switch from browning the pork and spices to slow cooking this recipe at a simple touch of the button. Better yet, forget the nuisance of multiple pans to clean: This delicious dinner can be prepared easily in one Multi-Cooker that does it all.
Pulled Pork with Bourbon-Peach Sauce
For a smoky, earthy barbecue flavor with a touch of sweetness infused with the bourbon-peach sauce, give this slow-cooked pulled pork recipe a try.
Ingredients:
2 teaspoons olive oil
2 teaspoons Spanish smoked paprika
1 1/4 teaspoons kosher salt, divided
1 teaspoon freshly ground black pepper
1 (3 1/2-pound) bone-in pork shoulder roast (Boston butt), trimmed
1/2 cup unsalted chicken stock
1/3 cup balsamic vinegar
1/3 cup molasses
2 tablespoons low-sodium soy sauce
1 teaspoon crushed red pepper
1/2 cup peach preserves
2 cups onion, sliced
5 garlic cloves, thinly sliced
1/4 cup bourbon
2 tablespoons cold water
2 teaspoons cornstarch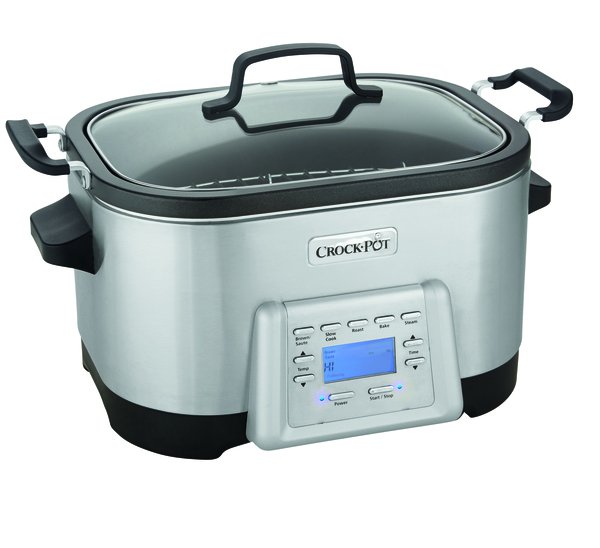 Directions
Select Brown/Sauté and set to high.
Allow Multi-Cooker to preheat.
Add oil to cooking bowl.
Combine paprika, 1/2 teaspoon salt, and black pepper. Rub evenly over pork.
Add pork to Multi-Cooker and cook for 10 minutes, turning to brown on all sides.
Remove pork and add chicken stock, balsamic vinegar, molasses, soy sauce and crushed red pepper.
Cook on high and scrap sides to loosen brown bits.
Add peach preserves and stir well.
Select Slow Cook function and return pork to Multi-Cooker.
Top with onion and garlic.
Cover and cook on low for 6 1/2 hours, until pork is very tender.
Remove pork and reserve liquid.
Shred pork with two forks.
Use a slotted spoon to remove onion and add to pork, cover with foil.
Keep liquid in slow cooker and select Brown/Sauté again.
Stir in the bourbon and cook 15 to 20 minutes, or until the mixture is reduced to about 1 1/2 cups.
In a bowl combine 2 tablespoons cold water and the cornstarch, mixing until smooth.
Whisk this mixture into the sauce, stirring constantly until it has thickened slightly.
Add in remaining 3/4 teaspoon salt.
Pour the sauce over the pork and toss to coat.
Serve on buns as sliders if desired.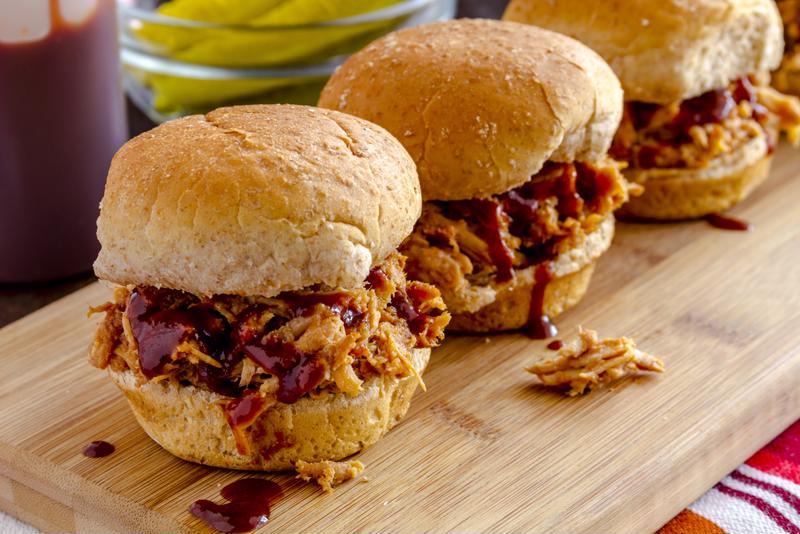 Due to the slow ramp up, and even heating of a slow cooker, recipes featured on this site can be cooked in a range of slow cooker sizes. Recipes can be increased or decreased by one quart size per the cooking instructions. For smaller sauces and dips that call for 3 quarts or less, it is not recommended to alter the unit size. Crock-Pot® is a registered trademark and should not be used generically when referring to a 'slow cooker' within the recipes.
Sunbeam Products, Inc. d/b/a Jarden Consumer Solutions has not tested these recipes and is not responsible for the outcome of any recipe. You may not achieve the results desired due to variations in ingredients, cooking temperatures, cooking times, typos, errors, omissions, or individual cooking abilities. Please always use your best judgment when cooking with raw ingredients such as eggs, chicken or fish.