Best Red, White and Blue Sweets to Make in Your Slow Cooker
One of the best things about your Crock-Pot® Slow Cooker is the fun and festive creativity it allows for each time a holiday or special event rolls around. Round up the the sprinkles, gather the kids and pull out your 5-quart slow cooker to try these mouth-watering dessert recipes.
Patriotic Crispy Rice and Marshmallow Treats
Whether you're celebrating a patriotic holiday or just looking to make a fun and tasty treat for the kids, this recipe for a red, white and blue rice crispy dessert is perfect. Better yet, it only requires a few ingredients and minimal prep time.
Ingredients:
1/4 cup butter (1/2 stick)
4 1/4 cups mini marshmallows
6 cups rice cereal
Red and blue food coloring
Red, white and blue sprinkles
Directions
Set your slow cooker to high.
Slice butter into pieces and add to your slow cooker.
Cover and let sit until completely melted.
Add mini marshmallows and cover for 5 minutes, until melted.
Remove cover and stir well. Let sit for another 2 minutes.
Stir well again until no chunks or lumps remain.
Separate mixture into three different bowls.
Add red food coloring to one and blue food coloring to the second bowl and mix well. Leave the third as is.
Add 2 cups of rice cereal to each bowl and stir well to coat.
Cover a 9-by-13-inch pan with nonstick cooking spray.
Starting with the red mixture, use your hands to press it into the bottom of the 9-by-13-inch pan.
Layer the plain mixture next, followed by the blue mixture on top.
Top with holiday sprinkles and let cool for 1 to 2 hours.
Blueberry-Strawberry Shortcake
A classic warm-weather dessert, this strawberry shortcake recipe becomes even more festive with the addition of fresh blueberries.
Ingredients:
2 1/4 cups pancake mix
3/4 cup sugar, divided
2/3 cup milk
3 tablespoons applesauce
1 quart strawberries, hulled and sliced
1 quart fresh blueberries
Whipped cream, for topping
Directions
In a medium bowl, combine the pancake mix, 1/2 cup sugar, milk and applesauce. Mix until a dough forms.
Use a slow cooker liner for the bottom, or coat with nonstick cooking spray.
Press the dough into the bottom with your hands, spreading evenly.
Cover and cook on high for 1 hour and 15 minutes.
Turn the shortcake out onto a plate.
Gently toss blueberries and strawberries with remaining sugar.
Spoon berries over shortcake.
Serve with whipped topping if desired.
Red, White and Blue Cheesecake Bars
To make the bars square-shaped, you'll need your Crock-Pot® 3.5-Quart Casserole Crock™ Slow Cooker. Sweet and savory, these delicious cheesecake bars filled with fresh fruit make great bite-sized treats for any holiday!
Ingredients:
1 1/2 cups graham cracker crumbs
4 tablespoons butter, melted
1 1/2 packages (12 ounces) reduced-fat cream cheese, room temperature
3/4 cup granulated sugar
3 large eggs, whisked together
1/4 cup milk
2 tablespoons cornstarch
2 tablespoons fresh lemon juice
1 cup fresh raspberries
3/4 cup fresh blueberries
Directions
In a small bowl, mix together graham cracker crumbs and butter.
Use a slow cooker liner and then press mixture firmly into the bottom of your casserole crock slow cooker.
Using a food processor, blend the cream cheese and sugar well. Add eggs slowly one at a time, blending in between each.
Pour milk in a small bowl and slowly whisk in cornstarch, until smooth.
Add milk and cornstarch mixture and lemon juice to your food processor. Blend until creamy.
Spread the cream cheese mixture from the food processor on top of the graham cracker crust.
Spread evenly across so that top is smooth.
Scatter fresh raspberries and blueberries across the top.
Cover and cook on high for 1 1/2 hours, or until set.
Let sit for 30 minutes, then let cool in refrigerator for 30 minutes.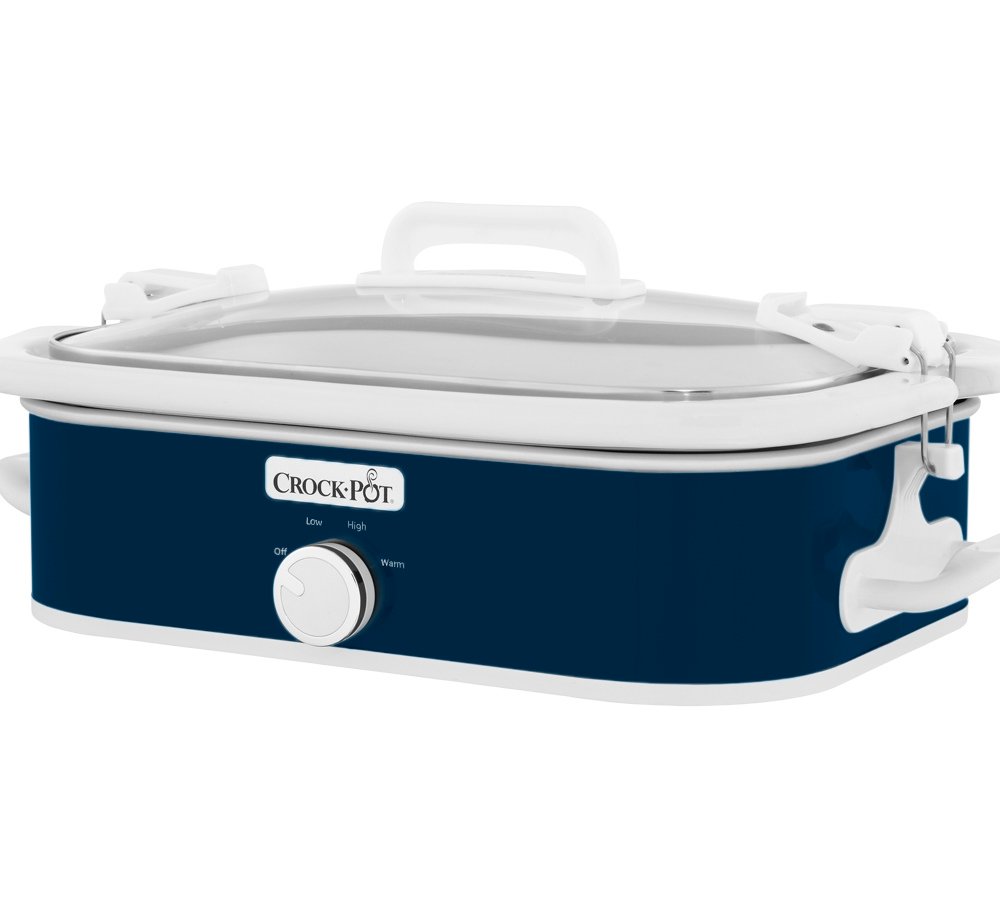 Due to the slow ramp up, and even heating of a slow cooker, recipes featured on this site can be cooked in a range of slow cooker sizes. Recipes can be increased or decreased by one quart size per the cooking instructions. For smaller sauces and dips that call for 3 quarts or less, it is not recommended to alter the unit size. Crock-Pot® is a registered trademark and should not be used generically when referring to a 'slow cooker' within the recipes.
Sunbeam Products, Inc. d/b/a Jarden Consumer Solutions has not tested these recipes and is not responsible for the outcome of any recipe. You may not achieve the results desired due to variations in ingredients, cooking temperatures, cooking times, typos, errors, omissions, or individual cooking abilities. Please always use your best judgment when cooking with raw ingredients such as eggs, chicken or fish.