4 Healthy Slow-Cooked Versions of Your Favorite Dishes
Are you a lover of spinach Parmesan dip but trying to be more healthy? Enjoy chicken fingers but watching what you eat? Don't get weighed down, instead consider the healthy alternative version of your favorites dishes and appetizers.
These tasty, guilt-free dishes are perfect for bringing to your friend's backyard barbecue or potluck dinner, especially when you use your Crock-Pot® Single Hand Cook & Carry® Slow Cooker. Combining convenience, functionality and portability all in one, you can simply cook, lock, grab and go with just one hand! Designed to be travel-friendly, this slow cooker makes transport to tailgates, cookouts and more easier than ever. The next time you have an event coming up, try out one of these healthy recipes:
1. Skinny Parmesan Spinach Dip
Swapping the cream cheese for Greek yogurt is a simple way to make this typically calorie-loaded dip much lighter - without sacrificing any flavor! Its similar texture and sharp flavor make this tasty Parmesan spinach dip a real crowd-pleaser. Best of all, total prep and cook time is just 40 minutes.
Ingredients:
10 ounces (1 package) frozen chopped spinach, thawed
1/2 cup light sour cream
3/4 cup Greek yogurt
1/2 cup grated Parmesan cheese
1 small can (8 ounces) water chestnuts, diced
1 clove garlic, crushed
1 1/2 cup shredded low moisture/low fat mozzarella cheese
Pinch fresh pepper to taste
Directions
Combine all ingredients in a bowl and mix well.
Pour mixture into your slow cooker.
Stir occasionally while cooking on high until dip is hot, for about 30 minutes.
Once cooked, set slow cooker to warm for serving.
Serve with pita chips, tortilla chips or crackers.
2. Slow-Cooked Refried Beans
With no added fat and filled with protein and fiber, these beans make for a healthy and filling side dish that can also serve as salad topping or burrito filling.
Ingredients:
2 cups dried pinto beans, rinsed
6 cups water
1/2 onion, peeled
1/4 teaspoon garlic powder
1 1/2 teaspoons salt
1 teaspoon cumin
Pinch of cayenne pepper
Dash of liquid smoke (optional)
Directions
Rinse the 2 cups of pinto beans well.
Add them to your slow cooker with the water, onion, garlic powder, salt, cumin, cayenne powder and liquid smoke.
Cover and cook on high overnight for 8 hours.
Once finished, remove the onion and drain most excess water but reserve some.
Use a masher or immersion blender to smooth beans to your desired consistency.
Taste and season as desired, serve warm.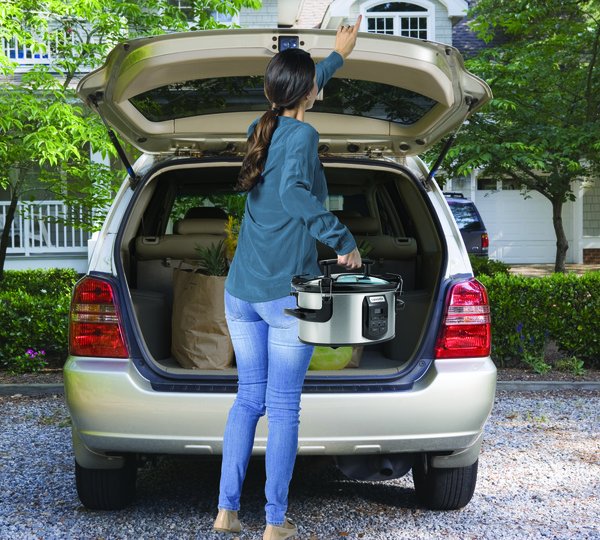 3. Cornmeal-Crusted Chicken Fingers with Blackberry Mustard
Chicken fingers are the perfect finger food for any backyard gathering, but the traditional version tends to be not so healthy. For a quick fix, toss your chicken fingers with cornmeal instead of buttermilk and breadcrumbs and opt to slow cook instead of deep-fry. To top it off, swap out the sugar-filled ketchup for this homemade blackberry mustard.
Ingredients:
1 pound chicken breasts, cut into strips
1/2 teaspoon salt
1/4 teaspoon freshly ground pepper
3 tablespoons cornmeal
1 cup fresh blackberries or raspberries, finely chopped
1 1/2 tablespoons whole-grain mustard
2 teaspoons honey
Directions
Coat chicken fingers with salt and pepper.
Place cornmeal in a bowl and toss chicken in to coat.
Lay each piece of cornmeal-coated chicken next to one another in the bottom of your slow cooker.
Cover and cook on high for 2 1/2 hours, until internal temperature reaches 165 degrees.
Meanwhile, mash the blackberries or raspberries with the mustard and honey in a bowl.
When cook time is up, remove lid and continue cooking for another 10 minutes - this helps to add a crispy crunch to the chicken fingers.
Serve chicken warm with homemade berry sauce.
4. Loaded Sweet Potatoes
Instead of opting for the classic baked potato filled with sour cream, cheese and bacon, take the healthier alternative and make these flavorful sweet potatoes. Swap the sour cream for Greek yogurt, add toasted pumpkin seeds for crunch and replace the bacon with avocado and black beans.
Note: Sweet potatoes can be customized as desired by swapping or adding additional toppings.
Ingredients:
Sweet potatoes
Cooked black beans
Red pepper, diced
Tomato, diced
Salsa
Cumin
Chipotle powder
Sea salt and fresh ground black pepper, to taste
Kale leaves, chopped
Avocado, diced
Pumpkin seeds, toasted
Directions
Cut sweet potatoes in half and place them on a sheet of foil.
Top each with desired toppings, except for kale, avocado and seeds.
Add desired seasonings and salt and pepper.
Wrap each potato in the foil to close and place in slow cooker.
Cover and cook on low for 4 to 6 hours.
Top with kale leaves, avocado and pumpkin seeds as desired.
Due to the slow ramp up, and even heating of a slow cooker, recipes featured on this site can be cooked in a range of slow cooker sizes. Recipes can be increased or decreased by one quart size per the cooking instructions. For smaller sauces and dips that call for 3 quarts or less, it is not recommended to alter the unit size. Crock-Pot® is a registered trademark and should not be used generically when referring to a 'slow cooker' within the recipes.
Sunbeam Products, Inc. d/b/a Jarden Consumer Solutions has not tested these recipes and is not responsible for the outcome of any recipe. You may not achieve the results desired due to variations in ingredients, cooking temperatures, cooking times, typos, errors, omissions, or individual cooking abilities. Please always use your best judgment when cooking with raw ingredients such as eggs, chicken or fish.