Comfort Slow Cooker Recipes for a Snow Day
There's a lot of hype when it comes to the prospect of a potential snow day. Should the snow fall overnight and your family wakes up to school and office closures, be sure to have these staples on hand for a delicious meal that warms from the inside. While your kids are outside making snow angels and snowmen, whip up one of these comfort food recipes in your slow cooker.
Potato and Corn Chowder
This hearty soup is perfect for fueling and warming up. Best of all, it's enough to feed a crowd so you'll have plenty for all of those tired and hungry from playing in the snow.
Ingredients:
24 ounces red potatoes, diced
1 package frozen corn
3 tablespoons all-purpose flour
6 cups chicken stock
1 teaspoon dried thyme
1 teaspoon dried oregano
1/2 teaspoon garlic powder
1/2 teaspoon onion powder
2 tablespoons butter, unsalted
1/2 cup heavy cream
Salt and pepper, to taste.
Directions
Using a 6- or 7-quart slow cooker, combine the potatoes and corn in the bottom.
Add flour and toss evenly to coat the corn and potatoes.
Next, add in chicken stock, thyme, oregano, garlic powder, onion powder, salt and pepper. Stir well to combine.
Cover and cook on low for 7 to 8 hours or on high for 3 to 4 hours.
When done, stir in butter and cream and let heat through. Serve into bowls with crackers or bread.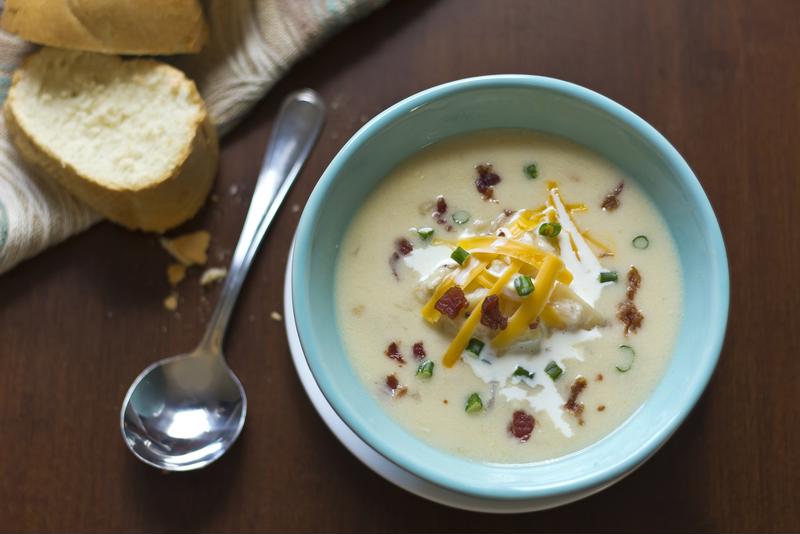 Chicken Fajitas
These delicious chicken fajitas serve as a great meal after a full day of sledding and snowman building. They're simple to make and easy to serve!
Ingredients:
2-3 whole, boneless and skinless chicken breasts
6 ounces mixed peppers, chopped
6 ounces onions, chopped
14 ounces canned black beans, drained
14 ounces canned tomatoes
14 ounces canned corn, drained
2 cloves garlic, minced
1 packet taco seasoning
Cheese, shredded for garnish
Sour cream, for garnish
Guacamole, for garnish
Non-stick cooking spray
Tortillas.
Directions
Spray a large slow cooker with non-stick cooking spray.
Place chicken in the bottom and cover with peppers, onions, black beans, tomatoes, corn, garlic and taco seasoning.
Cover and cook on low for 5 to 6 hours.
Remove chicken, shred it and return to slow cooker, mixing it well with other ingredients.
Serve chicken on tortillas and top with cheese, guacamole and sour cream.
Due to the slow ramp up, and even heating of a slow cooker, recipes featured on this site can be cooked in a range of slow cooker sizes. Recipes can be increased or decreased by one quart size per the cooking instructions. For smaller sauces and dips that calls for 3 quarts or less, it is not recommended to alter the unit size. Crock-Pot® is a registered trademark and should not be used generically when referring to a 'slow cooker' within the recipes.
Sunbeam Products, Inc. d/b/a Jarden Consumer Solutions has not tested these recipes and is not responsible for the outcome of any recipe. You may not achieve the results desired due to variations in ingredients, cooking temperatures, cooking times, typos, errors, omissions, or individual cooking abilities. Please always use your best judgment when cooking with raw ingredients such as eggs, chicken or fish.