Valentine's Day Brunch Essentials
Conveniently falling on a Sunday this year, Valentine's Day is the perfect opportunity to host a festive brunch at your home with all of your friends and loved ones. Create a lavish breakfast spread complete with red and pink-inspired treats, paper hearts and Valentines and fill the room with everyone's favorite love songs. For the main dish, use your Crock-Pot® Lift & Serve Hinged Lid 6-Quart Oval Slow Cooker. This convenient slow cooker simplifies serving - all you have to do is lift the lid and invite your guests to dig in.
Apple French Toast Casserole
The recipe for this sweet, savory and downright delicious French toast will make anyone swoon. Top the dish with sliced strawberries or raspberries, serve with a festive pink drink and you've got the perfect Valentine's Day breakfast combination.
Ingredients:
9 slices bread of your choice
2 egg whites
2 whole eggs
1 1/2 cups milk
2 tablespoons honey
1 teaspoon vanilla extract
1/2 teaspoon cinnamon
3 cups apple pieces, finely diced (for filling)
3 tablespoons honey (for filling)
1 teaspoon lemon juice (for filling)
1/3 cup diced raw pecans (for filling)
1/2 teaspoon cinnamon (for filling).
Directions
In a medium bowl, mix together the egg whites, whole eggs, milk, honey, vanilla and cinnamon. Set aside.
In another bowl, bring together all of the filling ingredients. Stir well to coat each apple piece.
Cut bread slices into triangles and place one layer of triangles on the bottom of your slow cooker.
Add 1/4 of the filling on top of the first bread layer. Repeat this 3 times. Add remaining filling to the top.
Pour the egg mixture over the bread and filling.
Cover and cook on high for 2 to 2-1/2 hours or low for 4 hours.
Serve with syrup and enjoy!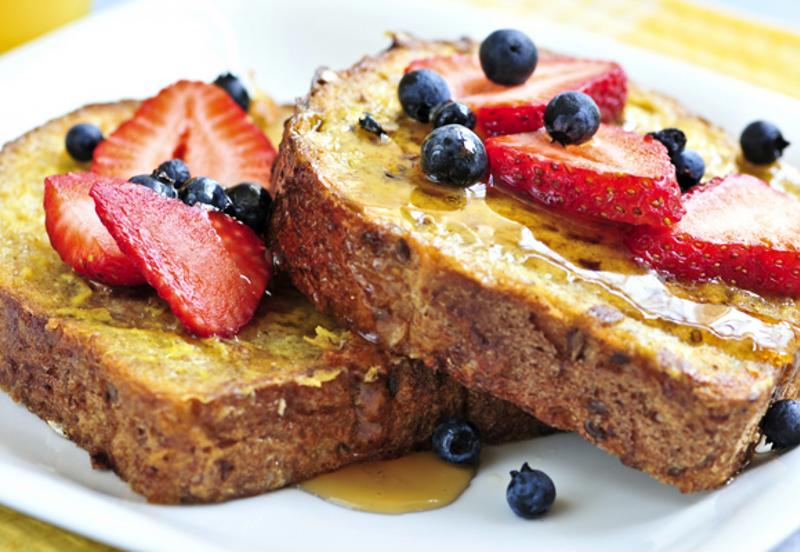 Mexican Breakfast Casserole
This hearty casserole is full of flavor and even has a little kick to it. Serve with English muffins or wheat toast.
Ingredients:
1 pound chorizo or sweet Italian sausage, cooked and drained
9 corn tortillas
8 eggs
1 1/2 cups milk
1 jalapeño chile, seeded, finely chopped
1 red bell pepper, chopped
3/4 cup sliced green onions
2 cups pepper Jack cheese, shredded
2 tablespoons chopped fresh cilantro
1 cup thick salsa.
Directions
In medium bowl, beat eggs, milk and chile with whisk to blend.
Place three of your tortillas in the bottom of your slow cooker, tearing if necessary to fully cover the bottom.
Reserve 2 tablespoons chopped bell pepper, 2 tablespoons green onions and 3/4 cup cheese and set aside.
Top tortillas in slow cooker with half of the sausage, remaining bell pepper, green onions and cheese. Repeat layers. Top with remaining 3 tortillas, tearing if needed to cover mixture.
Pour egg mixture over tortillas.
Cover and cook on high for 2 to 3 hours or on low for 4 to 5 hours.
Sprinkle with reserved cheese, bell pepper, green onions and the cilantro.
Top with sliced avocado, sour cream or more cheese if desired.
Spinach and Mushroom Quiche
Slow-cooked to perfection, the recipe for this crustless quiche will be a big hit with brunch enthusiasts. It serves well with hash browns or home fries.
Ingredients:
Slow cooker liner
4 slices bacon
1 package frozen chopped spinach, thawed and drained
1 tablespoon olive oil
2 cups mushrooms, coarsely chopped
1/2 cup sweet red pepper, chopped
1 1/2 cup Gruyere or Swiss cheese, shredded
8 eggs
2 cups half-and-half or whole milk
2 tablespoons snipped chives
1/2 teaspoon salt
1/4 teaspoon ground black pepper
1/2 cup packaged biscuit mix.
Directions
Line your slow cooker with the liner and cover with cooking spray.
Use paper towels to press spinach and remove as much moisture as possible. Set aside.
Cook bacon until crisp in a skillet over medium heat. Drain, crumble and set aside.
In the same skillet with oil over medium heat, add in mushrooms, sweet pepper and cook and stir until tender before adding in spinach and cheese.
In a medium bowl, combine eggs, half-and-half, chives, salt and black pepper.
Stir egg mixture into spinach mixture in skillet. Gently fold in biscuit mix.
Pour egg mixture in your slow cooker and sprinkle with bacon bits.
Cover and cook on high for 2 to 2 1/2 hours or on low for 4 to 5 hours, or until an inserted knife comes out clean.
Remove the liner with the quiche from your slow cooker and allow to cool before serving.
Enjoy with a side of home fries or hash browns.
If you're looking for more brunch inspiration, consider these breakfast recipes or three ways to make cinnamon rolls in your slow cooker.
Due to the slow ramp up, and even heating of a slow cooker, recipes featured on this site can be cooked in a range of slow cooker sizes. Recipes can be increased or decreased by one quart size per the cooking instructions. For smaller sauces and dips that calls for 3 quarts or less, it is not recommended to alter the unit size. Crock-Pot® is a registered trademark and should not be used generically when referring to a 'slow cooker' within the recipes.
Sunbeam Products, Inc. d/b/a Jarden Consumer Solutions has not tested these recipes and is not responsible for the outcome of any recipe. You may not achieve the results desired due to variations in ingredients, cooking temperatures, cooking times, typos, errors, omissions, or individual cooking abilities. Please always use your best judgment when cooking with raw ingredients such as eggs, chicken or fish.