How to Host the Best Academy Awards Party
As Hollywood's most glamorous leading ladies, aspiring starlets and elite men flock the red carpet on Feb. 28 for the renowned 88th Academy Awards ceremony, treat your guests to a truly Oscar-inspired experience in the comfort of your home. While flowing glasses of champagne and gourmet hors d'oeuvres are most certainly welcomed, you don't want the evening to feel overly done. Keep it elegant, yet casual enough for guests to feel relaxed and comfortable.
1. Prepare the Ballots
It's not a proper viewing party without the votes! Turn the evening into a friendly competition by printing out Oscar ballots that include all this year's nominees. Hand them out as your guests arrive so they'll have plenty of time to cast their votes. Prepare mini prizes for all those who predicted the winners.
2. Think Top Chef Style
With the help of your slow cooker, you can create gourmet-style dishes without any extensive labor or time commitment. The 3.5-quart oval crock of the Crock-Pot® Hook Up® Connectable Entertaining System 3-Piece Set is great for appetizers while the smaller 1-quart crocks are perfect for serving dips. Not only is it a great table setting but it can also slow cook more than one dish at the same time. Try out these amazing recipes for delicious appetizers and you'll have a mouth-watering spread by the time your guests arrive.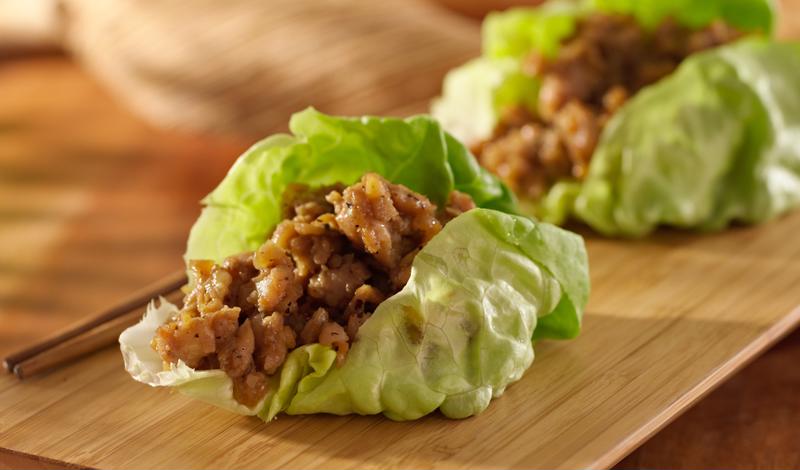 Sesame Chicken Wraps
Not only do these chicken wraps taste amazing, they look it too!
Ingredients:
2 tablespoons honey
1/2 cup soy sauce
1 tablespoon sesame oil
2 teaspoons rice wine vinegar
1/4 teaspoon crushed red pepper flakes
1 pound chicken breasts, boneless and skinless
1 pound chicken thighs, boneless and skinless
Kosher salt, to coat chicken
Ground black pepper, to coat chicken
1 yellow onion, diced
3 cloves garlic, minced
8 to 10 leaves butter lettuce
Green onions, for garnish
Sesame seeds, for garnish.
Directions
In a small bowl, combine honey, soy sauce, sesame oil, rice wine vinegar and red pepper flakes.
Generously season chicken breasts and thighs with salt and pepper.
Place seasoned chicken in slow cooker with diced onion and minced garlic.
Pour the honey-soy sauce mixture over and toss to coat.
Cover and cook on low for 4 to 6 hours or high for 2 to 3 hours, until fully cooked.
Remove chicken and shred using a fork. Return to slow cooker and toss in juices.
To serve, place a portion of chicken on a leaf of lettuce and garnish with onions and sesame seeds.
Butternut Bacon Cheese Dip
Having some sort of dip is almost a party requirement - but this butternut bacon cheese dip adds a little something extra to the classic dish.
Ingredients:
2 1/2 pounds butternut squash, peeled and cubed
5 slices applewood smoked bacon, divided
8 ounces cream cheese, softened
1 cup shredded sharp cheddar cheese, divided
1/2 cup sour cream or Greek yogurt
1/4 cup green onions, chopped
1/4 teaspoon garlic salt
Veggie, tortilla or multi-grain chips for dipping.
Directions
Heat squash with a dash of salt in large pot of water over medium heat. Bring to a boil, and cook partially covered for 15 to 20 minutes until squash is soft. Drain.
Cook bacon in a skillet over medium heat until browned on both sides. Drain.
Using a food processor or blender, combine the squash, cream cheese and yogurt until smooth. Pour into slow cooker.
Stir in 3/4 cup of the cheese, the green onions, garlic salt, and 4 slices of the bacon.
Cover and cook on low for 2 hours.
Before serving, top with remaining cheese and crumbled remaining bacon strip.
Serve warm in a dish with chips for dipping.
Ranch Mushroom Bites
Arrange these savory mushroom bites on a gold platter with toothpicks and napkins.
Ingredients:
6 packages whole mushrooms, washed
1/2 cup butter, melted
1 package dry Italian salad dressing mix
1 package ranch dressing mix.
Directions
Place mushrooms in slow cooker.
Combine melted butter, Italian mix and ranch in a small bowl.
Pour mixture over mushrooms and toss to coat.
Cook on low for 3 to 4 hours or until mushrooms are cooked through.
3. Add Glitter
Hosting an awards party is supposed to be just as festive as it is fun. Decorate your living and dining room areas in a gold theme, complete with fresh flowers, strung paper-glitter stars, twinkling lights, small candles and lots of glitter. If you're feeling extra crafty, you can even dip the pencils used for the ballots in gold glitter as well.
4. Don't Forget the Bubbly
Last but not least, it's not a true Academy Awards celebration without some bubbly toasts! Dazzle your guests with a tower of plastic champagne coupes at the entrance of your living room. You don't have to spend a bundle on the bottle either - as long as it sparkles and tastes good. Your friends will love listening to the acceptance speeches of their favorite leading actors and actresses with a fancy drink in hand.
Due to the slow ramp up, and even heating of a slow cooker, recipes featured on this site can be cooked in a range of slow cooker sizes. Recipes can be increased or decreased by one quart size per the cooking instructions. For smaller sauces and dips that calls for 3 quarts or less, it is not recommended to alter the unit size. Crock-Pot® is a registered trademark and should not be used generically when referring to a 'slow cooker' within the recipes.
Sunbeam Products, Inc. d/b/a Jarden Consumer Solutions has not tested these recipes and is not responsible for the outcome of any recipe. You may not achieve the results desired due to variations in ingredients, cooking temperatures, cooking times, typos, errors, omissions, or individual cooking abilities. Please always use your best judgment when cooking with raw ingredients such as eggs, chicken or fish.