3 Candied Nut Recipes
Spiced and candied nuts are the perfect anytime-snack. Roasted mixed peanuts and almonds can keep your energy level up when you're on the go, spiced pecans and cashews are a great coffee table snack and candied walnuts are good to have on-hand for cooking and baking. Making your own slow-cooked batch of candied nuts at home allows you to get creative with the ingredients you use. It also gives you the freedom to make larger quantities of nuts and save them for later use.
When trying out one of these scrumptious candied nut recipes, use a slow cooker such as the Crock-Pot® 6-Quart Manual Slow Cooker. Create large batches of mixed nuts to enjoy at a party, with the family, or even store them for later use.
Spiced Pecan and Cashew Mix
The combination of pecans and cashews always provides the perfect crunch. Now add in the maple, orange and cinnamon seasoning of this recipe and you've got a nut mix that's bursting with flavor and zest.
Ingredients:
Non-stick cooking spray
1/4 cup pure maple syrup
3 tablespoons unsalted butter, melted
2 teaspoons ground cinnamon
2 teaspoons finely grated orange zest
1 teaspoon kosher salt
1/8 teaspoon cayenne pepper
2 cups raw pecans
2 cups unsalted roasted cashews.
Directions
Line your 6-quart slow cooker with foil and coat with non-stick cooking spray.
In a large bowl, whisk together the maple syrup, butter, cinnamon, orange zest, salt and pepper.
Add in the pecans and cashews and toss to coat.
Add the nuts to your slow cooker in an even layer.
Cover and heat on high for 1 hour, until a light syrup forms at the bottom.
Turn the heat to low and stir the nuts.
Continue to cook for 1 more hour, stirring every 20 minutes until the nuts are glazed and the bottom of your slow cooker is dry.
Turn off your slow cooker and let the nuts sit for about 2 hours, stirring occasionally.
Once they've hardened, serve as desired and enjoy!
Cinnamon Sugar Almonds
Grabbing a handful of almonds is a great snack as you head out the door, but these cinnamon sugar almonds allow you to use them for so much more. Sprinkle them on your morning yogurt, add them to a salad or top your next cake or bread with them!
Ingredients:
1 1/2 cups sugar
1 1/2 cups light brown sugar
3 tablespoons cinnamon
1/8 teaspoon salt
1 egg white
2 teaspoons vanilla
4 1/2 cups raw almonds
1/4 cup water.
Directions
In a large bowl, whisk together the sugar, brown sugar, cinnamon and salt.
In another bowl, combine the egg white and vanilla and mix well.
Pour almonds in the egg mixture and toss to coat thoroughly.
Then pour the coated almonds into the sugar mixture to coat.
Add the entire mixture to your slow cooker.
Cover and cook on high for 3 hours, stirring every 20 minutes.
After 3 hours, pour in the water and mix well. Leave mixture in slow cooker for another 20 minutes.
Line a baking sheet with parchment paper.
Pour sugared almonds onto baking sheet and separate any that are stuck.
Allow almonds to cool completely before using or storing.
Sweet and Spicy Peanut Mix
Sometimes sweets call for a little bit of spice to balance them out and that's why this recipe for mixed nuts is perfect.
Ingredients:
1 cup peanuts
1 cup cashews
1 cup whole almonds, toasted
1 cup pecan halves, toasted
1 cup hazelnuts, toasted and skin removed
1/2 cup sugar
1/3 cup butter, melted
1 teaspoon ground ginger
1/2 teaspoon salt
1/2 teaspoon ground cinnamon
1/4 teaspoon ground cloves
1/4 teaspoon cayenne pepper.
Directions
To toast nuts, spread them in a single layer in a shallow baking pan.
Bake at 350 degrees for 10 to 15 minutes, until nuts are golden brown. Stir occasionally.
To remove the skin from hazelnuts, rub nuts with a clean dish towel.
Place all nuts in the bottom of your slow cooker.
In a bowl, combine the sugar, butter, ginger, salt, cinnamon, cloves and cayenne pepper.
Pour mixture over nuts.
Cover and cook on low for 2 hours, stir after 1 hour.
Stir again when nuts are done in the slow cooker.
Then spread them in a single layer on buttered foil, letting them cool for 1 hour.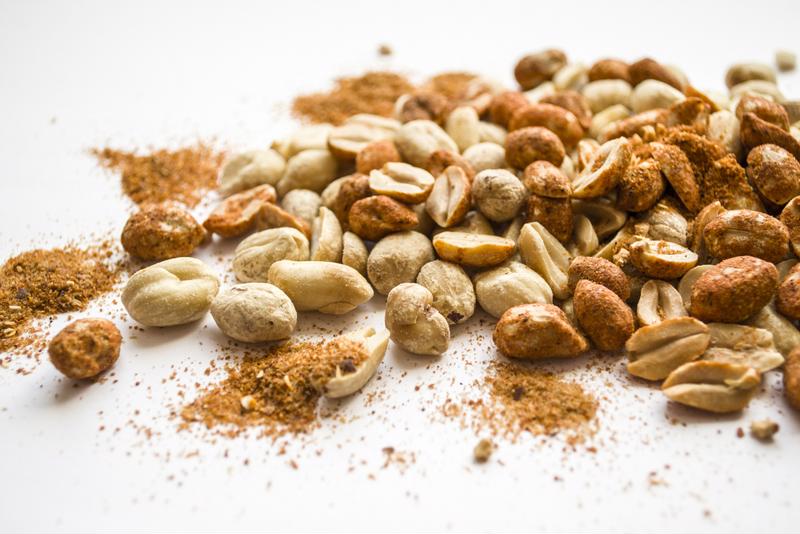 Due to the slow ramp up, and even heating of a slow cooker, recipes featured on this site can be cooked in a range of slow cooker sizes. Recipes can be increased or decreased by one quart size per the cooking instructions. For smaller sauces and dips that calls for 3 quarts or less, it is not recommended to alter the unit size. Crock-Pot® is a registered trademark and should not be used generically when referring to a 'slow cooker' within the recipes.
Sunbeam Products, Inc. d/b/a Jarden Consumer Solutions has not tested these recipes and is not responsible for the outcome of any recipe. You may not achieve the results desired due to variations in ingredients, cooking temperatures, cooking times, typos, errors, omissions, or individual cooking abilities. Please always use your best judgment when cooking with raw ingredients such as eggs, chicken or fish.