Party Recipes: Jalapeño Popper Chicken Chili
Preparing for a party can feel daunting at times, but with the brand new, hostess-friendly Crock-Pot® Programmable Lift & Serve Hinged Lid 6-Quart Oval Slow Cooker it becomes easier than ever. Designed to simplify serving, it has a durable locking hinged lid that enables effortless serving and even makes travel simple and seamless. The hinged lid also removes the nuisance of where to put the lid during the party: Simply cook, lift and serve!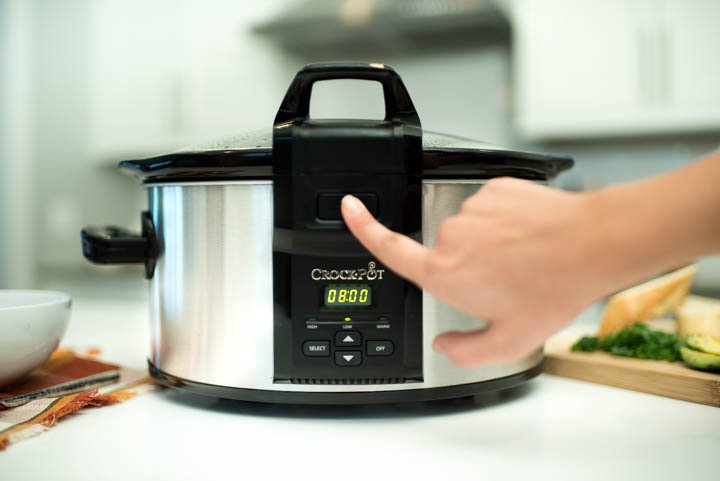 This slow cooker opens easily and the durable hinged lid stays locked in place while your guests happily serve themselves. And after the party, the lid detaches for easy cleaning. Both the slow cooker stoneware and glass lid are dishwasher-safe. The convenience of this slow cooker isn't just limited to hosting either. Thanks to the lid designed a with rubber gasket, you get a tight seal when it's locked. That means no mess while on-the-go when you're bringing your favorite party snacks to a friend or neighbor's house.
Whether you're attending a party or entertaining at home, use the simplified convenience of the Crock-Pot® Programmable Lift & Serve Hinged Lid 6-Quart Oval Slow Cooker to make this fun and delicious Mexican-inspired party recipe. It serves great as the main course or even as a side dish.
Jalapeño Popper Chicken Chili
This mouth-watering chili is filled with the delicious chicken, ground beef and lots of spice. With a little more kick than traditional chili, this dish will be a huge hit with your guests - so ensure that you make plenty!
Ingredients:
1 medium white onion, diced
3 cloves minced garlic
1 red bell pepper, diced
2 jalapeños, seeds removed
1 large sweet potato
1 pound lean ground chicken
1 pound lean ground beef
2 teaspoons smoked paprika
2 teaspoons chili powder
2 teaspoons dried oregano
2 teaspoons kosher salt
1 teaspoon ground cumin
1/4 teaspoon red pepper flakes
1 (14 oz) can petite diced tomatoes
1 cup reduced sodium chicken broth
Chopped scallions, for garnish
2 avocados, diced
4 ounces goat cheese (optional)
Directions
Place all the ingredients except the scallion, avocado and goat cheese in the slow cooker.
Mix well.
Cover and cook on low 8 hours.
When done, break up the ground meat with a wooden spoon and add half of the goat cheese, if using.
Add scallions and diced avocado as topping.
Enjoy!
Due to the slow ramp up, and even heating of a slow cooker, recipes featured on this site can be cooked in a range of slow cooker sizes. Recipes can be increased or decreased by one quart size per the cooking instructions. For smaller sauces and dips that call for 3 quarts or less, it is not recommended to alter the unit size. Crock-Pot® is a registered trademark and should not be used generically when referring to a 'slow cooker' within the recipes.
Sunbeam Products, Inc. d/b/a Jarden Consumer Solutions has not tested these recipes and is not responsible for the outcome of any recipe. You may not achieve the results desired due to variations in ingredients, cooking temperatures, cooking times, typos, errors, omissions, or individual cooking abilities. Please always use your best judgment when cooking with raw ingredients such as eggs, chicken or fish.