How to Prepare Dinner in Less than 5 Minutes
Life gets busy and between meetings, obligations and personal hobbies, putting a wholesome, homemade dinner on the table each night can seem nearly impossible. However, that is where the slow cooker comes to the rescue. A healthy, delicious dinner doesn't need to involve hours spent chopping, slicing and stirring pots and pans over the stove. By choosing to slow cook, you can not only gain back precious time, but also flexibility as well. In the Crock-Pot® Smart-Pot® 4-Quart Digital Slow Cooker, choose from cook times ranging up to 10 hours on the LOW setting. Once your dish has finished, the slow cooker will automatically switch to the WARM setting so that your meal will be at the perfect temperature no matter what time you arrive home.
Discover how slow cooking can work for you to make dinner enjoyable again. Consider these tips for preparing mouth-watering dishes in under five minutes:
Prep Ahead
One of the greatest things about a slow cooker is that you can just toss in a few main ingredients that you're in the mood for and let it take care of the rest! As such, having a supply of frozen chicken, beef, meatballs and fish can make dinnertime easier than ever. Simply defrost your main protein the night before and add it to your slow cooker the next morning with a variety of spices and vegetables. You can streamline your slow cooker preparation even more by assembling all of the ingredients for a given recipe in one freezer bag. When you're in the mood for that beef stew recipe, simply defrost ingredients, pour them into your slow cooker and add the necessary stock. It's that simple!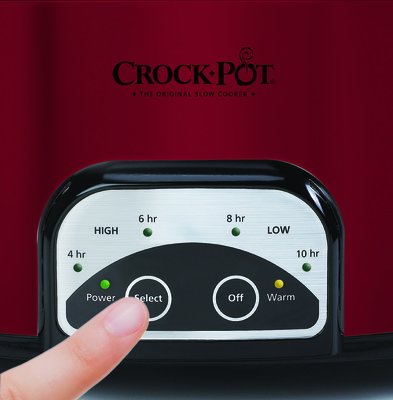 Stock Up on Key Ingredients
Have you ever emptied your cabinets to see what kind of dinner you can put together with the items you find? There are a few staple items that can be turned into a filling meal with a few tweaks and knowing that you always have these ingredients on hand is key.
Consider keeping a few bases such as quinoa, lentils and brown rice stocked in your cupboard. Each of these cooked grains fills out a meal, as demonstrated in the recipes below. Canned vegetables and canned beans are ideal for slow-cooked stews, chili and soups and boxed pasta can always be turned into a tasty casserole. Lastly, potatoes are another good starch to add something extra to your slow cooker dinner.
Use 5-Minute Recipes
One of the best ways to save time preparing dinner during the week is to keep a list of easy, five-minute recipes on hand. Rather than searching for a new recipe each time you're in a hurry, you can conveniently flip through yours and find a hearty, easy-prep meal in no time at all. To get started, take a look at these delicious meals that take less than five minutes of prep and then add the following three recipes to your list. From now on, you can quickly put together a full meal, just set your slow cooker and go about your day!
1. Catalina Chicken Thighs
Take frozen chicken thighs out of the freezer to defrost the night before you want to try out this zesty recipe. In the morning before you head out the door, assemble the ingredients in your slow cooker and set the appropriate cook time to arrive home hours later to a homemade chicken dinner.
Ingredients:
1 pound boneless, skinless chicken thighs
3/4 cup Catalina dressing
1 cup pineapple chunks and 1/4 cup juice from the can of pineapple chunks
2 cups of rice, prepared
Directions
Season chicken thighs with salt and pepper, to taste.
Add them to slow cooker and cover with Catalina dressing.
Pour pineapple chunks and juice on top.
Cover and cook on low for 3 to 4 hours or on high for 1 1/2 to 2 hours.
Serve warm over cooked rice.
2. Mexican Pork Chops
Filled with flavor and spice, this Mexican pork chop dish is better than any of your Taco Tuesday plans thus far because preparation takes no more than five minutes at most. Enjoy this slow-cooked dish over a bed of cooked rice, or over tortilla chips for a little more crunch.
Ingredients:
6 to 8 pork chops
15-ounce can chili beans with chili sauce
1 1/2 cups salsa
1 cup corn
Green chilies to taste
3 to 4 cups rice, cooked
Directions
Lay pork chops in the bottom of slow cooker.
Cover with chili beans, chili sauce and salsa.
Top with corn and green chilies.
Cover and cook on low for 5 hours or on high for 2 1/2 hours.
Serve warm over hot rice.
3. Tomato Tortellini Soup
For a vegetarian option that everyone is sure to love, try out this easy-prep recipe. All you have to do is combine the ingredients and allow them to slow cook for hours while you go about your daily activities. When you're ready to eat, simply add the tortellini.
Ingredients:
3 (28 oz) cans whole Roma tomatoes
1 (32 oz) carton vegetable broth
5 cloves garlic, minced
1/3 cup fresh basil
Diced vegetables of your choice
16 oz refrigerated three cheese tortellini
3/4 cup heavy cream
Directions
Add all ingredients to slow cooker except for tortellini and heavy cream.
Mix well and season with salt and pepper.
Cover and cook on low for 6 to 7 hours or on high for 2 to 2 1/2 hours.
Stir in tortellini and cover for another 15 minutes.
Reduce heat to warm and stir in heavy cream.
Top with Parmesan cheese if desired.
Due to the slow ramp up, and even heating of a slow cooker, recipes featured on this site can be cooked in a range of slow cooker sizes. Recipes can be increased or decreased by one quart size per the cooking instructions. For smaller sauces and dips that call for 3 quarts or less, it is not recommended to alter the unit size. Crock-Pot® is a registered trademark and should not be used generically when referring to a 'slow cooker' within the recipes.
Sunbeam Products, Inc. d/b/a Jarden Consumer Solutions has not tested these recipes and is not responsible for the outcome of any recipe. You may not achieve the results desired due to variations in ingredients, cooking temperatures, cooking times, typos, errors, omissions, or individual cooking abilities. Please always use your best judgment when cooking with raw ingredients such as eggs, chicken or fish.