Easy Appetizers For Your Holiday Party
When you're hosting a house full of guests, the easiest way for them to feel relaxed is when you are relaxed too. Lucky for you, with a few simple yet delicious recipes and the Crock-Pot® Hook Up® Connectable Entertaining System, creating a wonderful spread of appetizers has never been easier. Just prep your dishes, slow cook and serve without any additional platters or bowls to put out. You can mingle, eat and enjoy yourself as much as your guests!
Mole Chicken Wings
Between the hint of chocolate and spice, these savory chipotle chicken wings have a unique flavor.
Ingredients:
2 pounds chicken wings, pre-broiled
1 can chipotle chilies in adobo sauce, finely chopped
1/2 can fire-roasted diced tomatoes, drained
1/3 small onion, chopped
2 tablespoons honey
1 1/2 tablespoons bittersweet chocolate, chopped
1/2 tablespoon tomato paste
1/4 teaspoon ground cinnamon
1/4 teaspoon ground cumin
1/4 teaspoon salt
1 clove garlic, finely chopped
Roasted pumpkin seeds
Lime wedges
Directions
Placed pre-boiled chicken wings in the bottom of your 3.5-quart capacity slow cooker.
In a bowl, combine chilies, tomatoes, onion, honey, chocolate, tomato paste and spices.
Mix well and then add to food processor to blend.
Pour over chicken wings.
Cover and cook on low for 3 hours.
Top with pumpkin seeds and lime wedges before guests arrive.
Swiss-Artichoke Dip
This recipe is best made in the 2-quart capacity Crock-Pot® Hook Up® unit. Serve it with a bowl of your favorite crackers or mini slices of toasted bread.
Ingredients:
1 package frozen artichoke hearts, thawed and chopped
1/4 cup dried tomatoes, chopped
1/4 cup mayonnaise
1/4 cup milk
6 ounces cream cheese, cubed
2 ounces Swiss cheese slices, torn into small pieces
1 teaspoon dried minced onion
1 clove garlic, minced
Directions
In a bowl, combine artichoke hearts, dried tomatoes, mayonnaise and milk.
Stir to combine, then add cream cheese cubes and Swiss cheese.
Pour into slow cooker.
Add onion and garlic, gently blend to combine.
Cover and cook on low for 2 1/2 to 3 hours or on high for 1 1/2 hours.
Stir again before serving.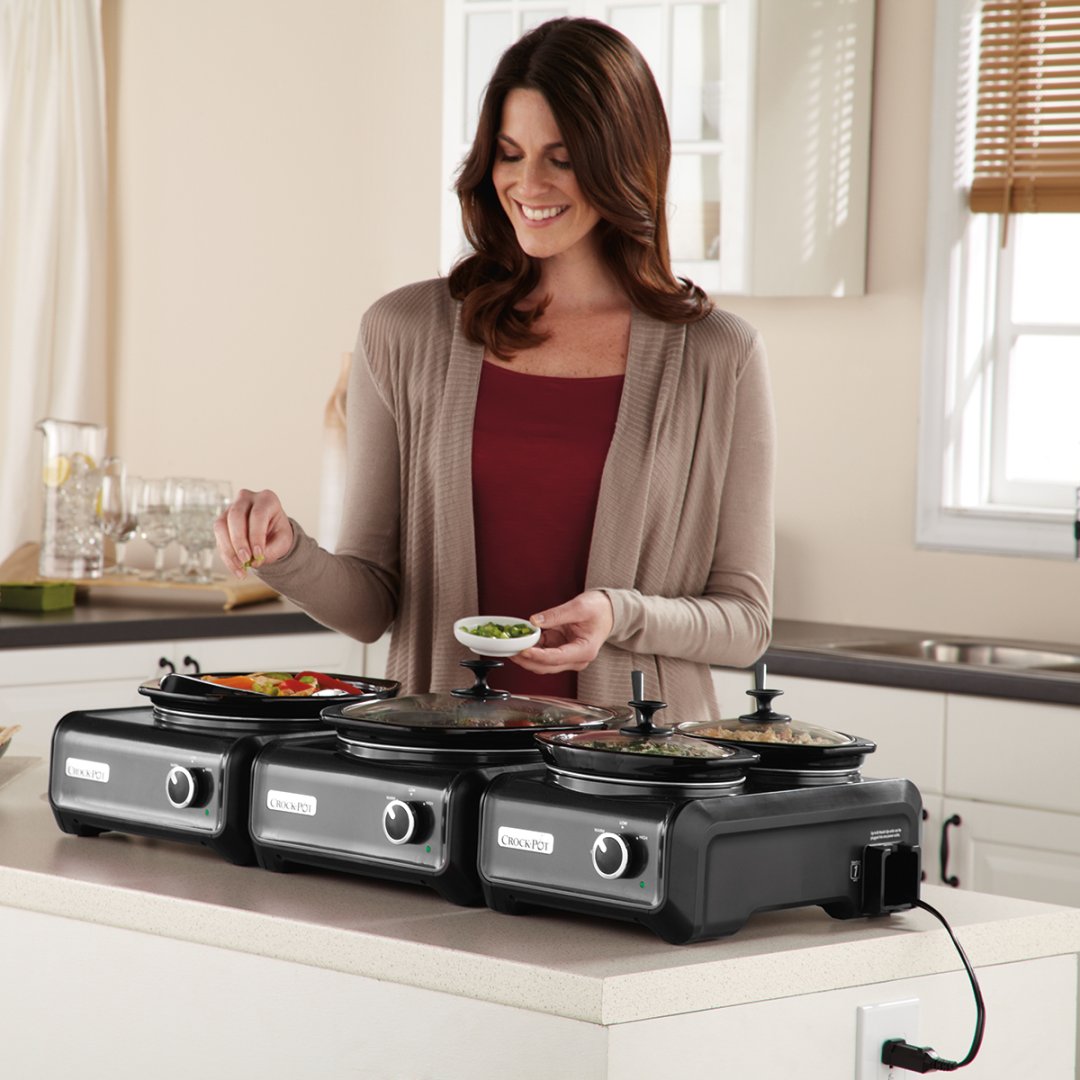 Warm Nut Mix
This slow-cooked hot and sweet mixed nut recipe can be prepared in each of the two smaller oval one quart-sized crocks of the Hook Up® Connectable Entertaining System. This makes it easy for guests to reach in a grab a handful from either crock for snacking.
Ingredients:
1/2 cup whole cashews
1/2 cup whole almonds, toasted
1/2 cup pecan halves, toasted
1/2 cup hazelnuts, toasted and skins removed
1/4 cup sugar
1/4 cup butter, melted
1/2 teaspoon ground ginger
1/4 teaspoon salt
1/4 teaspoon ground cinnamon
A dash of ground cloves
A dash of cayenne pepper
Directions
Combine nuts in slow cooker.
In a bowl, mix together the sugar, butter, ground ginger, salt, cinnamon, cloves and cayenne pepper.
Pour over nuts and mix to combine.
Cover and cook on low for two hours, stirring halfway through.
Turn slow cooker to WARM and enjoy!
Due to the slow ramp up, and even heating of a slow cooker, recipes featured on this site can be cooked in a range of slow cooker sizes. Recipes can be increased or decreased by one quart size per the cooking instructions. For smaller sauces and dips that calls for 3 quarts or less, it is not recommended to alter the unit size. Crock-Pot® is a registered trademark and should not be used generically when referring to a 'slow cooker' within the recipes.
Sunbeam Products, Inc. d/b/a Jarden Consumer Solutions has not tested these recipes and is not responsible for the outcome of any recipe. You may not achieve the results desired due to variations in ingredients, cooking temperatures, cooking times, typos, errors, omissions, or individual cooking abilities. Please always use your best judgment when cooking with raw ingredients such as eggs, chicken or fish.