Christmas Desserts: Slow Cooker Salted Caramel Chocolate Crunch
This holiday season, make entertaining easier and more fun with the brand-new Crock-Pot® Swing and Serve® Slow Cooker. Three separate slow cookers provide variety, organization and convenience to serve party foods while leaving plenty of table or counter space for holiday decorations and serveware.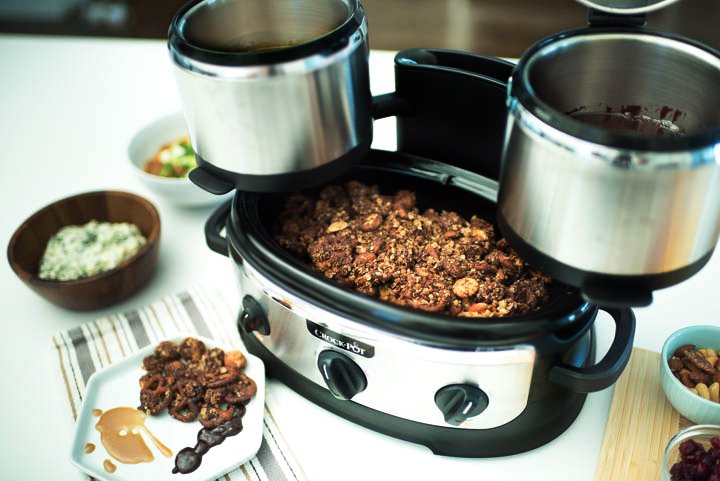 This space-saving slow cooker enhances cooking, serving and entertaining! Each of the three slow cookers can be independently operated on HIGH or LOW cook settings or set to WARM to keep food at an ideal serving temperature. Swinging apart for easy serving, the upper crocks are perfect for smaller dishes, dips and sauces. Thanks to the centralized utensil holder caddy, located on the base of the slow cooker, you don't have to worry about setting up an extra place to store serving spoons and utensils: Everything is right where you need it. And for compact storage after the party, the two upper crocks have unique, pivoting arms that swing closed for to optimize space when storing.
We've come up with a delicious holiday dessert that's tasty, fun and makes the most of the new Crock-Pot® Swing and Serve® Slow Cooker.
Salted Caramel Chocolate Crunch
This holiday dessert recipe is the perfect combination of sweet and salty. Best of all, when you make this mouth-watering salted caramel chocolate crunch dessert in the 3.5-quart capacity slow cooker on the base level, you can use the two upper 1.5-quart for decadent chocolate and butterscotch sauces for dipping!
Ingredients:
3/4 cup butter, melted
1/2 cup brown sugar
1 teaspoon vanilla
4 cups round oat cereal
2 cups mini pretzels
2 cups oyster crackers
2 cups toasted almonds
2 cups dark chocolate chips
2 tablespoons coarse sea salt
Directions
In a bowl, combine melted butter with sugar and vanilla. Mix until combined well.
Add oat cereal, pretzels and crackers in the bottom of your slow cooker.
Pour the melted butter mixture over and stir gently to coat.
Cook on high for 2 to 3 hours, stirring occasionally.
When sugar has caramelized to create a glaze over ingredients, it will be done.
Turn heat to low and mix in chocolate chips. Cover and let it soften for about 15 minutes.
Remove lid and stir.
Sprinkle salt on top.
Turn of slow cooker and allow candy to cool
Slow-Cooked Chocolate Sauce
The best part about the Crock-Pot® Swing and Serve® Slow Cooker is that you can make this creamy and delicious chocolate sauce for dipping in one of the level 1.5-quart slow cookers.
Ingredients:
1 cup semi-sweet chocolate chips
1/2 cup heavy whipping cream
Directions
Add chocolate chips and heavy whipping cream to slow cooker.
Stir to combine.
Cover with lid and cook on low for 1 hour.
Keep on WARM setting for serving.
Slow-Cooked Butterscotch Sauce
This confectionery delight is the perfect pairing for any holiday dessert. Simply make this recipe in the other 1.5-quart slow cooker and allow guests to dip the dessert of their choice!
Ingredients:
1/4 stick unsalted butter, cut into pieces
1/4 cup firmly packed light brown sugar
1/8 cup heavy cream or heavy whipping cream
Pinch of salt
1 tablespoon pure vanilla extract
Directions
Combine all ingredients in 1.5-quart slow cooker.
Stir to combine.
Cover and cook on low for 1 hour.
Keep on WARM setting for serving.
Due to the slow ramp up, and even heating of a slow cooker, recipes featured on this site can be cooked in a range of slow cooker sizes. Recipes can be increased or decreased by one quart size per the cooking instructions. For smaller sauces and dips that call for 3 quarts or less, it is not recommended to alter the unit size. Crock-Pot® is a registered trademark and should not be used generically when referring to a 'slow cooker' within the recipes.
Sunbeam Products, Inc. d/b/a Jarden Consumer Solutions has not tested these recipes and is not responsible for the outcome of any recipe. You may not achieve the results desired due to variations in ingredients, cooking temperatures, cooking times, typos, errors, omissions, or individual cooking abilities. Please always use your best judgment when cooking with raw ingredients such as eggs, chicken or fish.