4 Slow Cooker Gift-Giving Ideas
When you give the gift of a slow cooker this holiday season, you're giving more than just the wholesome goodness of homemade meals and family time. You're also gifting convenience, time and versatility in cooking and serving, with a present that continues to give and give throughout the year.
This holiday season, consider this handy slow cooker gift-guide to help you select the right one for everybody on your list:
1. Portable Slow Cookers
For busy friends or family members who are always on-the-go, the best gift of all is one that frees up their hands when bringing their specialty dishes from one place to another. That's why the Crock-Pot® Single Hand Cook & Carry® 6-Quart Oval Slow Cooker should be at the top of your shopping list for them. Designed to make travel and transport easier than ever, it enables the gift recipient to slow cook, lock, grab and go with just a single hand!
With an easy-grip handle for single-hand carrying and the secure-fit locking lid, this slow cooker frees up another hand for opening doors, answering phone calls and greeting friends. Without missing a beat, the travel-friendly design ensures freedom and ease when bringing slow-cooked dishes and desserts to holiday parties, office gatherings and family celebrations. Even a long drive through bumpy back roads becomes stress-free thanks to the spill-proof design. This season, give the gift of optimal portability and convenience with this slow cooker.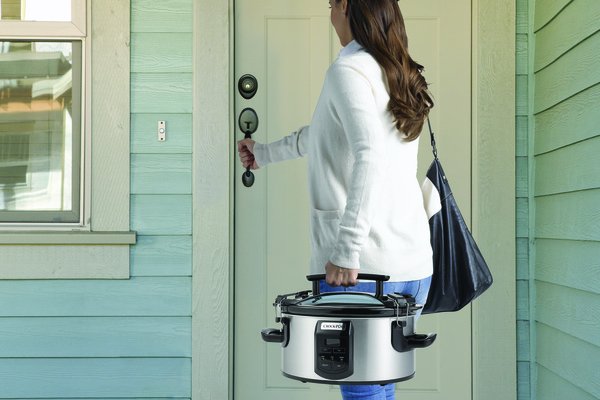 2. Easy-Serving Slow Cookers
Slow cooking is all about gaining convenience and as such, serving your slow-cooked dishes should be as well. Traditionally, serving a spread of hot chili, soups and casseroles required multiple heating trays and an array of messy tops and covers. Between multiple lids, trays and serving spoons, things could get hectic pretty fast. Today, there's a better way to slow cook your meals and serve them too!
Simplifying serving to enhance the ease of hosting is the Crock-Pot® Programmable Lift & Serve Hinged Lid 6-Quart Oval Slow Cooker. Thanks to the durable locking hinged lid, this slow cooker easily opens and conveniently stays right in place while guests help themselves to the delicious dish in front of them. And once the party is over, this dishwasher-safe lid easily detaches for seamless cleaning.
Also improving the serving element of this hostess-friendly slow cooker is its programmable feature. The Digital Countdown control enables you to program your cook times anywhere from 30 minutes up to 20 hours and then automatically switches to the WARM setting when the cook time has finished.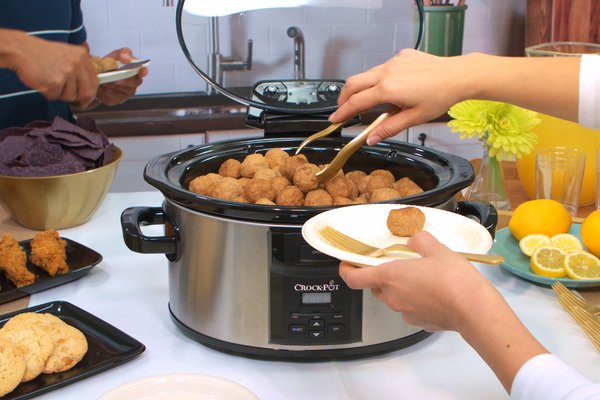 3. NFL Slow Cookers
The holiday season just isn't complete without a little football. Second only to eating a big feast with family and friends is the favorite American pastime of cheering on the home team. For all of the football fanatics in your life, consider the ultimate gift of a slow cooker designed with the logo of their favorite NFL team. Featuring all 32 teams, these slow cookers are a gift that will serve your aunt, uncle, cousin or friend for game after game, season after season.
The NFL Crock-Pot® Cook & Carry™ Slow Cookers make slow cooking wings, nachos or chili for the big game all the more fun. When homegating in your own living room, the stoneware transfers easily from your slow cooker to the table or refrigerator and you gift recipients can really show off their pride when serving. It's also easy to take this slow cooker on the road to the actual tailgate before the live event. Between the lid-mounted locking system that ensures a mess-free commute and the easy-grip handles, you can ensure that your famous taco dip gets to the game without a requiring a big cleanup. Score big with people on your list this year by giving the gift of slow-cooked NFL pride!
4. The Crock-Pot® Lunch Crock®
If there's one gift that would be perfect for everyone on your list, it's the Crock-Pot® Lunch Crock® Food Warmer. A present that will be especially cherished by all those who take their leftovers to the office for lunch each day, this food warmer makes mealtime at the office enjoyable. Easy to carry and conveniently cordless, the new design of the food warmer will bring office lunches from good to incredible. Your gift recipient can seamlessly transport last night's vegetable stew to the office and when he's ready to eat, all he has to do is switch the power on for the electric kettle-base to slowly and gently heat it up.
Give the best gift of all this year, by wrapping up a slow cooker.