Make Slow Cooking Easier Than Ever: Recipes with 5 Ingredients or Less
Slow cooking is all about convenience and easy meal prep that saves you time making wholesome and healthy dinners for you and your family. And with these recipes for slow cooking that require just five ingredients or less, a tasty dinner is effortless and satisfying for everyone.
The Crock-Pot® 5.5-Quart Smart-Pot® Digital Slow Cooker sets cook time for you at the touch of a button and then shifts to WARM setting once it's done. Try out these recipes with just a few ingredients for each using the easy Smart-Pot® Digital Slow Cooker.
Rice- and Bean-Stuffed Peppers
Crunchy, healthy and filled with a delicious stuffing, these peppers are great for any time of the day as a lunch, snack or full dinner.
Ingredients:
4 medium peppers (red, yellow, orange or green)
1 (15 ounce can) chili beans with chili gravy
1 cup converted rice, cooked
1 cup Monterey Jack cheese, shredded
1 (15 ounce can) tomato sauce
Directions
Remove tops, membranes and all seeds from each pepper, keeping the rest intact.
In a bowl, combine the chili beans, rice and 1/2 cup of cheese.
Fill each pepper with mixture.
Pour tomato sauce into bottom of slow cooker.
Place stuffed peppers in next, open side up.
Cover and cook on low for 6 to 6 1/2 hours or on high for 3 1/2 hours.
Transfer peppers to serving plate and top with tomato sauce and remaining cheese.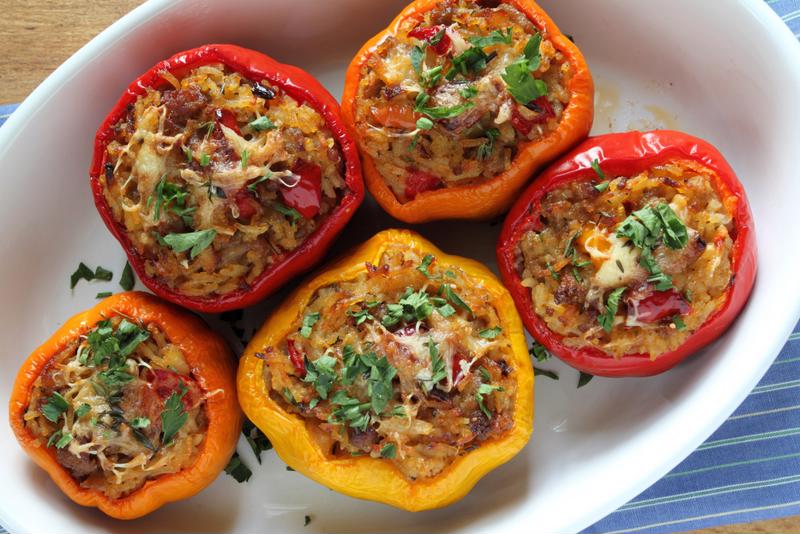 Tender Turkey Breast
Moist and tender, this slow-cooked turkey breast with a touch of spices makes for a nourishing family dinner.
Ingredients:
1 bone-in turkey breast (6 to 7 pounds)
4 fresh rosemary sprigs
4 garlic cloves, peeled
1/2 cup water
1 tablespoon brown sugar
Directions
Place turkey breast, rosemary, garlic and water in the bottom of your slow cooker.
Sprinkle with brown sugar and, if desired, salt and pepper.
Cover and cook on low for 4 to 6 hours, or until turkey is tender.
Chili Verde
There's an easier way than ever before to make this tasty restaurant-favorite: Simply combine the five ingredients below and slow cook!
Ingredients:
1 boneless pork shoulder roast (4 to 5 pounds), cut into 1-inch pieces
3 cans (10 ounces each) green enchilada sauce
1 cup salsa verde
1 can (4 ounces) chopped green chilies
1/2 teaspoon salt
Directions
Place the boneless pork shoulder roast in the bottom of your slow cooker.
Top with enchilada sauce, salsa verde, green chilies and a dash of salt.
Cover and cook on low for 5 to 6 hours, or until pork is tender.
Serve with hot rice and top with sour cream if desired.
Cranberry and Pork Sweet Potatoes
The perfect blend of rich and sweet, this dish is extremely tasty and satisfying.
Ingredients:
1 2/3 cups sweetened applesauce
3 pounds sweet potatoes (about 3 large), peeled and cut into 1-inch slices
1/4 cup packed brown sugar
6 bone-in pork loin chops (6 ounces each)
1 can (14 ounces) whole-berry cranberry sauce
Directions
Pour applesauce into bottom of slow cooker and top with sweet potatoes.
Sprinkle with brown sugar.
Place pork loin chops on top next.
Spoon cranberry sauce into slow cooker.
Cover and cook on low for 6 to 8 hours, until pork and potatoes are tender.
Carrot and Beef Ragout
​Warm and flavorful, this simmering ragout dish is served best over a bed of pasta.
Ingredients:
1 pound boneless beef short ribs
10 cloves garlic
1 package peeled fresh baby carrots, chopped
1 pound Roma tomatoes, chopped
1/2 (6 ounce can) tomato paste with basil, garlic, and oregano
Directions
Trim fat from meat and cut into chunks. Sprinkle with salt and pepper if desired.
Place beef in the bottom of your slow cooker.
Use a meat mallet to smash garlic cloves. Discard garlic skins.
Place smashed garlic, carrots and tomatoes on top of beef.
In a bowl mix water in with the tomato paste to thin. Pour over meat and veggies.
Cover and cook on low for 6 to 8 hours or on high for 3 to 4 hours.
Due to the slow ramp up, and even heating of a slow cooker, recipes featured on this site can be cooked in a range of slow cooker sizes. Recipes can be increased or decreased by one quart size per the cooking instructions. For smaller sauces and dips that call for 3 quarts or less, it is not recommended to alter the unit size. Crock-Pot® is a registered trademark and should not be used generically when referring to a 'slow cooker' within the recipes.
Sunbeam Products, Inc. d/b/a Jarden Consumer Solutions has not tested these recipes and is not responsible for the outcome of any recipe. You may not achieve the results desired due to variations in ingredients, cooking temperatures, cooking times, typos, errors, omissions, or individual cooking abilities. Please always use your best judgment when cooking with raw ingredients such as eggs, chicken or fish.