Easy Prep Slow Cooker Greek Chicken and Rice
If you're looking for a quick and easy, healthy and delicious meal for the family get-together, look no further than this recipe for Greek chicken and rice. Preparation time is short and serving is simplified when you use your Crock-Pot® Lift & Serve Hinged Lid 6-Quart Oval Slow Cooker. Thanks to the durable and hinged lid, serving is easier than ever and you won't have to think twice about where to place the lid. Simply cook, lift and serve!
Greek Chicken and Rice
Filled with rich and savory spices and flavors, this Greek-inspired chicken and rice dish is a filling and satisfying meal for any night of the week.
Ingredients:
5 cups chicken broth
1 cup Greek seasoning
3 tablespoons extra virgin olive oil
2 tablespoons lemon juice
1 tablespoon red wine vinegar
1 clove garlic, minced
1 tablespoon chopped preserved lemons
2 pounds chicken breasts
2 cups converted rice
1 teaspoon dried oregano
1 red bell pepper, seeds removed and finely chopped
1 green bell pepper, seeds removed and finely chopped
1 cup Kalamata olives, rinsed and drained
1 cup crumbled feta cheese
1 cup whole pitted Kalamata olives, rinsed and drained
1/3 cup capers
1/4 cup sliced green onion
Additional feta cheese, for garnish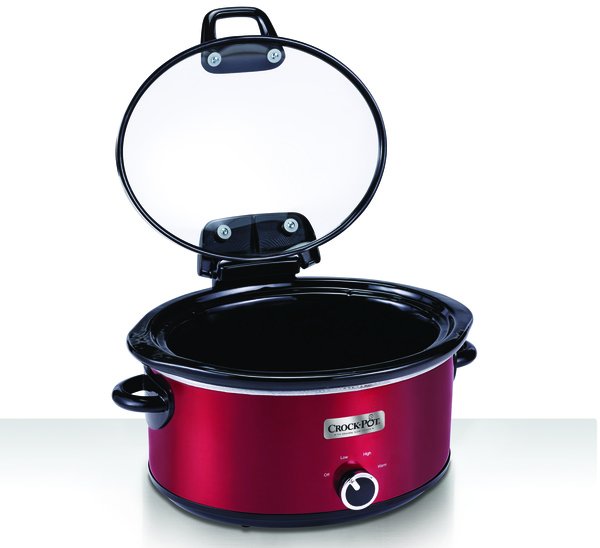 Directions
In a bowl, combine 3 cups chicken broth, Greek seasoning, olive oil, lemon juice, red wine vinegar, garlic and preserved lemons.
Place chicken in the bottom of your slow cooker and cover with sauce.
Cook on low for 6 to 8 hours or on high for 4 to 5 hours.
When chicken is cooked through, remove from slow cooker.
With a spoon or small strainer skim out any sediment left in the bottom.
Return the chicken to the crock pot.
Add 2 cups rice, remaining 2 cups of chicken broth and oregano.
Cook on high for 1 1/2 hours.
When rice is fairly softened and almost done, add the bell peppers.
Cook 15 more minutes and add feta cheese, olives and capers.
Garnish with sliced green onion and feta cheese as desired.
Due to the slow ramp up, and even heating of a slow cooker, recipes featured on this site can be cooked in a range of slow cooker sizes. Recipes can be increased or decreased by one quart size per the cooking instructions. For smaller sauces and dips that call for 3 quarts or less, it is not recommended to alter the unit size. Crock-Pot® is a registered trademark and should not be used generically when referring to a 'slow cooker' within the recipes.
Sunbeam Products, Inc. d/b/a Jarden Consumer Solutions has not tested these recipes and is not responsible for the outcome of any recipe. You may not achieve the results desired due to variations in ingredients, cooking temperatures, cooking times, typos, errors, omissions, or individual cooking abilities. Please always use your best judgment when cooking with raw ingredients such as eggs, chicken or fish.