3 Artisan-Style Seafood Stews
Filled to the brim with clams, crab, fish and shrimp, these simmering stews and Cioppinos are not only a seasonal staple, but fancy enough to be served as an elegant meal when entertaining as well. Traditional seafood soups and stews often require lots of steps and preparation but with your Crock-Pot® 6-Quart Slow Cooker with Stovetop-Safe Cooking Pot, you can do it seamlessly all in one!
Slow-Cooked Seafood Gumbo
Originating in southern Louisiana where fusion-type cooking is the culture, seafood gumbo pulls in an assortment of local ingredients, seafood and spices. This slow-cooked recipe calls for shrimp, crab and crispy bacon for a real savory flavor.
Ingredients:
1/2 pound bacon, sliced and diced
1 stalks celery, sliced
1 medium onion, sliced
1 green pepper, chopped
2 garlic cloves, minced
2 cups chicken broth
1 (14-ounce) diced tomatoes
2 tablespoons Worcestershire sauce
2 teaspoons salt
1 teaspoon dried thyme leaves
1 pound large raw shrimp, cleaned
1 pound crabmeat, fresh or frozen
Directions
In the stovetop-safe DuraCeramic™ cooking pot of your slow cooker, heat bacon over medium-high heat until crispy.
Remove liquid and all but a thin coating of fat.
Add the celery, onion, green pepper and garlic to the stovetop-safe pot and cook for about 10 minutes, stirring frequently, until the vegetables are tender.
Transfer DuraCeramic™ to slow cooker and add chicken broth, diced tomatoes with liquid, Worcestershire sauce, salt and thyme.
Cover and cook on low for 4 hours or on high for 2 hours.
Add shrimp and crabmeat. Stir.
Cover and cook on low for 1 more hour or for 1/2 hour on high.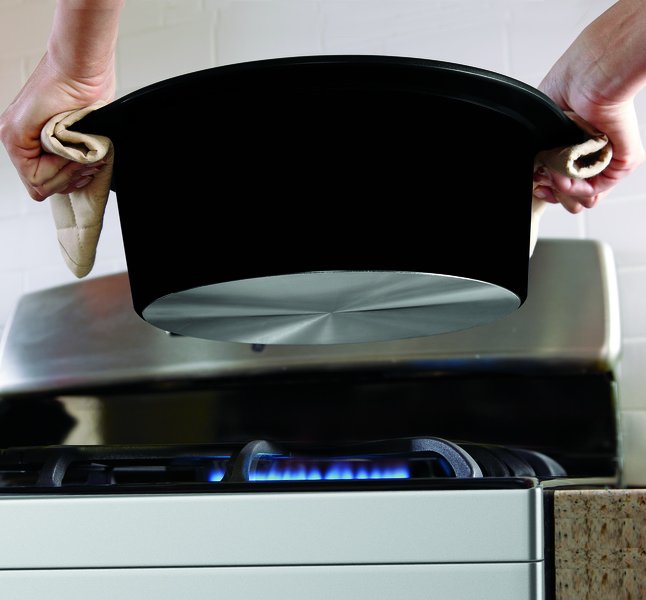 Slow-Cooked Clam Chowder
The perfect warm cup of soup on a cold afternoon or the classic summertime stew, this slow-cooked clam, corn and potato chowder is downright delicious.
Ingredients:
5 to 6 slices bacon
1 tablespoon olive oil
1 teaspoon garlic, minced
1 cup onion, chopped
1/2 cup celery, chopped
1/4 teaspoon dried thyme
1/2 teaspoon red pepper flakes, optional
4 1/2 cups potatoes
4 (6-ounce) cans clams
1 (8-ounce) bottle clam juice
1 teaspoon salt
1/2 teaspoon pepper
1/4 cup all purpose flour
3 1/4 cup half and half
Directions
Cook bacon in stovetop-safe DuraCeramic™ cooking pot over medium heat, until crispy.
Remove bacon and chop. Add onion, celery and garlic with olive oil and cook over medium heat, until onion is translucent.
Add thyme and red pepper flakes and cook for 2 more minutes, until fragrant.
Transfer cooking pot to slow cooker.
Chop potatoes into small pieces and add to slow cooker.
Add clams, clam juice, salt and pepper.
Cover and cook on high for 5 hours or on low for 8 to 10.
Toss bacon into slow cooker, reserving some for chowder topping.
In a bowl, whisk flour and half and half until smooth.
Add to slow cooker and stir well.
Replace lid and cover until thickened.
Serve chowder in bowls topped with bacon.
Slow-Cooked Seafood Cioppino
Slightly spicier and thicker than seafood gumbo, the rich aroma of this stew will be enough to make your mouth water.
Ingredients:
1 can (28 ounces) diced tomatoes, undrained
2 medium onions, chopped
3 celery ribs, chopped
1 bottle (8 ounces) clam juice
1 can (6 ounces) tomato paste
1/2 cup white wine or 1/2 cup vegetable broth
5 garlic cloves, minced
1 tablespoon red wine vinegar
1 tablespoon olive oil
1 to 2 teaspoons Italian seasoning
1 bay leaf
1/2 teaspoon sugar
1 pound haddock fillets, cut into 1-inch pieces
1 pound uncooked shrimp (41-50 per pound), peeled and deveined
1 can (6 ounces) chopped clams, undrained
1 can (6 ounces) lump crabmeat, drained
2 tablespoons minced fresh parsley
Directions
Combine the first 12 ingredients in your slow cooker and mix well.
Cover and cook on low for 4 to 5 hours.
Stir in haddock, shrimp, clams and crabmeat.
Cover and cook for another 20 to 30 minutes, or until fish just begins to flake easily with a fork and shrimp turn pink.
Remove bay leaf and stir in parsley.
Serve warm.
Due to the slow ramp up, and even heating of a slow cooker, recipes featured on this site can be cooked in a range of slow cooker sizes. Recipes can be increased or decreased by one quart size per the cooking instructions. For smaller sauces and dips that calls for 3 quarts or less, it is not recommended to alter the unit size. Crock-Pot® is a registered trademark and should not be used generically when referring to a 'slow cooker' within the recipes.
Sunbeam Products, Inc. d/b/a Jarden Consumer Solutions has not tested these recipes and is not responsible for the outcome of any recipe. You may not achieve the results desired due to variations in ingredients, cooking temperatures, cooking times, typos, errors, omissions, or individual cooking abilities. Please always use your best judgment when cooking with raw ingredients such as eggs, chicken or fish.