Favorite 4-Ingredient Slow Cooker Recipes
More than anything, hectic, busy days deserve satisfying, tasty meals that are simple to make without sacrificing flavor or quality. With the help of your Crock-Pot® Smart-Pot® 4-Quart Digital Slow Cooker you can make a number of delicious meals that require just four ingredients!
For each recipe, all you have to do is toss a few ingredients into your slow cooker, set the cook time and temperature and you're on your way to a warm, homemade dinner with little preparation.
Root Beer Pulled Pork
Add a little bit of sweetness to the traditional barbeque pulled pork recipe with this creative twist. Best of all, it's fast and easy! All you need is root beer, your favorite barbeque sauce and a tenderloin and you've got an entire homemade meal packed with lots of flavor.
Ingredients:
Pork loin roast or tenderloin
Root beer
Salt and pepper
Favorite barbeque sauce.
Directions
Season pork loin with salt, pepper and a seasoned rub if desired.
Place pork loin in your Crock-Pot® Slow Cooker and pour over with root beer until covered.
Cover and cook on low for 6 to 8 hours.
Remove pork and shred it with a fork.
Return shredded pork to slow cooker.
Serve on rolls with your favorite barbeque sauce.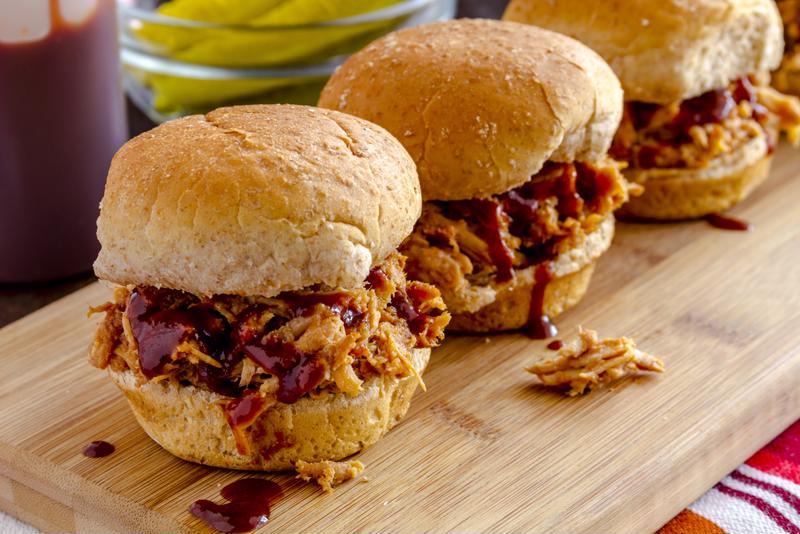 Steak Pizzaiola
Steak isn't just for grilling, in fact once you've tried this recipe for steak pizzaiola that's just bursting with zest and flavor, you'll never cook steak another way again. Hearty and delicious, this dish pairs great with potatoes, vegetables or over a bed of pasta or rice.
Ingredients:
1 to 2 pound London Broil
1 medium large onion, sliced
1 red, yellow or orange sweet bell pepper, sliced
3/4 jar red pasta sauce.
Directions
Season steak with salt and pepper and place in your Crock-Pot® Slow Cooker.
Add onion and peppers.
Cover with red pasta sauce and 1/4 cup water.
Cover and cook on low for 6 to 8 hours.
Flip one or two times if possible, for steak to soak up all juices.
Serve with your choice of veggies, pasta or rice.
Mango Chicken Tacos
If everyone knew how easy crafting these slow-cooked mango chicken tacos was, there would be Mexican for dinner every night!
Ingredients:
2 boneless, skinless chicken breasts
1 1/2 cups mango salsa
Dollop sour cream
Tortilla shells.
Directions
Add the chicken and mango salsa to your Crock-Pot® Slow Cooker.
Cover and cook on 4 1/2 hours.
Remove chicken and shred with a fork before returning to slow cooker.
Add dollop of sour cream and let sit for 15 minutes before serving.
Serve on soft flour tortilla shells with any additional toppings desired.
Apple Kielbasa Bites
These juicy, sweet and savory apple kielbasa bites are melt-in-your-mouth delicious. And better yet, they're super easy to make and only require four ingredients. The perfect snack, appetizer or side dish, these bites are great for just about any night of the week.
Ingredients:
2 pounds fully cooked kielbasa sausage, cut into 1-inch pieces
3/4 cup brown sugar
1 cup chunky unsweetened applesauce
3 cloves garlic, minced.
Directions
Place kielbasa in the bottom of your Crock-Pot® Slow Cooker.
Cover with brown sugar, applesauce and garlic.
If desired, sprinkle red pepper flakes on top, depending on your desired level of spice.
Cover and cook on low for 5 to 6 hours, until sausage is tender.
Serve with toothpicks.
Due to the slow ramp up, and even heating of a slow cooker, recipes featured on this site can be cooked in a range of slow cooker sizes. Recipes can be increased or decreased by one quart size per the cooking instructions. For smaller sauces and dips that calls for 3 quarts or less, it is not recommended to alter the unit size. Crock-Pot® is a registered trademark and should not be used generically when referring to a 'slow cooker' within the recipes.
Sunbeam Products, Inc. d/b/a Jarden Consumer Solutions has not tested these recipes and is not responsible for the outcome of any recipe. You may not achieve the results desired due to variations in ingredients, cooking temperatures, cooking times, typos, errors, omissions, or individual cooking abilities. Please always use your best judgment when cooking with raw ingredients such as eggs, chicken or fish.