Two Twists on the Classic Apple Cobbler
There's something nostalgic about the old-fashioned warm, crunchy cobbler recipe, complete with a scoop of vanilla ice cream on top. While honoring the old favorite recipe, create new traditions this fall by trying out these two twists on the classic apple cobbler dessert.
Praline Apple Crisp
Crispy and brimming with cinnamon, this praline apple crisp recipe is sure to delight any guest you have over this month. Put your Crock-Pot® 6.5-Quart Countdown Touchscreen Digital Slow Cooker to use with just eight simple ingredients.
Ingredients:
6 crisp apples, cored, peeled and sliced
1/2 cup quick-cooking oats
1/3 cup brown sugar, packed
1/4 cup all purpose flour
1/2 cup cold butter, chopped
1/2 cup pecans, chopped
1/2 cup toffee bits, chopped
1 teaspoon ground cinnamon.
Directions
In one large bowl. combine the apple slices and cinnamon to coat. Coat your slow cooker with cooking spray and then place coated apples inside. In another bowl, combine oats, brown sugar, flour and butter until crumbly. Stir in pecans and toffee bits and then sprinkle mixture over apples. Cover and cook on low for 4 to 6 hours. Serve with a scoop of ice cream if desired.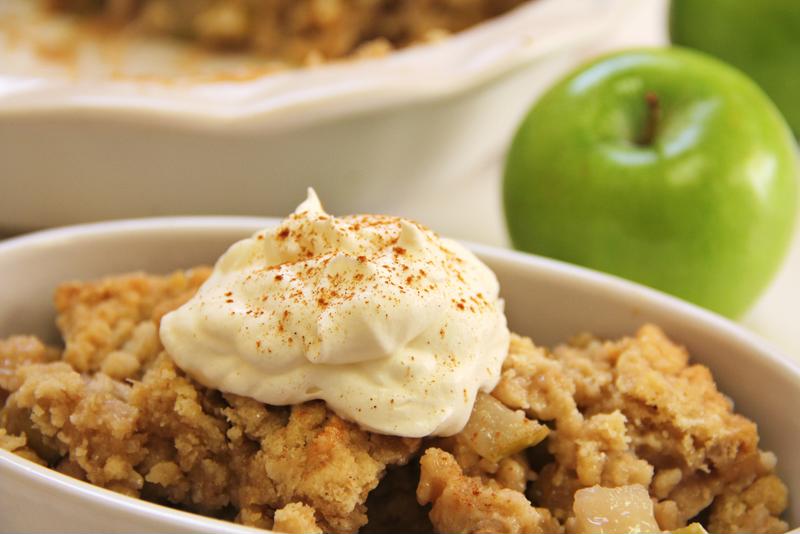 Apple Crisp Coffee Cake
Slow-cooked apple cobbler just got better. With the apple crisp coffee cake recipe, now you can enjoy this delicious treat with your morning coffee. The perfect dish for after brunch, this apple crisp is sure to be a big hit.
Apple Mixture Ingredients:
1 can apple pie filling
1/4 cup brown sugar, packed
1/2 teaspoon ground cinnamon
1/2 teaspoon vanilla.
Crumble Mixture Ingredients:
1 cup quick-cooking oats
1/2 cup granulated sugar
1/4 cup brown sugar, packed
1/2 teaspoon salt
1/2 cup butter, cut into small pieces.
Cake Mixture Ingredients:
1 box yellow cake mix
2 eggs, beaten
1/2 cup sour cream
1/2 cup evaporated milk
1/3 cup butter, softened
1/2 teaspoon ground cinnamon.
Directions
In one bowl, combine all apple mixture ingredients and set aside. In another bowl, mix together the oats, granulated sugar, brown sugar and salt and add in butter until well-combined to make the crumble mixture. Set this bowl aside as well. In a large bowl, combine cake batter ingredients until well-mixed. In the bottom of your slow cooker, spread out half of the apple mixture and top with half of the crumble mixture, followed by half of the cake batter. Complete this layering again with remaining mixtures. Cover and cook on high for 3 hours or until cake is set in the center.
Due to the slow ramp up, and even heating of a slow cooker, recipes featured on this site can be cooked in a range of slow cooker sizes. Recipes can be increased or decreased by one quart size per the cooking instructions. For smaller sauces and dips that calls for 3 quarts or less, it is not recommended to alter the unit size. Crock-Pot® is a registered trademark and should not be used generically when referring to a 'slow cooker' within the recipes.
Sunbeam Products, Inc. d/b/a Jarden Consumer Solutions has not tested these recipes and is not responsible for the outcome of any recipe. You may not achieve the results desired due to variations in ingredients, cooking temperatures, cooking times, typos, errors, omissions, or individual cooking abilities. Please always use your best judgment when cooking with raw ingredients such as eggs, chicken or fish.