Ultimate Slow Cooker Recipes for Your Thanksgiving Leftovers
For some people, Thanksgiving leftovers are even better than the real meal. The classic day-after creation of sliced turkey and stuffing sandwiched between two pieces of bread and covered in cranberry sauce has become so popular that it's even sold at many bakeries and sandwich shops year round. While this sandwich is certainly a favorite, it's by no means the only thing to make with all of your turkey day leftovers. Host a leftovers party with your Crock-Pot® Hook Up® Connectable Entertaining System 3-Piece Set, which allows you to create all three of these slow-cooked recipes at once!
Apple Barbecue Pulled Turkey Sandwiches
Mix up the traditional Thanksgiving turkey sandwich with a little more flavor and spice. The blend of apples and barbecue pair perfectly with the roasted turkey leftovers.
Ingredients:
2 pounds turkey, shredded
2 apples, sliced
1 onion, chopped
1/2 cup applesauce
1 teaspoon chili powder
1 teaspoon cumin
1 cup barbecue sauce
1/2 cup chicken broth
1 garlic clove, minced
Pinch of salt and pepper
Sliced bread.
Directions
In your slow cooker, bring together the turkey, onion and apples. In a bowl, mix the applesauce, chili powder, cumin, barbecue sauce, chicken broth, garlic, salt and pepper. Pour the mixture over the turkey in your slow cooker. Cover and cook on low for 4 hours. Spoon the apple barbecue pulled turkey onto sandwich bread and serve warm.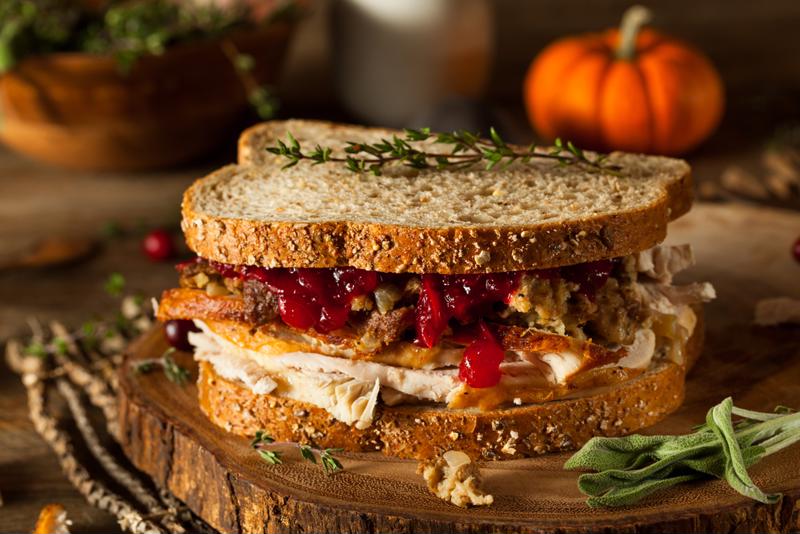 Sweet Potato Turkey Shepherds Pie
Take two of the tastiest dishes from your Thanksgiving table and combine them for an even tastier one. Using sweet potatoes and Thanksgiving turkey puts a sweet spin on the classic shepherds pie recipe.
Ingredients:
3 cups sweet potatoes, mashed
1 pound turkey, shredded
2 cups peas
2 cups carrots
1/2 cup beef broth, or water
1 onion, chopped
2 cloves garlic.
Directions
Reheat shredded turkey in a skillet, adding in the chopped onion and garlic. Bring this mixture to your slow cooker and add in the peas and carrots. Pour the 1/2 cup of broth or water into your slow cooker and stir together. Spread the mashed sweet potatoes evenly over the top of the mixture. Cover and cook on low for 5 to 6 hours. Then, remove the cover and turn to high for 30 minutes to crisp the sweet potato topping.
Turkey Chili
Stay warm, full and satisfied through the holidays this year with this Thanksgiving turkey chili recipe.
Ingredients:
1 pound turkey, shredded
1 onion, diced
1 clove garlic, minced
1 red bell pepper, chopped
1 green bell pepper, chopped
1/2 cup corn
1 can black beans, drained and rinsed
1 can tomato sauce
1 can crushed tomatoes
1 pack chili seasoning mix
Shredded cheese topping, optional
Diced red onion topping, optional.
Directions
Reheat shredded turkey with onion and garlic in a skillet on medium heat. Bring mixture to your slow cooker and add in the red and green peppers, corn, black beans, tomato sauce, crushed tomatoes and chili seasoning mix. Blend together until completely mixed. Cover and cook on low for 6 to 8 hours or on high for 4 to 5 hours. For an optional topping, add shredded cheese and diced red onion. Serve warm and enjoy!
Due to the slow ramp up, and even heating of a slow cooker, recipes featured on this site can be cooked in a range of slow cooker sizes. Recipes can be increased or decreased by one quart size per the cooking instructions. For smaller sauces and dips that calls for 3 quarts or less, it is not recommended to alter the unit size. Crock-Pot® is a registered trademark and should not be used generically when referring to a 'slow cooker' within the recipes.
Sunbeam Products, Inc. d/b/a Jarden Consumer Solutions has not tested these recipes and is not responsible for the outcome of any recipe. You may not achieve the results desired due to variations in ingredients, cooking temperatures, cooking times, typos, errors, omissions, or individual cooking abilities. Please always use your best judgment when cooking with raw ingredients such as eggs, chicken or fish.